News
Ryonet Manufactures Medical Equipment to Aid in COVID-19 Fight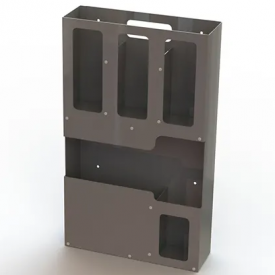 Sample of a Ryonet PPE storage unit. (Image courtesy Ryonet)
Ryonet announces that it has begun manufacturing medical equipment in the effort to combat the spread of COVID-19. The company says it intends to help hospitals at the local, regional, and national levels.
"Historically, Ryonet has been a manufacturer of screen-printing equipment," the company says. "In this time of need, our goal is to help the best way we can."
With the company's background in manufacturing, Ryonet says it's now developed personal protective equipment (PPE) storage units, small medical carts, and large medical carts. Ryonet says it's currently capable of designing and fabricating to-spec medical-grade equipment with a 48-hour turnaround time. The company also encourages those with custom medical equipment requests to reach out, and they will work to accommodate those customers.
For more information on purchases and custom orders, contact [email protected].