News
Purdue Teams Up with 3M to Produce PPE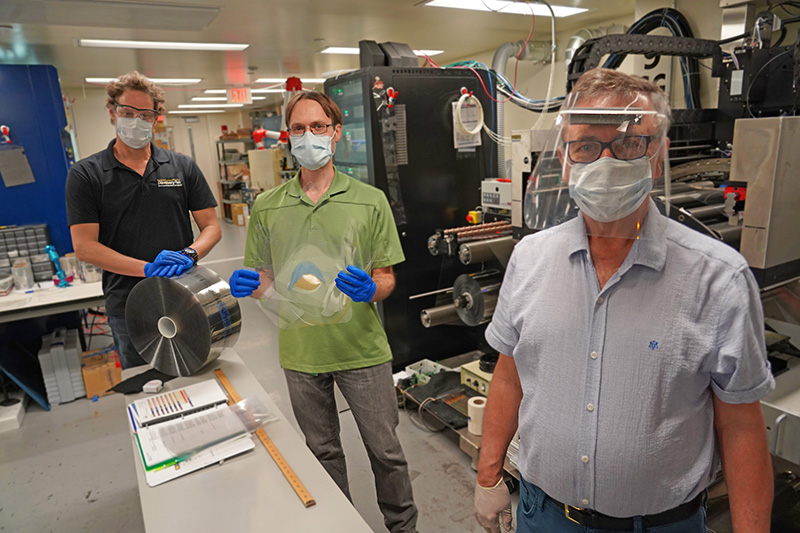 A team at Purdue University produces PPE with supplies donated from 3M. Pictured left to right: Guy Telesnicki, Nick Glassmaker, Mukerrem Cackmak. (Purdue University photo/Jared Pike)
During the COVID-19 pandemic, Purdue University has manufactured thousands of pieces of personal protective equipment with raw materials donated by 3M.
"My background is in roll-to-roll manufacturing and processing, especially of polymer films," says Mukerrem Cakmak, Purdue's Reilly Professor of Materials and Mechanical Engineering. "I had already built a roll-to-roll machine in a cleanroom at Birck Nanotechnology Center. So when the pandemic hit, our team decided we had to do something to help."
Healthcare facilities needed items like transparent face shields and eyeglass inserts—items that could be laser-cut by the machine in Cakmak's lab, but shutdowns made it challenging to find the necessary materials to produce PPE. That's when Purdue alumni working at 3M in Minnesota took action.
Kenyon Sayler, a lean value stream manager for 3M's commercial solutions division and a 1981 Purdue graduate in mechanical engineering, told Purdue it had a film product that could help with the production of PPE.
Jeffrey Kehoe, a lean value stream engineer, and a 2010 Purdue graduate in chemical engineering, adds, "We manufacture a lot of polyester substrate for our window films. This transparent material is perfect for face shields and other similar items; all we had to do was cut it into 9.5-inch rolls. We ended up sending Purdue about 17,000 square yards of this material."
Once the materials arrived at Purdue, Cakmak's team immediately began production. Elsewhere on campus, a Purdue team of nearly 40 faculty and staff members are 3D-printing eyeglass frames and other components necessary to complete the PPE. Once assembled, the finished pieces go to healthcare facilities throughout Indiana.
"We've been manufacturing these since day one," Cakmak adds. "We have three volunteers—research scientist Nick Glassmaker, research engineer Joon Park, and research engineer Guy Telesnicki—each of whom takes a three-hour shift. So our machine is running nine hours a day. We can make more than 4,000 face shields a day."
"We have many Purdue grads here on our team," Sayler states. "We got approval in 45 minutes to supply this material, and in nine days, Jeff's team turned it around and had these truckloads at Purdue. 3M and Purdue are both such great organizations that value this kind of support for their communities."
The face shield production effort is part of a broader effort at Purdue to produce and distribute PPE in Indiana. Since the project began in March, the company has produced and distributed more than 25,000 pieces of PPE. According to Maker project lead Nathan Hartman, Purdue's Dauch Family Professor of Advanced Manufacturing and head of the Department of Computer Graphics Technology, the Maker project is now also producing materials to assist with the Protect Purdue effort to bring students back to campus.