News
Orbus Exhibit & Display Acquires Fabric Images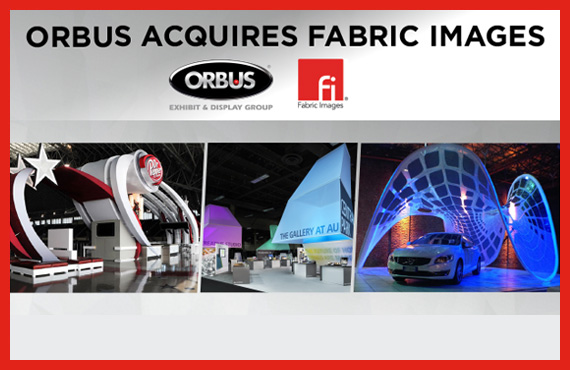 Orbus and Fabric Images
Woodridge, Illinois-based Orbus Exhibit & Display Group, a wholesale supplier and manufacturer of display, exhibit, graphic, and event solutions, announces it has acquired Fabric Images, a company known for design and expertise in the science of fabric architecture.
The merger combines Orbus Exhibit & Display Group's portfolio of signage, portable, modular, fabric structure, and custom exhibit and display solutions with Fabric Images' expertise in creating custom fabric architectural solutions for exhibits, events, hospitality, retail, and commercial interiors.
"The addition of Fabric Images to the Orbus Exhibit & Display Group family of brands elevates our design and print capabilities in building materials, printed textiles, and fabrics. Together we now offer our customers an unmatched combination of elegant design, speed, quality and service in fabric structures, fabric architecture, and fabric printing," says Giles Douglas, president and CEO of Orbus Exhibit & Display Group.
Fabric Images CEO Marco Alvarez becomes part of the executive team at Orbus, teaching and leading the engineering, design, and consultancy-driven approach to custom fabric architecture with a much larger combined team.
"Becoming part of Orbus provides our customers with expanded resources and capabilities across North America, adding a Las Vegas and Canadian facility in addition to a vastly larger Illinois facility," adds Alvarez. "Access to an expansive range of portable, modular, sign, and fabric structure solutions, supported by an exceptional team committed to service, promises a limitless future for what we can do for our customers."
For more information, visit www.orbus.com.