News
Mutoh Hosts 5-Day FlexiSIGN Webinar Series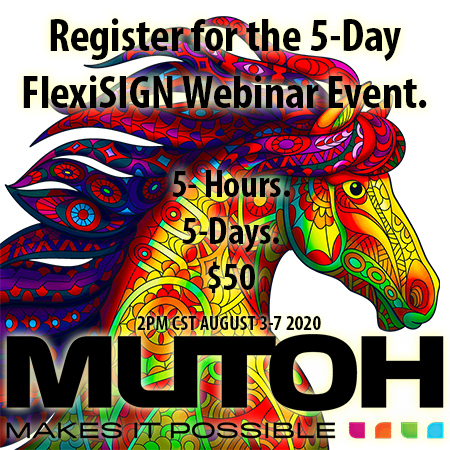 Mutoh announces a five-day, five-hour learning experience for FlexiSIGN users of all levels. Mark Rugen, instructor and Mutoh's director of education, leads the webinar series and shares his best tips and tricks for one hour each day at 2 p.m. CT, Aug. 3-7.
The topic for each day is as follows:
Day 1: Top 10 FlexiSIGN features
Day 2: All about design, layout, and sign elements
Day 3: Vehicle wraps and FlexiSIGN
Day 4: Tools you need to add to FlexiSIGN
Day 5: Applications (braille, print and cut, and more)
In the five days, attendees can expect to find out how to manage colors, how to enlarge images without loss in quality, see how to preview a vehicle wrap on a photo of a vehicle, take advantage of special text for creating COVID-19 signage, and discover various money-making applications.
According to Mutoh, this webinar series is for anyone with any type of wide-format printer. During the live sessions, Rugen will answer viewer questions. All registrants will get a link to the recorded session once it's over.
Find more information and register here.