News
Mactac and LexJet Announce Distribution Partnership
The new partnership gives LexJet access to Mactac products and product lines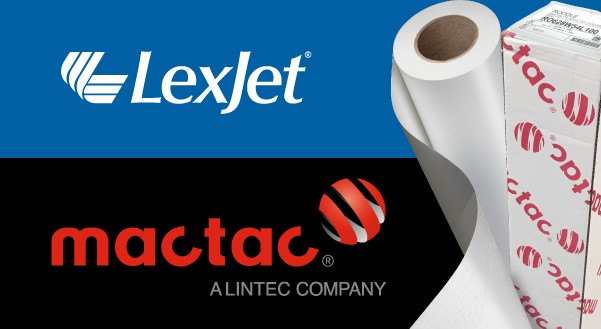 Mactac, a supplier of pressure-sensitive adhesives, and LexJet, a division of S-One Holdings and a source for inkjet printing, equipment, and materials, form a new sales and distribution partnership that offers Mactac wide-format graphics media to LexJet customers across the U.S.
The new partnership gives LexJet access to Mactac products and product lines, including IMAGin, REBEL, PERMACOLOR, PERMAHOLD, and MACmark lines. This includes window films, marking and signage media, and mural/poster solutions.
"We are excited to be working with the LexJet team to support their customers' growth in the area of wide-format printing for floor, window, wall, and sign mounting applications," says Dave Browske, VP of sales and marketing, Mactac Distributor Products. "LexJet has a long history of providing great service to the national PSP community, and we are proud to be a trusted partner. Working with LexJet further expands our distribution footprint and provides opportunities for more customers to access Mactac's quality products."
In addition to product access, LexJet will have the support, knowledge, and resources of Mactac's distribution sales and customer service teams.
"This partnership is key for both Mactac and LexJet," adds Shaun Jaycox, S-One global product manager. "Mactac's portfolio of quality wide-format print media, overlaminates, and mounting adhesives enhance our ability to provide LexJet's customers with a wide array of options to meet growing application demands. We look forward to introducing these products to our customers and servicing their needs at the highest level."