News
LexJet and Canon Solutions America Announce New Strategic Relationship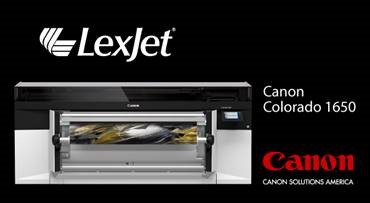 LexJet, a division of S-One Holdings, announces a new sales and distribution partnership with Canon Solutions America Inc., a wholly-owned subsidiary of Canon U.S.A. Inc.
The partnership gives LexJet clients an intro to Canon and its offerings. It aims to provide wide-format inkjet customers with equipment, service, and support solutions that meet new and existing challenges.
Peter P. Kowalczuk, president, Canon Solutions America, explains, "With our expertise in the wide-format inkjet product space, and LexJet's industry knowledge and support capabilities, we believe our union will provide both customer bases with solutions that continuously evolve to meet new and existing challenges in the print space."
"With the increased demand for delivering fast turnarounds for signage and graphics, this new partnership will give customers an opportunity to increase their output and drive down their costs," says C.J. Forker, LexJet's VP of sales.
Canon printers available through LexJet include the Canon Colorado 1630 and 1650. Learn more about the offerings here.