News
Lane Seven Launches L7 X
L7 X is an ongoing collaborative series that will bring printers and artists together to create limited-edition capsule collections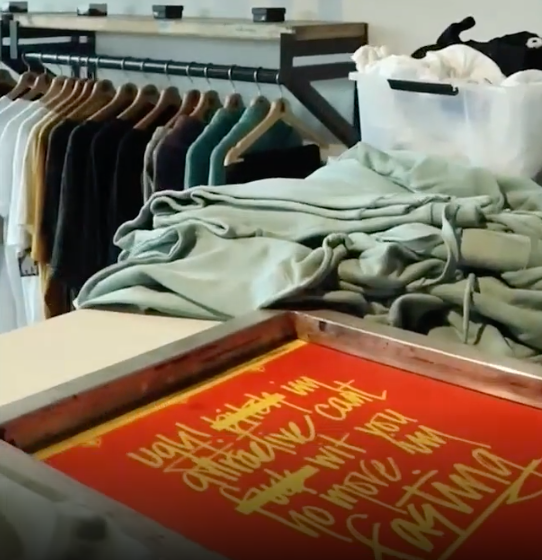 (Image courtesy Lane Seven)
California-based Lane Seven Apparel, a blank apparel supplier to the promotional product and decorated apparel markets, announces the launch of L7 X, an ongoing collaborative series that will bring printers and artists together to mix mediums and create limited-edition capsule collections, all in the spirit of building community.
For the project's launch, Lane Seven partnered with Charlotte, North Carolina-based MacFly Fresh Printing Co. to bring the artistry of some North Carolina creatives to Art Basel 2022. The result was individual capsule collections, all uniquely designed and hand-printed by a selected group of local artists/designers on Lane Seven Apparel.
"When MacFly approached us to partner with them on the artist collaboration at Art Basel, we couldn't say yes fast enough," says Lane Seven's Marketing Manager Alexis Shubin. "They run a multi-faceted creative operation out of their HQ in Charlotte, and bringing in local artists to illuminate that intersection of creativity at Art Basel Miami? Done deal."
The collection consists of tees, hoodies, and joggers in feel-good hues, thanks to seafoam, pops of pink, and eye-popping purples, that serve as the canvas to bring the artist's vision to life. Among the artists were a renowned muralist, a multidisciplinary artist, and a graphic designer and illustrator. According to the company, each piece brings a different perspective, sensibility, and intention that highlights the richness of the community they all share.
"The launch of L7 X gives our brand the opportunity to continue to seek and celebrate these types of partnerships and gives those partners the platform to share their creativity and work with a much wider audience," concludes Shubin.