News
Kornit Digital Hosts Showcase in Los Angeles
The showcase takes place Feb. 23 and includes production demos, Q&A sessions, and networking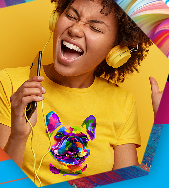 (Image courtesy Kornit Digital)
Kornit Digital announces it will be hosting a showcase day in Los Angeles, California, on Feb. 23 from 9 a.m. to 5 p.m PT.
According to the company, the event will bring together members of the Kornit customer community, executive leadership, technical experts, and thought leaders to talk about building a business case for end-to-end digital efficiency, sustainability, and control.
Attendees can expect to learn how textile and apparel fulfillers and brands are overcoming supply chain issues, generating more profit with less, eliminating waste, and giving customers more variety and reasons to come back.
The event will feature live textile and fashion production demonstrations, Q&A sessions, and networking opportunities.