News
JDS Industries Celebrates 10 Million Orders
Brews Custom Awards in West Virginia was the recipient of the 10 millionth order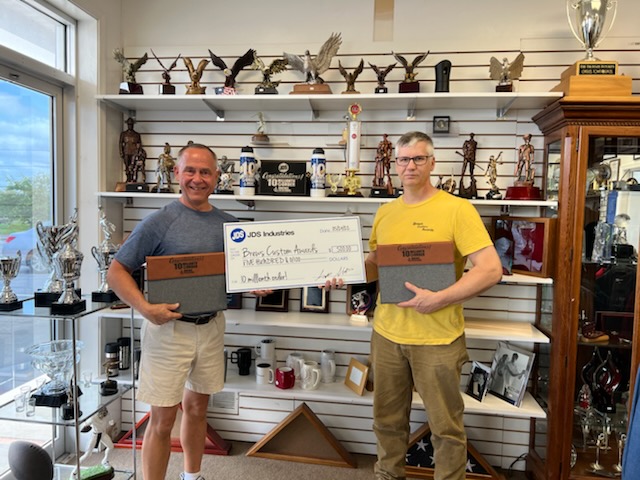 Rick Rhon (L) and Brian Brewer (R) of Brews Custom Awards (Image courtesy JDS)
JDS Industries announces it has shipped over 10 million orders. The company says it appreciates its customers' support and loyalty to help it achieve the milestone.
Brian, Nicole, and the team at Brews Custom Awards in West Virginia received the 10 millionth order. JDS celebrated with commemorative items, including a laserable leatherette plaque to display in its showroom. The shop also received $500 to spend on its business with JDS.
We spoke with JDS Chief Operations Officer Mike May to learn about reaching the milestone.
What did the journey to selling 10 million orders look like for JDS?
MM: JDS started as a retail trophy shop in the early 1970s and started to distribute as a wholesale supplier in 1978. All distribution was done from Sioux Falls, South Dakota, until 1993, when the first warehouse outside of Sioux Falls was opened in St Louis, Missouri. Over the next 20+ years, the nationwide distribution footprint grew to the 14 warehouses we ship from today.
JDS Industries has consistently focused on doing what is best for our customers. Service level, price, product offerings, marketing support, and much more have helped us to continue to gain loyalty and partnership with our customers.
Selling so many products, what trends and ebbs and flows has JDS seen within the sublimation and customization industry?
MM: Sublimation and laser engraving both became very prevalent methods of personalizing and decorating products beginning in the '90s. Most of our customers have one or both of these processes in-house and used them primarily for trophies and awards until the early 2000s when JDS started to offer personalizable gift products like wine boxes and BBQ sets.
During the 2008 economic recession, gift items allowed many trophy shops to realize sources of revenue alternative to the trophies and awards they primarily made. We have continued to expand our product offerings into many concentric markets that either engrave on or print on blanks.
How was this milestone made possible?
MM: JDS is successfully growing due to our customers, our dedicated team of employees, and our manufacturer partners. We can not exist and grow without all of these important people.
We truly view business as partnerships. We strive for what is in the best interest of those partners. When all parties are healthy, great things can be accomplished together. We never take our partnerships for granted.
What have been some of the company's struggles and challenges in reaching this major milestone?
MM: Every company has challenges, and JDS Industries is no exception. We approach every challenge by looking for the opportunity that comes along with it. Most challenges cause you to focus on improving something that you would otherwise have not paid as much attention to, or they simply motivate you to find a more effective solution.
COVID-19 is easily the largest challenge JDS has faced from both the human aspect and the business aspect. The world is still trying to "rebalance" from all of the disruptions. In particular, the biggest challenge still lingering from COVID-19 is being able to get enough of the right products for our inventories.