News
Industry Events Impacted by COVID-19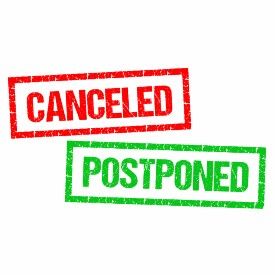 Check here for live updates on postponements and cancellations of industry events.
As the coronavirus pandemic causes stay-at-home orders to be in place across the nation, event organizers within the decorated apparel industry announce postponements and cancellations. Check here for live updates.
In a breaking news email, PPAI announces the cancellation of its Expo East event planned for June 3–5 at the Atlantic City Convention Center in Atlantic City, New Jersey. The announcement comes after many states announce shelter-in place restrictions and the designation of the Atlantic City Convention Center as a temporary field hospital. The cancellation includes all education sessions and exhibitions.
"We here at PPAI are making some tough decisions based on the continuing challenges facing us during these unprecedented times," states PPAI's president and CEO Paul Bellantone, CAE, in a letter to members. "These decisions are not unlike the ones you are likely making regarding your businesses. We have made the difficult decision to cancel Expo East, effective immediately. We feel this is a sensitive and responsible action."
PPAI has an FAQ section on its website with additional information.
In an email to exhibitors and attendees, National Business Media announces the cancellation of THE NBM SHOW in Providence, Rhode Island, set for May 15–16.
The email to exhibitors reads, in part, "We know this is having a tremendous impact on businesses, and we want to assure you we are here to help. We remain committed to your partnership and are looking forward to producing successful professional events with you."
In an email to attendees, THE NBM SHOW team says, "On a bright note, we will have more information about some exciting online options for education and to connect with suppliers and manufacturers coming soon. Please stay tuned and keep a lookout for updates."
As the COVID-19 virus continues to raise concerns, The National Network of Embroidery Professionals (NNEP) announces that its Embroidery Mart-ATLANTA trade show will not be held in May 2020. NNEP president Jennifer Cox says in an announcement, "This decision was made after continuous monitoring of the risks and impact of the COVID-19 Coronavirus throughout our country."
Cox says that the network is working closely with the Cobb Galleria Centre, the location for the event, to see if rescheduling is possible for later this year.
"We will update you as this situation continues to evolve. We appreciate your patience and your support through this process," Cox adds.
As the World Health Organization declares the COVID-19 virus a pandemic, event organizers within the decorated apparel industry announce postponements.
Impressions Expo announces the postponement of its Atlantic City show scheduled for March 19–21. The show will now take place on Oct. 8–10, 2020.
A release shared on the event's website reads, "The health and safety of each and every member of our community and our staff is of the utmost importance to us. After closely monitoring the risk and impact of COVID-19 on a daily basis, and speaking at length with members of our community, Impressions Expo Atlantic City, which had been scheduled for March 19–21, 2020, at the Atlantic City Convention Center in Atlantic City, NJ., has been postponed to October."
With recent developments regarding the virus, the Impressions Expo management team says an effectively-executed March event would have been impossible due to the State of Emergency in New Jersey, quarantines, travel restrictions, and the cancellation of Impressions Expo Atlantic City customers and partners.
The announcement closes, reading, "The information on our website will be promptly updated and further announcements regarding the October 8-10, 2020, edition of Impressions Expo Atlantic City will be posted in due course."
Additionally, Shirt Lab announces that its Chicago Women's Nexus event, scheduled for June 6, 2020, will be postponed. Shirt Lab Dallas, scheduled for Oct. 2-3, is still scheduled.
Shirt Lab says in a press release, "Due to the uncertainty of the recent COVID-19 pandemic and because the health, safety, and well-being over everyone involved with Shirt Lab is our top priority, the Shirt Lab Chicago Women's Nexus due to be held on June 6, 2020, has been postponed. The updated event date has not been chosen as we are monitoring the situation."
Event coordinators say an announcement on a new date will come once health risks reduce, and health officials deem it safe for events to take place.
The announcement continues, stating, "While the risk of contracting COVID-19 in the U.S. remains low, we are monitoring the situation closely and will follow the advice of the U.S. Department of State, the local health authorities, and U.S. Centers for Disease Control and Prevention (CDC)."
For updated information, Shirt Lab encourages attendees to stay up to date via the Shirt Lab webpage and Shirt Lab Live Facebook Group.
Refunds on Shirt Lab Chicago tickets are available to those interested. Otherwise, all tickets purchased will be valid for the new date.
The International Sign Association's (ISA) Sign Expo 2020 in Orlando has been re-scheduled from early April to late August due to the Coronavirus is part of a worrying trend for anyone involved in the trade show and special event industries, from event organizers to graphics providers.
The Digital Signage Expo, scheduled for the end of March, has also been suspended until late summer or early fall, according to Exponation, the event's organizer. The National Association of Broadcasters, another event that attracts thousands, also announced Thursday that it is canceling its 2020 convention.
Generally-with some exceptions-larger trade shows that attract international visitors have been most likely to cancel or postpone their events. Smaller regional or local trade shows and events have forged ahead while taking extra precautions in conjunction with the venues and local officials.
Though not inclusive of all events, Northstar Meeting Group provides a list of events that have been confirmed, postponed or canceled. To see that list click here.
Florida-based AGS Expo Services produces hundreds of events that serve many industries each year in the U.S. and Canada, and it says it is monitoring what is a very fluid situation.
"So far we have not had any clients cancel their annual trade shows," says AGS CEO Darren Green. "However, we have been working closely with a number of our clients who, like AGS, are closely monitoring ongoing developments with COVID-19 and any impact these developments may have on our events. But one thing that is clear from these conversations is that, as event professionals, we all realize how adaptable we are. Most events around the globe are still happening, despite media coverage."
For graphics companies, especially those that specialize in trade show and special event graphics, the impact is immediate as the list of cancellations and postponements grows every day.
When the coronavirus first emerged from China the initial economic fears centered on supply-chain interruptions. As it spread and public safety concerns grew, the economic effects became far more acute and widespread.
The unanswered economic questions remain, and will remain until the Coronavirus runs its course: Will revenue lost due to canceled events be made up in part by events being re-scheduled later in the year? Or, will this be a protracted crisis that lasts into the summer months and perhaps re-emerges in the fall and winter?
These questions ultimately hinge on the life cycle of the Coronavirus, which at this time is almost impossible to predict. Historically, viral epidemics and pandemics fade away. China, for example, is starting to see a drop in the number of Coronavirus cases, while it continues to spread elsewhere. Asia Times has an update about China getting back to work here.
As the new coronavirus outbreak impacts individuals and industries around the globe, GRAPHICS PRO will continue to report on this topic as it relates to the decorated apparel, signage, and awards and engraving industries.