News
In Memory of Bill Riedel: 1928-2018
Bill Riedel wrote in his biography that "Letterhead Meets are my vacation." His beloved wife of 50 years, Maria,. passed away in 2002 and Bill died Feb. 20, just three days shy of his 90th birthday.
This article is from our older website archives. Some content may not be formatted or attributed properly. Please
Contact Us
if you feel it needs to be corrected. Thank you.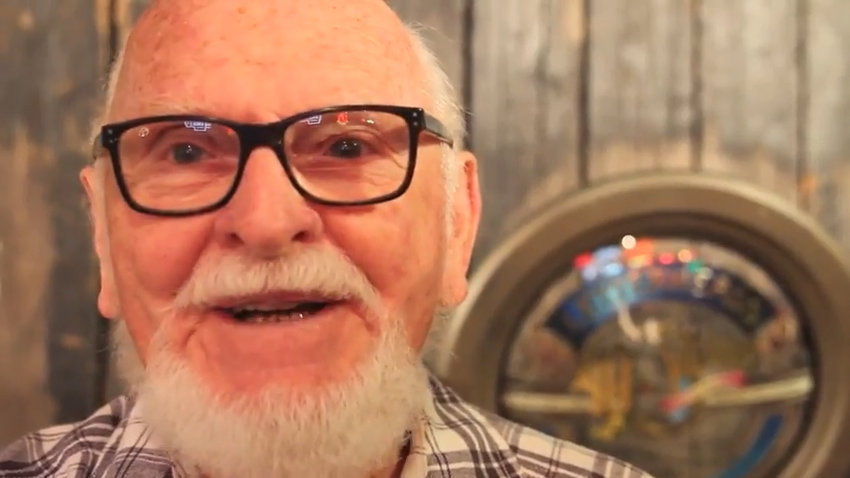 *Please click images below to enlarge
He helped paint the American Sign Museum's "Signs on Main Street."
Bill Riedel, the "de facto grandfather" of the Walldogs and the owner of Riedel Sign Co. of Little Ferry, New Jersey, since its founding in 1954, died on Feb. 20, three days before his 90th birthday.
His lasting legacy to the American Sign Museum is his work on the "Signs on Main Street," which was dedicated on June 23, 2012, following a week of work by 28 sign artisans from the U. S. and Canada.
A 15-minute video captured that process, and in it, Bill said, "To see so many different projects being executed at the same time by the top people in both countries, I couldn't ask for anything better. People can have their special cruises and vacations and Super Bowls. This is my best. This is what I live for."
Bill was a fixture at the annual Walldog meets, in which artisans go to different towns and paint huge murals on the blank walls of buildings. Typically, the murals chronicle local history. At the Shipshewana, Indiana, Walldog meet in 2014, Riedel was honored when the several hundred artisans all wore T-shirts with Bill's face on them. Additionally, a special crock pot was given to him in which fellow artisans placed autographed sign brushes.
A U.S. Navy veteran from World War II, Bill painted his first sign while in the Navy. His last public appearance occurred at the United States Sign Council's Sign World show in Atlantic City in the first week of December 2017. A fixture in that show's annual "Bullpen," Bill kept busy all three days painting a sign as a tribute to local firefighters. Even in his last week in the hospital, a Facebook post showed Bill drawing a Valentine's Day greeting.
In his obituary, the family wrote, "In lieu of flowers, please make a contribution to the American Sign Museum."
Click HERE to read a profile he wrote of himself for the Letterhead's website, http://www.letterville.com/.
There are plenty of YouTube videos out there for us to remember Bill by-and that younger and aspiring Letterheads will forever continue to learn from. Here's one that was made in 2015 at the Letterheads' 40th anniversary celebration at the National Sign Museum in Cincinatti, in which he shows us tips for reverse glass gilding with Minetti patent gold leaf.
And in this 2008 video, filmed just a few days before his 80th birthday, Bill shows how to make a paint cup out of an index card, a trick he first learned when he got into the sign business in the 1940s.
R.I.P. Bill Riedel-you were so much more than a sign painter. But the sign world is never going to forget you.