News
HanesBrands Announces 'Crop to Campus' Documentary
Look out for short episodes on social media throughout September and October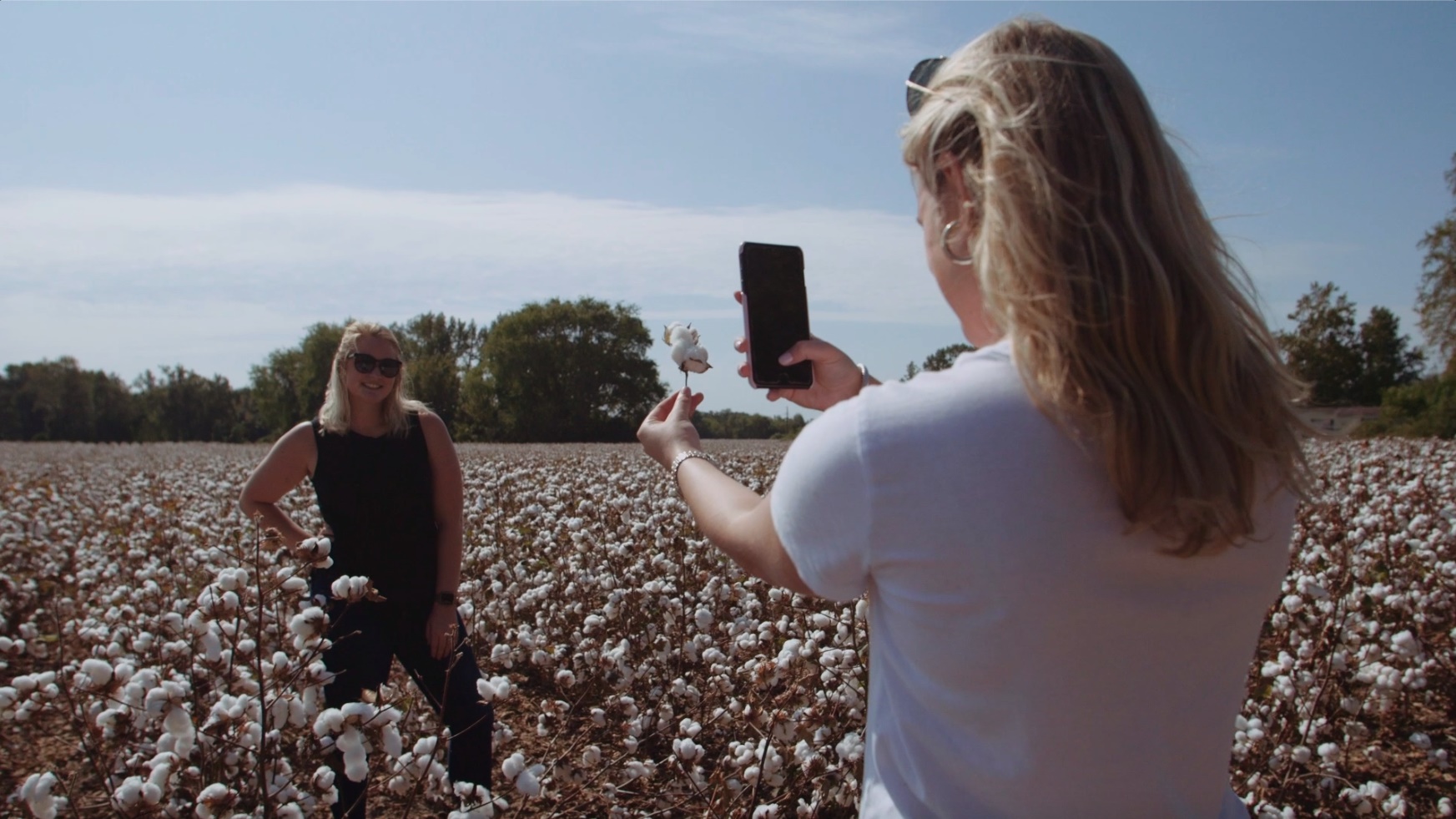 (Image courtesy HanesBrands)
HanesBrands announces its "Crop to Campus" initiative, a third-party behind-the-scenes look at what goes into a responsibly made T-shirt. HanesBrands invited three university students to follow the supply chain of its ComfortWash apparel line and experience each step along the way, from a cotton farm in eastern North Carolina to a yarn-spinning facility in Tennessee to its cut, sew and dye facilities in El Salvador. The mini-documentary "Crop to Campus" debuts Oct. 8 with a virtual event in conjunction with RiverRun International Film Festival.
The project began in 2019 as HanesBrands wanted to know how its commitment to sustainability "measures up with millennials." The company had three college students assess its supply chain, giving them full access to its facilities, people, and processes. At the time, the students were all seniors at the Wilson College of Textiles at North Carolina State University.
"We have always had a strong CSR program, and responsible manufacturing has always been a huge priority for us," says Chris Fox, vice president of corporate social responsibility for HanesBrands. "But while we are confident in how we manufacture, how we treat our employees, and how we support communities where we do business, we wanted to hear from some of the best, brightest, and toughest CSR critics on the planet: college students invested in the health and success of our planet and our people."
The students featured in the documentary film, now graduates, are Mamie Trigg of Austin, Texas; Katy Powers of Charlotte, North Carolina; and Sydney Parker of Lexington, North Carolina.
"The idea was to let the students immerse themselves in the experience and let them share their perspective via social media," adds Michael Johnson, director of marketing for Hanes Activewear. "But we quickly realized, from their excitement and energy that documenting the experience in a larger way could be a great story in itself."
Johnson reached out to award-winning documentary filmmaker Rod Murphy to follow the students from the crop to campus, hence the name.
"This was a great project primarily because of the openness of everyone involved, and no topics were off the table," explains Murphy. "As seniors, the students came into this project at a crossroads where they are passionate about textiles and apparel, but deeply concerned about fashion's impact on the future of the planet."
Starting with David Grant (a fifth-generation farmer in eastern North Carolina), Grant and the students talked about water conservation, limited pesticide usage, science, and politics. In El Salvador, the students asked questions about responsible sourcing, global footprint, and living wages.
"Especially in the printwear industry, transparency is paramount," adds Johnson. "Today's students are more aware and more understanding of the significance of environmental and societal responsibilities. We wanted to give them the freedom to talk about the Hanes sustainability experience.
To frame the experience for the project, the students followed the path of ComfortWash's garment-dyed apparel line.
The students were also very hands-on. They walked a cotton farm on 90-degree day, worked machinery alongside cutters and sewers, toured the on-site biomass and water treatment facilities, spent a lunch hour volunteering with employees at an after-school program designed to engage and support at-risk youth, and designed, printed, and wore shirts produced from the supply chain. In the end, the students met with senior leadership at HanesBrands to share their insights about the experience and what was important to them.
In addition to RiverRun International Film Festival, excerpts from "Crop to Campus" will be shared on social media in short episodes throughout September and October. The film can also be viewed as part of special-event viewings that will include discussion panels with the filmmaker and students.
For more information, visit www.croptocampus.com.