News
Gunold Hosts 2-Day Training Class
The class, held Oct. 12-13 in Kennesaw, Georgia, will cover digitizing, designs, maintenance, and more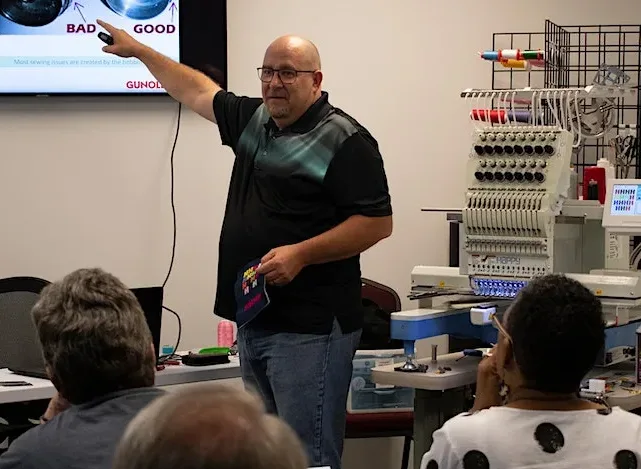 (Image courtesy Gunold)
Gunold USA, a wholesale embroidery supplier, hosts a two-day embroidery training class on Oct. 12 and 13 at its headquarters in Kennesaw, Georgia.
Hosted by industry expert Bill Gavin, the class will cover machine care, troubleshooting, common problems, and more.
Strictly limited to 10 people
$299 introductory offer
15% off the entire Gunold catalog
Free goody bags
Class demonstrations on and off machines
Q&A all day long
*Excludes bobbins and Durkee tubular hoops
Day 1 – Tensions, maintenance, and troubleshooting
Understanding and setting tensions properly on your machine
Machine maintenance
Cleaning, oiling, greasing, tensions
Troubleshooting, sewing issues, thread break, thread fraying, and bird's nest
Machine starting and stopping issues, why are there so many parts to the machine, and what do they do
Minor machine repair
Day 2 – Digitizing and designs/new products
Understanding digitizing, file types, stitch types
3D Puff and small lettering, tips, and tricks to making them sew well and look good
Appliqué, what is it, and how to do it
Reverse applique — destroy something and sell it for profit
Troubleshooting design issues, missed stitches, looping
Why do 100% poly shirts pucker
Hooping techniques, the evil of caps, and how to make them sew better
New products and how to use them
Learning your Gunold fonts software
Doors open at 8:30 a.m. Thursday, Oct. 12 – 9:00 a.m.-4:00 p.m. Friday, Oct. 13 – 9:00 a.m. – 4:00 p.m. Coffee, tea, and water will be provided. One-hour lunch: either bring your own food and use the provided kitchen facilities or visit a nearby eating establishment.
Register here.