News
Gildan Releases 2022 ESG Report
The report highlights the company's performance in the first year of activating its ESG strategy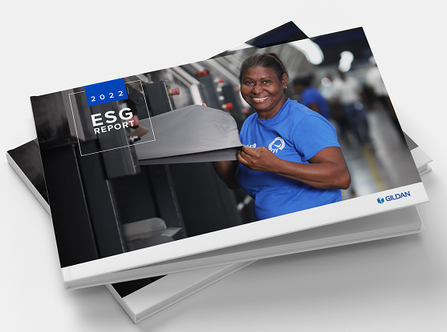 (Image courtesy Gildan)
Gildan Activewear announces that it has published its latest Environmental, Social, and Governance (ESG) report, marking its 19th year of public ESG disclosures.
The report highlights Gildan's 2022 performance against key targets and the strong momentum generated across all of its global operations in the first year of activating its Next Generation ESG strategy.
"Looking back at 2022, I am pleased with our continued commitment to ESG across our operations and our enhanced processes and cross-functional collaboration and accountability," says Glenn J. Chamandy, president and CEO of Gildan. "ESG is one of the three core pillars of our Gildan Sustainable Growth (GSG) business strategy, and as we continue our journey towards achieving our 2030 ESG targets, we are committed to delivering and reporting on our progress."
2022 ESG highlights:
Tied 25% of all Gildan's senior executives' strategic objectives to their annual short-term incentive plan to support the advancement of ESG targets
Included sustainability-linked terms in its existing $1 billion revolving credit facility
Reduced absolute Scope 1 and 2 GHG emissions by 10.9% (compared to a 2018 base year)
Reduced water intensity by 18.4% (compared to a 2018 base year)
Sourced 21.7% of its cotton supply from verified U.S.-grown cotton suppliers (USCTP) and Better Cotton
14.2% of total SKUs of packaging and trim materials specific to apparel (which include carton, polyester, paper, and cotton-poly trims) now contain recycled materials or have relevant sustainability certifications
Achieved 30.3% gender parity in the collective group representing director-level and above employees, up from 26.7% in 2021
Contributed $1.1 million to community initiatives
Published its first stand-alone Climate Change Disclosure Report
The full 2022 ESG Report is available here.