News
Geo Knight Co. Rings in 135 Years of Business
The family-run manufacturing company has come a long way since 1885.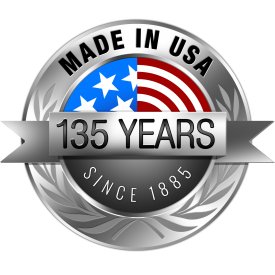 Geo Knight & Co. is marking all presses shipped this year with its anniversary badge as a way to celebrate the milestone. (Image courtesy Geo Knight)
Brockton, Massachusetts-based heat press manufacturer Geo Knight & Co. celebrates 135 years of business in 2020. The family-run company continues on through four generations of manufacturing USA-made machinery for a variety of markets. It is marking all presses shipped this year with its anniversary badge as a way to celebrate the milestone.
Following his immigration to Massachusetts in 1885, George Knight started a small machine shop making press machinery for the shoe industry. Knight eventually passed the company on to his four sons, who handed it on to their sons. Chesterton Knight Jr. ran the company until the current president, Chesterton Knight III (Chick) took over the reign, according to Aaron Knight, second cousin of Chesterton Knight III and vice president of Geo Knight.
As the years went on and shoe industry began to move overseas in the 1960s, the Geo Knight factory began making heat presses for airbrush artists who wanted to store artwork on carrier papers, Aaron states, allowing for easier application to shirts on-demand at outdoor events.
"Screen printers did the same with their designs, screening to transfer papers, for easy application onto any chosen garment for custom turnaround. From there, the heat press machine took off," says Aaron. "The shoe machinery and cutting die business still continued strong as well over the decades, tapering off in the 80s and 90s."
For the past 20 years, the shoe machinery and cutting die side of the business has been closed, but the mission of the company remains the same.
"Our mission is simply to provide the best equipment, at the best price, that will last the longest, with robust and instant support," states Aaron. "As we see so much machinery and other items being outsourced overseas, our business continues to expand and grow."
Aaron explains that today's heat presses do the same things they did in the 60s and 70s; however, the range of heat-transfer inks, papers, applications, and digital output are wider and more unique.
"The level of creativity, artwork, color, and variety of products made with this technology is at the top of its game and tip of the spear," Knight adds. "Imprinting full color to anything is awe-inspiring; providing the machinery to do so is a great honor and very enjoyable."