News
FASTSIGNS Head Designer Celebrates 20 Years
Vinny Symes reflects on two decades of design and community projects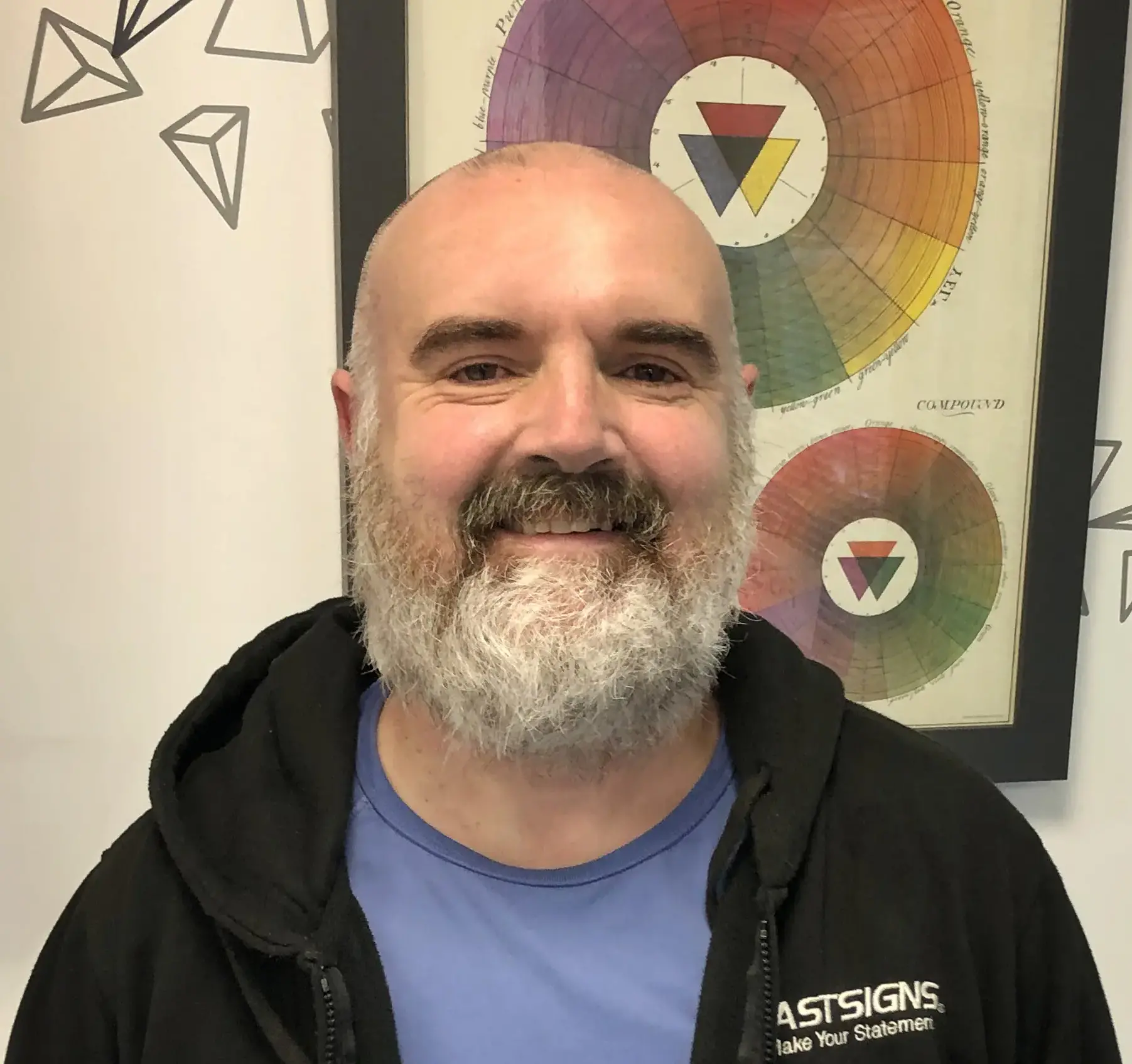 Vinny Symes (Image courtesy FASTSIGNS)
A Leeds, United Kingdom, designer is preparing to celebrate his 20th anniversary at a local signage business, marking the occasion by reflecting on his early career and providing tips for the new workforce, discussing his favorite community projects and how the creative industry has changed in two decades. 
Vinny Symes is a 45-year-old designer with a passion for all things creative.
Based just a stone's throw from the edge of the Peak District and North Yorkshire Moors, the head designer of signage specialists, FASTSIGNS Leeds, has been involved in the creative industry since 1996.
Starting out
Symes's enrollment at Dewsbury College of Art & Design for a year's foundation course was just the start of an illustrious career and a love for design:
"I always knew I loved design and had a passion for spotting things that others perhaps didn't. But that course really ignited the possibilities of design, and its effect on audiences – of all ages and backgrounds. Design can really cut through and speak to people on a personal level, and I leaned in on its ability to help tell stories." 
From Dewsbury, he went on to The University of Lincolnshire & Humberside to study museum and exhibition design, where he immersed himself in 3D model making and creating visuals. Three years well spent, according to Symes.
Career growth
No career though, is linear, as he explains: 
"I came out of those three years to a job at St James' Hospital in Leeds, where I was a porter. While it might seem like a real career change, it was an opportunity for me to gain some real-world experience. I also put myself out there and got some work experience at the nearby Thackray Museum of Medicine, just next door, which I did during my free time in between shifts."
Looking back, Symes believes that this 'side' step enabled him to grow and challenge himself. He adds: 
"Design is all about taking chances – pushing your designs to the limit. So, in my mind, why should that not also apply to our careers and how we showcase our passion and aspirations? I worked incredibly hard during that period of my life. Alongside a full-time job, I was working to develop my talent in the design space, and I've really benefited from it in the long run. At both organizations, I was fortunate to work with great colleagues, but one illustrator in particular, at Thackray, had a huge impact on me and the way I still design today." 
A changing industry
Design, as a discipline, has evolved a lot over the last two decades, according to Symes.
"Much of what we did back then was done by eye, or by hand. Technology today plays a fundamental role in our day-to-day operations – it helps to refine our work. Today, you need to have many tools under your belt, especially to keep up with the technology that now assists us.
"Design is everywhere. Thanks to the rise of social media, digital signage, print, and more conventional media channels like TV, there are so many ways we can experience design. The challenges though, are to cut through that crowded market and capture the attention of customers who demand immediacy."
Commenting on the growth of AI and the battle to retain creative jobs, he adds:
"A designer really has to know their craft and know how that translates to different audiences, on varying platforms. With that though, I'd say the discipline is even more challenging today. However, it's even more rewarding when you get it right as there's so much competition out there. 
"Like everything else, AI is playing its part – particularly in terms of image manipulation – things that may have taken half an hour to do 20 years ago can now be done in just seconds. While it's a brilliant asset to have, I encourage my designers to hone their skills and learn the basics, as the technology only builds on what we already do." 
Two decades of memories
FASTSIGNS Leeds works within a number of markets, from retail, finance, and education to hospitality and health care. Symes has played a part in thousands of designs that have gone out to customers over the last two decades. Talking about a few of his favorites, Symes, says:
"Tour De France has to be at the top of my list. To celebrate the arrival of the Tour to Leeds back in 2014, we created, produced, and installed bike tracks across the floor at Leeds Railway Station. It looked incredibly effective and was a great way to bring the tour to life here at home. It also demonstrated the role that floor signage can play – a solution we'd hear much more about during COVID-19, of course. 
"We've produced vehicle graphics for all sorts over the years – from helicopters right through to microlights in Australia. We also recently created and installed the graphics for a boat that was to be rowed, single-handedly, across the Atlantic."