News
Equipment Zone Holds a Virtual DTG Training Academy
The event is for business owners and entrepreneurs in the decorated apparel industry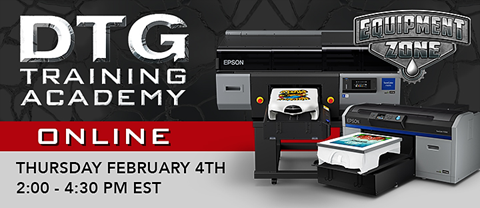 Equipment Zone holds DTG Training Academy on Thursday, Feb. 4, from 2-4:30 p.m. ET, for business owners and entrepreneurs in the decorated apparel industry.
Marketing director for Equipment Zone, Jay Busselle, says, "We're combining our professional training staff with trainers and subject matter experts from within the industry and other business owners to create the most effective virtual DTG training conference possible. This isn't a hidden sales pitch surrounded by the typical hustle and hype—this event is all about training."
The event features 14 industry leaders and experts talking on topics in under 15 minutes. A large portion of the training and discussions will center around the Epson family of DTG printers.
Presenters and training partners include Timothy Check and Matthew Rhome of Epson; Ken White of Cotton Heritage; Paul Zingone of Vastex International; Mel Lay of Allmade Apparel; and Dane Clement of Great Dane Graphics/Stahls'.
Some of the training topics to expect:
Apparel Decoration Trends – What's in Store for 2021
Can I Really Print on Tri-Blends with my DTG Printer?
Which T-shirts Print Best and Why?
The Critical Nature of the Pretreatment Process
Selling More Merch Online
LIVE Printing with the Epson F3070 Industrial DTG Printer
Find more information, a complete list of trainers, topics, and prizes here.