News
Parent Company of Digital Signage Expo Files for Bankruptcy

Digital signage expo logo
Exponation, the company behind the Digital Signage Expo, announces it has filed for Chapter 7 bankruptcy.
The statement reads:
As a result of the impact COVID-19 has had on the live events industry, Exponation LLC (producer of Digital Signage Expo, LED Specifier Summit, LightShow West, DigitalSignageConnection.com, and West Coast Lighting Insider) has filed for Chapter 7 bankruptcy, which is a liquidation of all assets and permanent closure of the company.
If you are a creditor of Exponation LLC, you will be notified by the bankruptcy court via U.S. Mail shortly, with instructions about filing a claim against Exponation's limited remaining assets.
In a statement from Brian Gorg, executive director for the Digital Signage Federation (DSF), he states the DSF has been the official association of the Digital Signage Expo (DSE) since 2011. Over the last decade, the separate organizations have worked together to support the digital signage industry's interests.
Gorg's statement regarding the news reads in part:
The leadership of the DSF wishes our friends and colleagues at DSE the best in their future endeavors. The Digital Signage Federation, made up of representatives from member companies, will continue its work on behalf of members, our industry, and those looking to be more educated about digital signage.
Now, more than ever, the tool of digital signage has such an important role to play in creating safe environments and moving our economy forward.  When it is allowed and advisable, we look forward to meeting again because our members and our industry need it.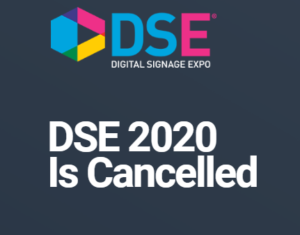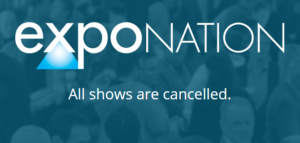 The Digital Signage Expo website states, "DSE 2020 is cancelled," while the Exponation homepage reads, "All shows are cancelled." Neither website has additional site navigation available.