News
Digital Graphics Incorporation Partners with Imaging Supplies Warehouse
The partnership allows for the distribution of DGI's printers in the U.S., Canada, and the Dominican Republic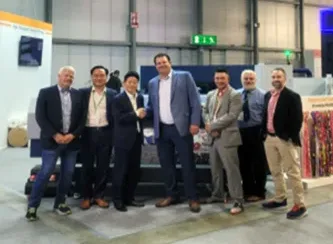 (Image courtesy Imaging Supplies Warehouse)
Digital Graphics Incorporation (DGI) announces a partnership with Imaging Supplies Warehouse (ISW) for the distribution of the POSEIDON and HERCULES dye-sublimation printers in the U.S., Canada, and the Dominican Republic.
The two companies have formed a strategic alliance that will enable ISW's network of dealers to bring DGI's line of printers to their customer base.
"Our agreement represents a critical milestone towards bringing our best quality dye-sublimation printers to the textile printer industry across the USA, Canada, and the Dominican Republic," says Bryan Choi, the CEO of DGI. "ISW will further expand its offering with access to other products in the DGI portfolio."
The agreement includes access to specialized technical support, certified parts and accessories, as well as consumable supplies critical to the operation and maintenance of all equipment manufactured by DGI.
"This unique union brings exceptional advantages for print houses to maximize production and scale operations by investing in equipment that can scale with them," states Jim Tenholder, president of ISW.