News
Corporate Apparel Brand to Bring 160 New Jobs to Southeast Indiana
New facility to serve as U.S. HQ of Affinity and its U.K.-based parent Mi Hub Ltd., creating 160 new jobs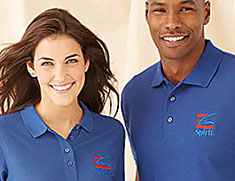 Affinity, a uniform, professional workwear, and safety garment manufacturer and distributor, announces plans to locate in Indiana, establishing its headquarters and a new manufacturing and distribution facility in southeast Indiana. The company plans to create up to 160 new jobs by the end of 2023.
"Indiana's business-friendly environment, skilled talent pipeline, and strong manufacturing sector offer companies like Affinity the perfect location to establish and grow their footprint," says Governor Eric J. Holcomb. "We're extremely grateful that with 49 other states to choose from, Affinity picked Indiana to establish its new home and create quality career opportunities for Hoosiers for years to come."
Affinity invests $3.9 million to lease and equip a new 100,000-square-foot facility at 401 Salem Road in Jeffersonville to house its headquarters, manufacturing, and distribution center. The new facility, expected to begin operating later this spring, will serve as the headquarters for Affinity and the U.S. headquarters for its parent company, U.K.-based Mi Hub Limited. Once complete, the company plans to transition its existing U.S. operations in Kentucky and Texas to its new Indiana hub.
The company, which supplies corporate uniforms and clothing to businesses worldwide, chose southeast Indiana because of its strong transportation network and closeness to major air shipping hubs. Affinity plans to initially add 75 associates in the coming months as its operations ramp up and will continue hiring for positions ranging from warehouse to executive roles. Interested applicants can apply via email at [email protected].
Gregg Mischner, senior vice president of Mi Hub, adds, "Affinity is part of the Mi Hub family of brands, and this development allows the group to expand its global footprint and better service our clients with two-day ground shipping to 75% of the U.S. population. This new location gives Affinity the opportunity to fully focus on the corporate apparel marketplace, to become the industry's leading provider within the mid-market sector in North America."
Mi Hub Limited operates several brands, including Affinity, and employs more than 800 people across the U.S., U.K., and Europe. Affinity, currently based in Kentucky and Texas, specializes in implementing domestic and global full-service, custom apparel programs for brand-focused partners within the mid-market uniform sector.
The Indiana Economic Development Corporation offered Mi Hub U.S. (dba Affinity) up to $1.7 million in conditional tax credits and up to $100,000 in conditional training grants based on its job creation and training plans. These tax credits are performance-based, meaning the company is eligible to claim incentives once Hoosiers are hired. Located in the River Ridge Commerce Center, an Urban Enterprise Zone (UEZ), Affinity is eligible to receive UEZ benefits.