News
Charles River Apparel Sponsors 2021 Pan-Mass Challenge
The company provided custom embroidered jackets to this year's "heavy hitters"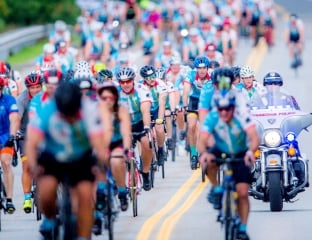 (Image courtesy Pan-Mass Challenge)
Charles River Apparel sponsored the 2021 Pan-Mass Challenge (PMC), an athletic charity fundraiser. The bike-a-thon brings together thousands of cyclists and volunteers from around the world to raise life-saving funds for cancer research and treatment, with 100% of every rider-raised dollar directly benefiting the Dana-Farber Cancer Institute.
"We are passionate and committed when it comes to helping our community and giving back," says Charles River Apparel President/CEO Barry Lipsett, who has ridden in the PMC for the last 16 years, many times accompanied by a team of Charles River Apparel employees.
"The mission behind the Pan-Mass Challenge is close to our heart, and we continue to expand our involvement each year to raise funds for cancer research and treatment," Lipsett adds.
Building upon its previous sponsorship of the PMC 2020 Reimagined — which virtually engaged participants in activities and fundraising both on and off the bike — this year, Charles River Apparel provided 2,000 of its adventure jackets. The jackets were custom embroidered with the 2021 PMC logo and sent as a special thank-you gift to the organization's top fundraisers, known as "heavy hitters."
"Our support of this wonderful event expands as so many of our friends and family have been affected by cancer," says Lipsett. "We hope that the continued effort and support for events like the PMC will one day lead to a cure."
"We are grateful to have Charles River Apparel's support as a sponsor and riding alongside us raising critical funds for Dana Farber," says Billy Starr, founder and executive director of the PMC. "We appreciate their commitment to our organization and their recognition of our heavy hitters, who go above and beyond in their fundraising efforts."