News
Apparel Companies Pivot to Address PPE Shortage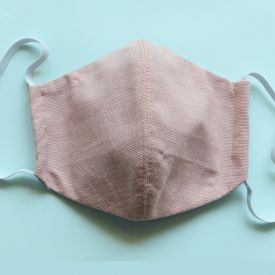 Apparel companies around the industry turn their attention to making face masks for those in need. (Image: Adobe Stock)
Apparel companies around the industry turn their attention to making personal protective equipment (PPE), like face masks, mask covers, and gowns, for healthcare workers, government agencies, and those in need.
In Vancouver, Washington, Allmade is producing face masks from the fabric it uses to make T-shirts. For every ten packs sold, the company donates one package to a local healthcare facility. Those interested can buy and/or donate here.
In Brea, California, AST Sportswear Inc. pledges to use its manufacturing facility to produce and donate health masks to U.S. hospitals facing shortages. The company, which manufactures apparel under the Bayside brand, also plans to utilize its own 100% cotton fabric it sources in the U.S. to produce the masks. The company is working alongside a coalition of apparel companies coming together to build a face mask supply chain. Other companies in the alliance include American Giant, American Knits, Beverly Knits, Fruit of the Loom, HanesBrands, SanMar Corporation, and Riegel Linen.
AST Sportswear's chief operating officer Abdul Rashid states, "After learning about the drastic shortages of masks in hospitals, and hearing that some health care professionals started putting together make-shift masks out of little pieces of paper, I knew it was our responsibility as a community to help those on the frontlines helping our fellow Americans."
Canvas ETC, a wholesale supplier of textile products located in Auburn, Georgia, donates thousands of face masks to area doctors, clinics, and hospitals. Nik Narwani, a spokesperson for the company, says, "We source fabrics domestically and from all over the world. Because we have built up goodwill with manufacturers, we were able to put those relationships to good use. Our company wants to give our community's healthcare workers every chance to help us beat this virus safely."
Greenville, South Carolina-based Delta Apparel, announces it will leverage its manufacturing facilities to begin producing cotton face masks. The company has joined a coalition of apparel brands responding to the need for face masks. Once in full production, the alliance expects to produce up to 10 million face masks per week in the United States and Central America.
Company CEO and chairman Robert W. Humphreys says, "We have already begun production of the face masks in our sewing facility in North Carolina and expect to begin production in Honduras this week."
In addition to the production of face masks with the coalition, Delta Apparel is also producing and selling non-medical grade face coverings.
In a press release, Founder Sport Group says part of its facilities are committed to producing performance activity masks (PAMs) and inspirationally-messaged T-shirts with 100% of all net proceeds from the sale of both products going to All Clear Foundation. The foundation is a 501c3 organization devoted to improving the life expectancy and wellbeing of all first responders.
The apparel company utilizes cutting and sewing capabilities in North Carolina and Nicaragua for the production of PAMs, which are meant for active individuals who need to go on public outings. Additionally, the apparel company offers T-shirts decorated with the message: The Best Offense is a Good Defense. Both products are available at www.foundersport.com.
New York-based clothing manufacturer and promotional products supplier FPS Apparel has also shifted operations to assist with the growing shortage of face masks and hospital gowns. The company is using fabric previously used for T-shirts and other apparel to create face masks. "The masks are not medical grade, but according to the CDC, anything helps if you can't get your hands on a real mask," says the company. FPS plans on donating a portion of the masks while also offering them for sale. Custom options are also available. Go to www.fpsapparel.com for more information.
In addition to face masks, some companies are making covers for them, which extend the life of an N-95 mask. GAME Sportswear tells GRAPHICS PRO it's working with the NYPD and other agencies to get covers into the hands of those that need them. According to a local New York news channel, GAME expects to produce 5,000 masks per week and plans to donate them for as long as its able.
Gildan Activewear Inc. joins forces with various business partners to leverage its manufacturing facilities to produce non-medical face masks and isolation gowns. The company says it's working with one of its customers in the imprint channel to support a cooperative consortium of apparel and textile companies producing masks. Partners of the consortium are providing both the design and textile fabric in production.
Gildan is also working with retail partners to make non-medical face masks and isolation gowns for the healthcare sector. This initiative includes manufacturing the required textile for the production of the masks.
Gildan has received authorization from the Honduras government to partially reopen one of its textile facilities to produce the fabric needed for the masks and gowns, and one of its sewing facilities in Honduras for the assembly of these products. It has communicated with other governments in the countries where it operates, including Canada and Honduras, and offered to supply non-medical masks and isolation gowns as needed.
HanesBrands says its supply chains and product development teams produced technical product specifications, including product chemistry, and samples of 3-ply cotton masks in coordination with the U.S. Department of Health and Human Services that were then approved by the FDA. Hanes then shared those patterns and specifications with the other apparel companies in the coalition mentioned above. It's cotton yarn spun from its partner Parkdale Mills America, which is then used in its textile manufacturing facilities in El Salvador and the Dominican Republic to make cotton fabric for the masks. From its masks production, Hanes has already produced and delivered more than 60 million cloth face coverings for the U.S. government and is ahead of schedule to provide more than 320 million of the washable 3-ply all-cotton face coverings.
In addition to masks production, Hanes announces on April 29 that it has begun production of medical gowns. In a press release, Hanes says more than 20 million reusable long-sleeve gowns are to be delivered to the U.S. Federal Emergency Management Agency (FEMA) for distribution to hospitals and healthcare facilities. The long-sleeve medical gowns are made from fabric designed to be splash resistant and can be washed and reused.
In an Instagram post, Los Angeles Apparel, Dov Charney's current apparel venture, announces an "urgent message to government agencies." The apparel company says this is a time for U.S. companies to "step up and assist in combating this crisis." To do this, Los Angeles Apparel says its workforce and management team of 450-plus people will "produce masks or medical products for any government agency."
According to The New York Times, the apparel manufacturer is making surgical masks and hospital gowns, and Charney expects his 150,000-square-foot factory can manufacture 300,000 masks and 50,000 gowns in one week.
The company encourages municipal, state, or federal agencies to reach out if they need textile or sewing product production. For those in need, direct message the company's Instagram account or text Dov Charney at 213-923-7943.
In Massachusets, Refried Apparel's usual business model of taking unused or dead stock of apparel and upcycling it into new items has shifted to making and donated protective masks. The masks and ties are made from cotton blends and 100% cotton T-shirts. They're washable and reusable and going to frontline workers like healthcare workers in hospitals and first responders. Through this, Refried employs a large number of workers recently laid off from other companies. It's also set up a GoFundMe page to fund the production work of those creating the masks.
Royal Apparel also joins the coalition of U.S. apparel and textile companies working to fight the spread of COVID-19 by producing masks. Royal Apparel says it's part of the Beverly Knits team. The U.S. Department of Health and Human Services approved the general-use masks.
To help the initiative, Royal Apparel dedicated its cutting and sewing facility in New Jersey and Pennsylvania to produce masks. These masks are exclusively for the federal government, but the company is also making non-medical face coverings, which can be found on its website.
SanMar says in a press release that the masks it's producing will go to the federal government to then distribute to hospitals, health care workers, and other battling COVID-19. President of SanMar, Jeremy Lott, was prompted to take action after an employee told him that her son, an EMT, isn't equipped to help patients. "She said they don't have masks and have been advised to wear bandanas, and she is worried about him," says Lott. "That really hit me. We want to do whatever we can do support these efforts."
SanMar is working to produce masks and many of the textiles in its manufacturing plants in Tennessee and Central America to support the sewing operations across the coalition mentioned above.
Tultex, an apparel brand under TSC Apparel, is also redirecting its efforts to produce face masks for the healthcare industry amid the shortage. According to Tultex, adapting operations and helping out where needed isn't something new to the brand.
"Since 1935, we have been stepping up to help our country in times of crisis," Debbie Gonzalez, VP of merchandising and brand management at TSC Apparel and Tultex says. "Our brand was an official supplier of sweatshirts to the U.S. Army during World War II."
The company believes it will produce 1 to 2 million masks per week. Tultex will primarily be supporting healthcare professionals, hospitals, nursing homes, and frontline workers. The product will also be available to consumers. Please note, these masks are not medical-grade.
"When we heard the countless stories of healthcare professionals working with patients without masks or desperately trying to reuse them, we knew we had to step in and help," Dave Klotter, CEO of TSC Apparel says. "Our social responsibility is to work to provide solutions and keep our TSC associates working." For more information, visit www.tscapparel.com.
In Broomfield, Colorado, Xtreme Pro Apparel manufacturers antimicrobial fabric for wrestling singlets. According to upnewsinfo.com, the company saw a need after New York Governor Andrew Cuomo spoke about the lack of masks for healthcare workers.
In a Facebook post, Xtreme Pro Apparel announces, "With the shortages of face masks in the community and around the U.S., Xtreme Pro has designed a face mask using premium antimicrobial moisture management fabric. Our masks are double layered for maximum protection and washable for reuse. Xtreme Pro offers two sizes in the mask, one for youth and one for adults." Ten percent of all proceeds from the masks will go to hospitals in need.
If your apparel company has shifted to producing masks or other medical products, please reach out to Allee Bruce at [email protected].