News
AAG Brands Celebrate 30 Years
To celebrate, AAG offers sales on AXYZ routers, WARDJet waterjets, and CNC parts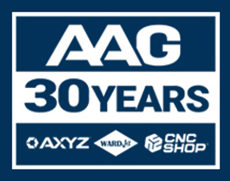 This year marks the 30th anniversary of AAG Tailored Cutting Solutions. To celebrate, AAG offers sales on AXYZ routers, WARDJet waterjets, and CNC parts—a first for the company.
AAG started in 1991 as AXYZ International by Alf Zeuner and Gary Harvey, two friends who embarked on a router repair initiative. The focus then shifted to creating modular machines to fit their customers' needs. After this, business took off, and today, the company has restructured into AAG Tailored Cutting Solutions, a manufacturer of routers and waterjets worldwide.
With AAG officially representing AXYZ, WARDJet, and the revamped eCommerce site, CNCshop.com, it offers various savings opportunities including 20% off AXYZ routers, 10% off WARDJet waterjets, and 20% off router parts and 10% off waterjet parts from CNCShop.
Find more information here.