News
2020 EDP Award Winners Announced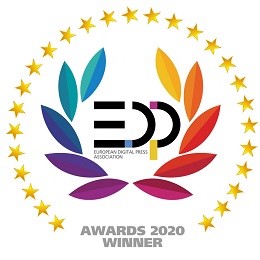 Every year, the European Digital Press (EDP) Association evaluates, judges, and honors the best digital technological developments and processes in categories like hardware and software, large/wide-format printing, commercial printing, industrial solutions, finishing, and consumables.
The best products in each category earn an EDP Award. This association announced this year's awards via an online presentation to a total of 29 winners. Since 2007, the EDP has given roughly 360 awards.
The winners of the EDP Awards 2020 are as follows:
SOFTWARE/HARDWARE
Best layout, design, and editing system: Chili Publish | Chili Publisher
Best color management solution: Onyx | Onyx 19
Best workflow technology: Durst | Durst Workflow
Best MIS / ERP system: Dataline | MultiPress e‐calculator
Best special application software: EFI | FreeForm Create
Best print and finishing support tool: Bobst | Large Format Digital Inspection Table
PRINT
Large/Wide-Format Printing
Best roll‐to‐roll printer < 170 cm: Mimaki | UJV100‐160
Best roll‐to‐roll printer < 320 cm: Agfa | Oberon RTR3300
Best roll‐to‐roll printer > 320 cm: EFI | Vutek D Series
Best flatbed/hybrid printer < 250 sqm/h: EFI | Vutek 32h
Best flatbed/hybrid printer > 250 sqm/h: Durst Rho 2500
Best print-and-cut solution: Roland DG | Versa UV LEC2‐300
Best object printer: Mutoh | XpertJet 461UF / 661UF
Best textile printer roll‐to‐roll > 100 sqm/h: Mtex| Falcon
Best direct-to-garment printer: Roland | Texart Xt‐640S‐DTG
Commercial Printing
Best cutsheet color A4 to B3: Xerox | PrimeLink C9070
Best cutsheet color up to SRA 3 < 499.000 A4/month: Ricoh | Pro C5300s
Best cutsheet color up to SRA 3 > 500.000 A4/month: Kyocera | TASKalfa Pro 15000c
Best cutsheet color B3 +: Canon | varioPrint IX‐series
Best combined label and flexible packaging printer: Bobst | Master DMS
INDUSTRIAL SOLUTIONS IN PRINT AND FINISHING
Best corrugated solution: Highcon | Beam 2C
Best wallpaper production solution: Fotoba | XLD 170 WP
Best print head: Memjet | DuraFlex
FINISHING AND ENHANCEMENT
Best digital wide-format cutting solution: Summa | L3214
Best webfeed finishing solution: Tecnau | Stack 5251
Best enhancement solution: Klieverik | GTC111‐5400
CONSUMABLES (INKS AND SUBSTRATES)
Best environmental ink/toner: Kodak | NexPress antimicrobial clear ink
Best coating and varnish: Kornit | NeoPigment Robusto softener
Best substrate: Neenah Coldenhove | Texcol
Some words from winners:
"Onyx Graphics has always had color at its­­ core," says Matt Crawford, director of product marketing at Onyx Graphics. "To be recognized again by the experts that make up the EDP panel reaffirms our commitment to providing industry-leading color output that PSPs around the globe can truly rely on."
Paul Cripps, EFI regional vice president of sales, says, "These awards are important to us as they reflect our commitment to developing smart, breakthrough technologies as well as reinforce our hard work—all to better support our customers across market segments."
"These awards are another strong reference point and third-party endorsement to what we have achieved through our mission to innovate," says Manfred Glantschnig, head of product management for Durst Professional Services.
The EDP Technical Committee selects the winners by evaluating the submitted products on technical abilities and product innovation that improves speed, quality, performance, and cost.