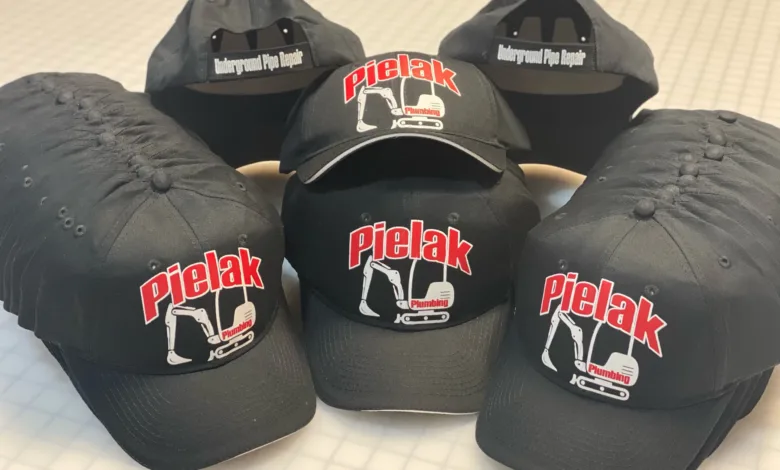 When most of us think of selling uniforms, we may not even know how that's usually done. While it is a multibillion-dollar industry, many people are not familiar with the major corporations, Aramark, Cintas, etc., that make up the rental uniform sales force. These companies sell uniforms on a massive scale and have huge plants for decorating and cleaning the uniforms and workwear they sell. Their clients are usually large companies with huge workforces to outfit. The scope of the uniforms supplied and cared for is beyond the scale that most average shops could manage. Given that fact, does this mean that uniform or workwear sales are not something that can be done by a smaller shop?
What to consider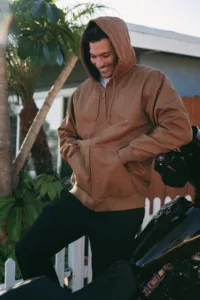 When a smaller shop is considering workwear or uniform sales, the thing to remember is scale. Most likely, you will be selling to smaller companies with a smaller pool of employees. It is also not likely that you will be involved in cleaning the uniforms, as most smaller companies would expect employees to handle that however they choose. While decorating and maintaining uniforms for a thousand-piece workforce on a weekly basis may not be possible, embroidering lab coats for a local doctor's office, screen printing waitstaff apparel for a local pizza shop, or blinging out the staff shirts for a local spa is well within the reach of most small shops. This sort of work also has the potential to be very profitable. Staff turnover can mean repeat orders. A consistent uniform means once you have the process down, and your production time can be reduced.
If a smaller shop is looking to get into selling uniforms or workwear, the biggest challenge may be figuring out what types of things to sell. Keep in mind that a uniform is defined as distinctive clothing worn by members of the same organization or employees of the same company, while workwear is heavy-duty clothing worn for physical or manual labor. So, they're roughly similar things but not exactly the same. A uniform could be a lab coat, a T-shirt, an apron, a dress shirt, or something similar but will usually be fairly lightweight and easy to decorate. Workwear, on the other hand, may be made of heavier material, may have requirements in areas like fire safety, and is generally going to be made up of garments that may be more resistant to decoration. If you have the right equipment, supplies, and decoration methods, workwear can be profitable, but it may require more specialized equipment and techniques than a standard uniform.
One way to get started with selling uniforms is to think about the decoration technique you already offer and what types of uniforms may be most suited to those techniques. This may allow you to create another profit center using the equipment and technical knowledge you already have. While there are no hard and fast rules for what companies or industries may require or want a certain decoration technique or style, there are some general trends that may be helpful to examine.
Embroidery
This is a traditional standard for medical lab coats. Many hospitals and clinics will have lab coats embroidered for doctors and sometimes all medical staff. Research laboratories may also use embroidery lab coats. Another fertile ground for embroidery can be embroidering names on uniform shirts. Some companies will use embroidered patches on shirts so they can simply remove and replace the patch if an employee moves on. Embroidered patches are also popular for hats and jackets. The advantage of embroidered patches is they can be removed, and the item can be reused. Another frequent use for patches is to cover an old logo or corporate branding that has changed. This, again, salvages the garment and still promotes the new brand. Embroidery is generally considered a traditional and classy look, so people going for a higher-end appearance may choose this decoration method.
Rhinestones
Sometimes bling is the thing, and it can be popular for salons and spas. Some specialty medical offices, like dentists or dermatologists, may also like the more sparkly look. Often the company name or logo will be done with rhinestones, usually on T-shirts. This look is often chosen by companies that work in some aspect of physical appearance and may be meant to promote an image of luxury or wealth.
Screen printing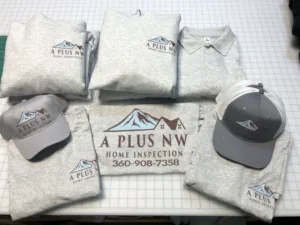 Screen printing can be a common decoration technique for uniforms in the food service industry. Many delis, coffee shops, craft breweries, and restaurants may have their employees wearing screen-printed shirts. They may also sell the shirts to their customers as part of a merchandising package. Screen-printed patches may also be used on other service worker uniforms, like mechanics.
Vinyl or sublimation
These options may be less expensive for some companies and can still create a pulled-together appearance for a company's uniforms. Since washing will most likely not be done in an industrial setting, there is less worry of items fading or peeling. Vinyl could be a lower-cost and less time-consuming option in place of screen printing. Sublimation patches can also be a lower-cost option that would allow for more elaborate logos as well.
Meeting requirements
Once you've decided what sort of decoration you want to or can offer, the next thing is to examine the requirements for uniforms or workwear in the industries you want to target. If you want to target restaurants and bars or any type of food service uniforms, keep in mind there may be regulations about what can be worn depending on the type of job that's performed. Food service is also an area that generally requires uniforms that are easy to keep clean and from which stains and spills can be removed easily. Some uniforms may also be exposed to elements like food spills or dirt that can stain and require washing more frequently, so a more durable form of decoration may be indicated.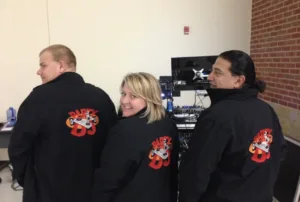 When you're dealing with workwear, the challenge may be special safety restrictions depending on where the items will be worn and by whom. If you're decorating firefighter gear or a suit for a racing driver, or an electrical worker, you may have to deal with fire safety requirements and use fire retardant materials and threads.
Workers who interact with cutting tools like saws or work in places where they encounter animals that could bite may have reinforced areas on their workwear to protect them from accidents. Make sure that you investigate any special requirements the job may have and decorate the workwear accordingly.
Also, keep in mind that the plus side of this sort of work is that once you understand the requirements and can successfully meet them, both through technique and stocking the necessary supplies, you may have a monopoly in your area for businesses that require that sort of workwear. So, although it seems like a more laborious process, researching and learning to meet the requirements of a specific industry can be beneficial and profitable.
Finding supplies
Once you've selected the industries or categories for which you want to decorate, the next task is finding the necessary supplies. If you aren't inclined to make your own patches, the next best thing is to buy blank patches and decorate them yourself. If you're dealing with workwear that has special requirements, you need to find fire-resistant or retardant thread, bobbins, and stabilizer, if you're doing embroidery. If you're screen printing shirts for daycare or nursery school staff, you may want to err on the side of caution and use ink that is CPSIA compliant and certified, just to be safe. Finding supplies that meet the requirements of the garments you're decorating and the industry in which they will be used will most likely take some research and time, but once supply chains are established, having done the research may give you a competitive advantage.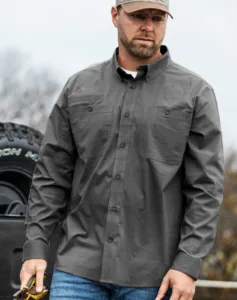 Embellishing uniforms and workwear may not be for every shop. There are hoops that need to be jumped, supplies that need to be sourced, and, in some cases, regulations that require compliance. What makes this profit center attractive is the fact that most towns have smaller businesses that need uniforms, and they're not large enough to be worth the time and effort of the large-scale uniform rental companies.
Like corporate logowear or spiritwear, creating uniforms and workwear can be a way to tie clients to your shop since you know how to create what they need and meet any specific industry requirements. Doing this sort of work also offers opportunities for upselling and expanding into corporate wear or promotional items as well. A mechanic's shop or the local diner may also be an easier client to secure than a local school or hospital or larger organization.
In the end, uniforms and workwear, like any job a business takes on, will be what you make of it, but this category has a great deal of potential, and shops that specialize in certain types of uniforms and workwear can do very well for themselves.