When you hear branded workwear, you may envision stiff giveaway t-shirts and polos with company logos on them … the same clothes that management makes you wear … clothing you'd never wear outside the office or shop.
For years owners and managers spent the least amount of money they could on company apparel. Thankfully, times are changing, and ownership realizes that not only can your workwear create opportunities to attract new business but also create avenues to attract talent to your organization.
My wife and I love to cut the grass. We fight over who gets to do it because it gives us a solid hour and 30 minutes of uninterrupted break from our usual responsibilities with a nice podcast or good audiobook. It's relaxing.
But recently, we've been just too busy, and we're becoming the neighbors the HOA has warned everyone about. So, to fix that, we've decided to give up our me time and hire one of the 100 landscaping companies in the area.
Now, because I'm in the apparel decoration industry, there is only one thing we will consider while searching for our new lawn care partner … Do they look professional? Each week we drive through the neighborhood dodging trailers, mowers, trucks, and cones while dozens of employees are rhythmically pacing back and forth over the well-manicured lawns. I really do believe they could all do the job I need. Who do I hire?
Do I stop to hire the disheveled worker with a backward Buc-ee's hat, ripped cargo shorts, sleeveless Van Halen tee, and flip-flops cutting the grass? Or do I hire the gentleman pacing behind his mower wearing his company logoed trucker hat, matching polo with his logo adorned to the left front chest, American flag printed on the sleeve, and tucked into his matching work pants? The choice seems easy to me.
As you ponder which lawncare worker you'd like to entertain, I will explore some new advantages of branded apparel in the workplace. There are clear benefits of having your work garments adorned with company logos. They create a professional image, they can unify your team, build customer trust, and they can build brand awareness.
Creating a professional image
When it comes to workwear, having your company logo emblazoned on your apparel can make a significant impact. The reality is that first impressions count.
Branded workwear instantly elevates your professional image and sends a clear message to customers, clients, and even competitors that you mean business. It showcases your commitment to quality and attention to detail, establishing trust and credibility right from the get-go.
Unifying your team
Branded workwear has a hidden superpower. It unifies your team. When employees wear the same logoed attire, it creates a sense of belonging, fostering team spirit and camaraderie. They become part of a cohesive unit, proud to represent the company they work for.
Plus, it eliminates the age-old question of what to wear to work, saving precious time and energy. The team that dresses together, stays together!
Branded apparel can also help bridge this gap by unifying remote teams and reinforcing company values. Companies can provide branded merchandise, such as t-shirts, hoodies, or caps, to employees working from home. Wearing these items during virtual meetings or team-building activities creates a sense of unity and camaraderie, strengthening the company culture despite physical distance.
Building customer trust
Who do you trust more, Mr. Buc-ee's hat, ripped cargo shorts, sleeveless Van Halen tee, and flip flops or the other guy? Or, imagine you walk into a store, and all the employees are wearing mismatched, outdated clothing. What does that say about the business?
Now, imagine the same store, but with a team sporting stylish, well-fitting workwear, complete with the company logo. Boom! Instantly, you feel a sense of trust and professionalism. Branded workwear reinforces your commitment to quality and tells customers you take your business seriously. It's like a silent handshake, sealing the deal.
Branded apparel can also play a crucial role in instilling confidence in customers and employees alike. Companies can incorporate safety messaging, core values, highlight awards or even acknowledge brand partnership with other companies within the community. These visible reminders demonstrate a commitment to community, safety, and more. 
Building brand awareness
Branding is all about making a name for yourself, and what better way to achieve that than by turning your employees into walking billboards? When your staff wears workwear with company logos, they become brand ambassadors, spreading awareness wherever they go.
Think about it … you're not just limited to the confines of your office or storefront., Your brand reaches places you never imagined. Talk about exposure, right? With the right people in place, not only do those ambassadors spread awareness around the community, but they also attract likeminded and talented people to your company. 
Decoration techniques for different industries
Now that we've articulated a handful of advantages of branded workwear, it's important to note what types of apparel work well within different industries.
Just as creating a professional image, unifying your team, building trust, and building brand awareness is important, providing apparel and decorations to complement your field is equally important. Here are a couple of industries and some recommendations for decorating apparel. 
Hospitality industry
In the fast-paced world of hospitality, first impressions are everything. For hotels, restaurants, and catering companies, consider embroidered logos on sleek, wrinkle-resistant shirts, blouses, or aprons.
The raised texture of embroidery adds a touch of sophistication and durability, ensuring your brand stands the test of time. Sleek and sophisticated is one thing but another measure of the style of apparel being used is based on the clientele you're advertising to.
I would expect Marriot to have wonderfully embroidered shirts and blouses. I would expect the biker tavern and motel to have totally different workwear apparel standards. Your Vibe Attracts Your Tribe theme comes to mind. Just because it's not Marriot apparel doesn't mean their apparel isn't being used to build brand awareness, unify a team, create a professional image, or build customer trust.  
Construction and trades
When it comes to the rugged world of construction and trades, durability is key. Opt for screen printing on heavyweight, high-visibility workwear such as jackets, coveralls, and vests. This technique provides vibrant colors and clear, bold logos that can withstand the demands of the job site.
This is where you may have to lower your screen mesh to allow maximum ink deposits and better coverage on your canvas-like fabrics. Hi-Vis mesh vests are always a little tricky. Depending on the size of your mesh, you can add a scrap sheet of paper between the vest and the platen to minimize the ink printed through the holes. Not super-efficient, but more efficient than removing ink from places you didn't want it.   
You'll see a lot of printed logos on the front and back of tees and hoods, along with hard work slogans or safety policies such as Safety First or Licensed and Insured. While screen printing and embroidery are still the mainstays in decoration for the rough and rugged world of construction and trades, DTF logos add an amazing opportunity to add a full-color flare to pockets, sleeves, and other unique locations.
With the proper heat application, you can count on them to withstand any outdoor work site.
If you really want to apply some Wow factor, look to adding custom patches to workwear apparel. Not only will it raise the perception of value, but it will also allow you to apply the patches in multiple locations. The same patch could be used for hat front, jacket left chests, coverall front pockets, computer bag front sleeve, shoulder sleeve, and more. Experiment with leather, faux leather, woven, and embroidered patch to see what style best fits the brand.
Healthcare and medical
Healthcare professionals deserve workwear that is functional, comfortable, and easily identifiable. Embroidered logos on scrubs, lab coats, and tunics strike the right balance between professionalism and practicality. The subtle elegance of embroidery on these garments adds a touch of class to the medical environment.
When working within this industry, it's important to make sure you have a firm grasp on the correct stabilizers on the back of your embroidery. Lab coats look silly when you see the beautifully stitched logo with a gigantic white rectangle outlining the embellishment from the inside of the coat. Look to use something soft or medium-weight cutaway. Those types of stabilizers will provide sufficient support without adding too much stiffness.
Also, make sure you are using the correct needles to achieve the professional look that the industry requires. Design complexity and fabric types are two factors to review when stitching for the healthcare field.
Retail and service
For the retail and service industry, personalized and eye-catching workwear is essential. Consider heat transfers or vinyl printing techniques on shirts, polos, or caps. These methods offer versatility, allowing intricate designs, gradients, and vibrant colors to shine through. Your team will rock that stylish and memorable look.
The past few years have highlighted the importance of giving back to the community. Branded apparel can serve as a platform to showcase a retail company's commitment to giving back and supporting communities in need.
For instance, companies can launch limited-edition apparel collections, with a portion of the proceeds donated to charitable organizations like a homeless shelter. By wearing these branded items, customers and employees become part of a larger movement, spreading awareness, and encouraging others to contribute to worthy charities.
Not all landscaping is equal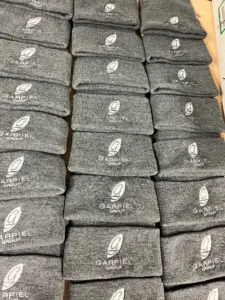 For the sake of this article, I'm making landscapers a standalone industry. Landscaping is hard work. They are in the truck at 6 a.m., cutting lawns, trimming, fertilizing, seeding, and working under the hot sun throughout the day.
At 6 a.m. it's 48 degrees; at 1 p.m. it's 87 degrees. Logoed polos, tees, hoods, jackets, hats are a must if they expect to earn my business.
Branded workwear is a powerful tool with the potential to elevate your business to new heights. It creates a professional image, enhances brand awareness, unifies your team, and builds customer trust.
Yes, Mr. sleeveless Van Halen tee with the flip-flops could cut my grass, but I'd rather take a flyer on a company that invests in its people and understands the value of branded workwear.
I want someone that takes their profession seriously. They say clothes don't always make the man, but branded workwear will earn my business.