Features
Why You Should Add Rubber Stamps to Your Services
Sponsored by Shachihata
$500 million industry offers a vital opportunity for potential growth
In 1866, James Woodruff invented the first rubber stamp using dental techniques applied to letter molds. A few years later, in 1883, William Purvis received U.S. patent #273,149 on his newest invention that revolutionized the office environment. This patent and design enabled the hand stamp to replenish its own ink. This stamp would come to be known as the self-inking rubber stamp. Since these two innovators, the rubber stamp has become an essential tool in offices, crafts, health care, factories, and many other areas of everyday life the world over.
Today, rubber stamps have become a $500 million annual industry, which presents an opportunity for potential new customers and sales growth. In the past, businesses have always searched for ways to diversify. It is now vitally important to find new ways to increase customer loyalty and, at the same time, boost sales. Retaining loyal customers is the most crucial aspect of any profitable business, but attracting new customers is essential for long-term growth.
Of course, not everyone has space, finances, or desire to add large, expensive laser machines just to manufacture rubber stamps. That's where a pre-inked stamper system, like the Xstamper QuiX, comes into play.
A system like this is designed for day-to-day production, and having a small footprint also makes it ideal for events, mobile promotional purposes, and demonstrations.
Modern consumers demand products and services within a very short time. Think Amazon, Postmates, or even McDonalds. You want high-quality and speed in a system, allowing you to produce a finished stamp with razor-sharp text, image, or both in just minutes. With a stamp-making system, businesses can cut out lead times and shipping costs, and best of all, eliminate the need for a customer to return to pick up their stamp—a service all of us would appreciate.
Design or import your stamp impression.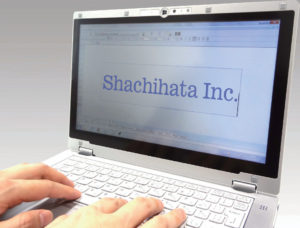 2. Place the die in the cartridge and insert it into the machine for processing.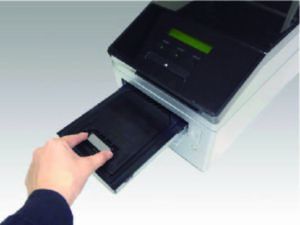 3. Place the label in the cartridge and insert it into the machine for printing.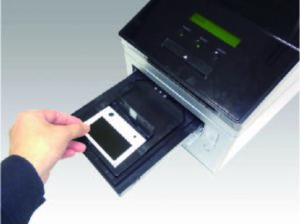 4. While the label is printing, attach the die to the stamp mount.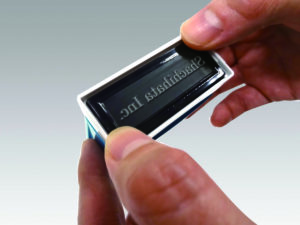 5. Press the stamp down five times to allow the ink to begin to penetrate the die.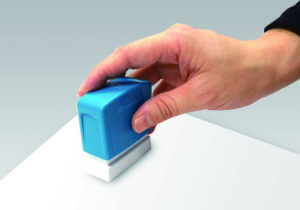 6. Apply printed label to the top of the stamp handle.