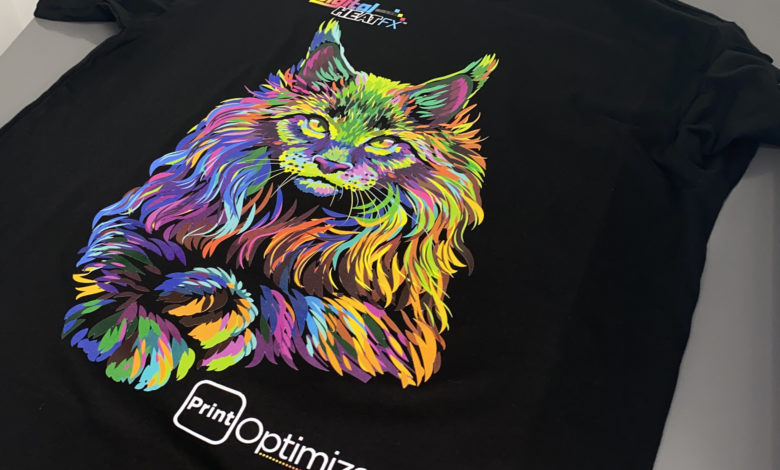 White toner printers have taken the customization business by storm since their introduction a few short years ago.
They're used mostly as a T-shirt transfer printer but are gaining popularity for making promotional products like can coolers, coasters, ornaments, awards, and more.
And they have been pitched as a great alternative to direct-to-garment printers, sublimation, and even screen printing for the following reasons:
Almost zero maintenance, so they're very easy to own
Versatility, which means you can make custom apparel, promotional products, stickers, and more
Ease of operation, so there's nothing to operating the printer itself, (though preparing artwork and making transfers is no easier than any digital printing method)
Why is white toner important?
There's been a problem with transfer printing since its inception: You can't get a good-looking print onto a dark T-shirt or hard good. When you apply CMYK (regular color laser or inkjet colors) to a dark shirt (or even black paper), the colors turn out very dull.
It's just like applying a new paint color to a wall that's already been painted black, red, or brown. If you apply yellow paint to a black wall, you'll end up with a dull orange color instead of the vibrant yellow—unless you prime it first. White toner acts as a primer for T-shirt transfers.
This is why sublimation transfers can only be applied to light-colored (mostly white) 100% synthetic material T-shirts, like polyester—no white toner. But now that there are several white toner printer options on the market, which one should you choose?
White toner printer options
The first option is whether the printer is adding white toner or trading it for black.
Some of the color-led (laser) printers that have white toner in them started life as a regular CMYK printer.
C = Cyan
M = Magenta
Y = Yellow
K = Black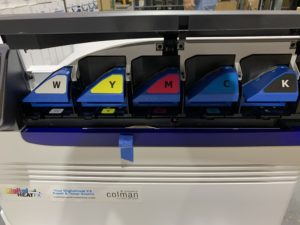 That combination gives you the widest color range. It's what you're used to seeing when you see anything printed in full color.
Most white toner printers have substituted the white color for the black color toner. So rather than a CMYK printer, you get a CMYW printer.
W = White
Since a CMYW printer doesn't have black toner, a combination of the other three colors produces what's called a composite black. Composite black looks great if you know how to use it and is perfectly appropriate for most designs, especially for custom T-shirt applications.
If you put transfers made with a CMYW printer (like the OKI pro8432WT) next to a CMYKW printer, you can tell the difference.
OKI, UniNet, Ghost, and DigitalHeat FX
There are four big names in white toner printing, and they're differentiated by manufacturing, modification, and branding.
OKI
UniNet
DigitalHeat FX
Ghost
OKI Data
OKI builds the printers themselves. This is a large, stable company that pioneered white toner transfer and the white toner transfer printing business in the first place. They make three professional models commonly used for the customization business:
OKI 711WT is a small format CMYW printer.
OKI pro8432WT CMYW printer is a professional model that takes paper sizes up to 11″ X 17″.
OKI pro9541 CMYWK printer has both the white toner cartridge and black toner. Because it houses all five color toners, the printer is bigger, comes with a stand, and will output up to 13″ X 19″.
UniNet Toner Printers
UniNet printers mirror the sizes of the OKI printers with the following models:
iColor i550 is an 8.5″ X 11″ printer but is packaged by ColDesi with a software application that allows the user to print a large image across more than one transfer. It also offers sublimation and neon toners. Keep in mind that most users never use neon or sublimation novelty toners. The standard transfers will be the bulk of your business.
iColor600 is the same physical configuration as the OKI pro8432WT.
iColor800 offers the same print size as the OKI pro9541WT.
DigitalHeat FX
The DigitalHeat FX name is the most searched for white toner printer brand, and it's made up of custom bundles of the best from OKI and UniNet. When you consider what printer to purchase, you might be better off thinking about what bundle to purchase.
These products and services make a big difference in the success of users:
Professional training: The printers themselves are simple to operate, but the process of creating the graphics for print, for creating a transfer using AB paper-like EZ Peel and applying that transfer to different materials is a skill.
Application support: In business, you should never have to rely on YouTube for answers to your technical and user questions. The manufacturer should support people who print with the systems all the time and have access to the printers themselves. They should know custom T-shirts and promotional products.
Software: Printer Optimizer is a RIP software used across ColDesi's printer line up, and every DigitalHeat FX bundle includes it. All the DigitalHeat FX i550 bundles come with Smart Cut software so you can do extra-large prints with a smaller printer.
Advice: Look for a manufacturer who can make the right recommendations based on their expertise and experience. For example, the No. 1 problem call ColDesi gets from non-customers is related to not choosing the best heat press.
DigitalHeat FX doesn't make or modify the OKI pro8432WT, OKI pro9541, or UniNet i550 printers, but they provides the right software, training, support, and expertise to make those printers the best possible solutions for users.
Ghost white toner kit
Ghost is included in this guide because it does show up during research. Unlike the three previous items, this is an aftermarket toner system kit. It allows you to modify certain models of color laser printers to make your own white toner printer.
Think about Ghost as a DIY system for taking a small format 8.5″ X 11″ consumer color laser and using it for business purposes.
The drawbacks to this idea are exactly what you would expect:
You're modifying a printer, so there's no warranty
It's a lower-end printer asked to do commercial work, so it's slower
The software included can add production time to each print
Non-U.S. based email support only (the company is in Germany and provides no domestic support info)
Final guide points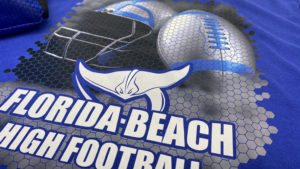 These printers are a multitool. In the customization business, they do just about everything. Able to customize light T-shirts, dark T-shirts, cotton, polyester, and blends.
And since they produce transfers, you can sell wholesale transfers, a completely different business supplying them to other customizers out there. In addition to the apparel, your business can use these printers to customize hard goods like wood, glass, metal, and ceramic.
This is the beauty of professional white toner printers; just a few years ago, you would have needed three to four machines to accomplish all these customizations.
Just make your choice of brand, size, and configuration based on your business needs.