Features
What to Expect at THE NBM SHOW Denver
The Colorado Convention Center hosts the two-day show Oct. 11-12.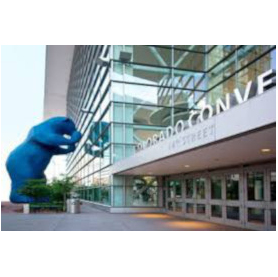 THE NBM SHOW stays close to home for its second to last stop of 2019. The Colorado Convention Center hosts the two-day show Oct. 11-12 for producers in the screen printing, embroidery, direct-to-garment, sublimation, heat printing, awards and engraving, and sign and digital graphics markets.
Awards & Engraving, Printwear, and Sign and Digital Graphics magazines – the media sponsors for THE NBM SHOW – attract attendees looking to network, expand their business capabilities, and learn more about their craft.
Katie Ditallo, senior trade show sales manager for THE NBM SHOW, says, "We're excited to be back in our hometown for another great show in Denver! We have some new exhibiting companies, new equipment, and a wide variety of seminars."
The Denver stop of THE NBM SHOW offers a host of training opportunities beginning the day before the show opens, Thursday, Oct. 10. Some highlights from the training schedule include but are not limited to:
Get the Most from your Laser Investment: Tips & Techniques to Save Time & Increase Profits
Epilog Laser
Color Matching for Sublimation
JDS Industries
Heat Printing Simplified: What to Use and When
Stahls'
Laser Processing Elevated: Make More, Sell More, Demand More, Create More
Universal Laser Systems
Design to Concept on Various Surfaces for Sandcarving
Rayzist Photomask
Laser Hacks
Trotec Laser
NBM president Dave Pomeroy adds, "We are thrilled to bring THE NBM SHOW back to Denver, not just because it is our hometown, but because the city and region is extremely strong economically. Business people involved in graphic printing, apparel decoration, engraving, and personalization need to continue to feed new ideas, new technologies, and new products into their businesses-and the exhibiting vendors at THE NBM SHOW are ready to deliver on all fronts."
Registration is free in advance of the show, and includes all the classes listed above and plenty more, plus entry to the exhibit hall both days, access to the Recognized Professional Program, admission to the After Hours networking event on Friday, Oct. 11 at the Hilton Garden Inn, and a chance to win $500 in Buyer Bucks on Friday and Saturday.
Onsite and online registration submitted after Oct. 10 is $25 per person.
Find information on travel and hotel, show specials, and a full schedule at https://thenbmshow.com/denver.