Features
W 4 Graphics Celebrates 40 Years, Names New CFO
Forty years ago, the late Richard (Dick) Wells was asked to attend a company meeting. The purpose was to meet a new client and gather information about their product for manufacturing purposes. This little upstart company was Tandy Corp./Radio Shack.
They needed their computer bases painted and screen printed. The owner of Dick's company viewed the upstart computer company as a "fad" and dismissed them. Dick followed the gentlemen to his car in the parking lot and struck a deal to manufacture the product personally. After producing 300,000 units in his garage, he knew it was time to start a company and find a brick-and-mortar location.
"The rest, as they say, is history," current president and COO Charles Duke tells GRAPHICS PRO.
Dick and Shelly Wells began what was W&W Silk Screening. Later, Dick's brother Barry Wells became part of the production and sales team. Another early addition was Weldon Martin. Utilizing the three W's for the Wells and one W for Weldon, the team created what remains to this day as W 4 Graphics (W4G).
Since then, W4G has evolved to a four-division manufacturing facility:
Painting and powder coating
Digital printing (60″ Roland printer)
Textiles (three screen printing machines including a 10-color semi-automatic)
Flat and 3D printing
Interestingly enough, one of W4G's largest customers is still a computer company that it paints, powder coats, and prints its bases and enclosures for. According to Duke, W4G has consistently been the "go-to" for painting, powder coating, and decorating.
Over the last 40 years, many of these requests were made, and rather than dismissing them, W4G has found a way to solve printing problems. It knows that not every solution is cost-effective, but instead of telling a customer no, the team informs the customer how their project can be completed.
"At least that way, it's the customer who must decide to pursue or move on to a different approach," says Duke. "Our approach has not wavered since the early days of watching a customer be shunned, only to find out, like a famous vaudevillian actor once said, 'It's not how many people are in the audience but who is in the audience that matters.'"
Because of this, Duke says his team is constantly pushing the limits of its capabilities. Most recently, W4G finished a prototype seven-color tight register printing project for a California company that came to WG4 and said, "We asked everyone out here to print this job, and they all said it couldn't be done." Duke says the project was not only completed but done well.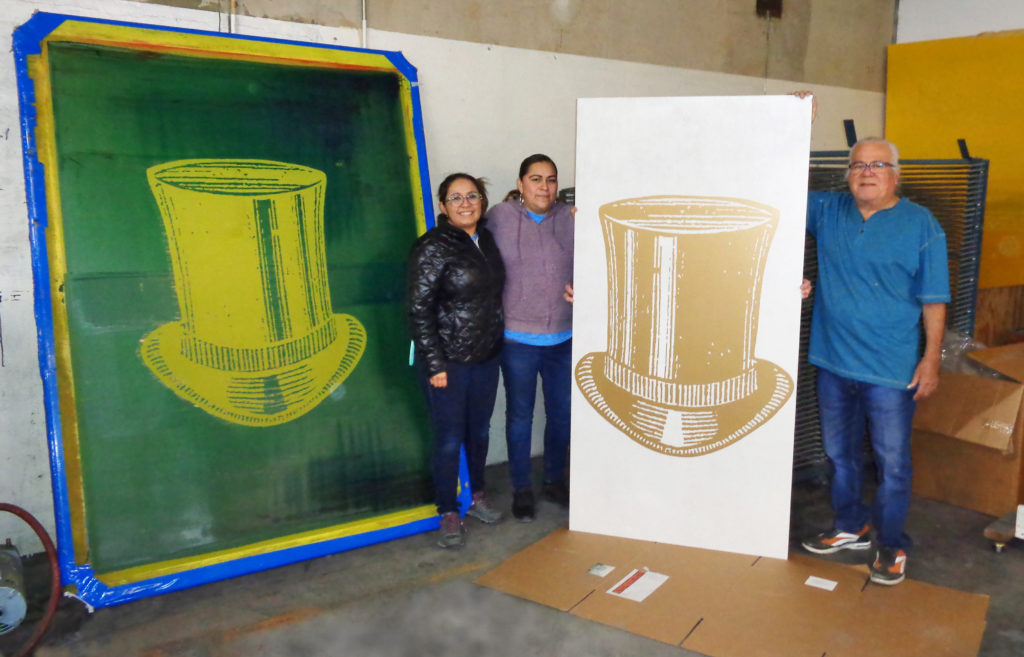 Leadership changes
Duke and the team at WG4 continue to chase Dick's dream, who passed in March of 2015. With his passing, Shelly Wells serves as CEO and owner, as well as a graphic artist. According to Duke, she is responsible for all textile art and is "part of W4G's everyday life."
Martin, the company's "financial guru and all-around sounding board," stepped down into retirement this year, leaving gaps to fill in its leadership and promoting 15-year employee Ana Bonilla-Rojas to CFO. Bonilla-Rojas first joined W4G as its receptionist and secretary. Not long into her position, she was printing invoices, pricing textile runs, performing HR duties, translating, talking to customers, and becoming a customer service manager.
Now, Duke looks forward to her being "the future of W4G."
Located in Fort Worth, Texas, W4G specializes in screen printing, metal finishing, painting, powder coating, and digital printing. It has a prepress department that produces film and designs custom artwork for its clients. It screen prints to various substrates, including metal, glass, plastic, wood, and textiles. Its digital printing department prints banners, decals, posters, and window perf decals. Additionally, it offers finishing services such as die-cutting, CNC routing, sewing, grommeting, overlaminating, double-faced adhesive application, and minor assembly.