Vycom, a manufacturer of plastic sheet products for the signage and graphics industry, recently sat down to chat with GRAPHICS PRO about its recycling program, which allows print service providers (PSPs) to recycle printed and unprinted PVC, acrylic, and PE products, as well as scraps and drops from finishing and fabricating.
The Vycom Recycling Program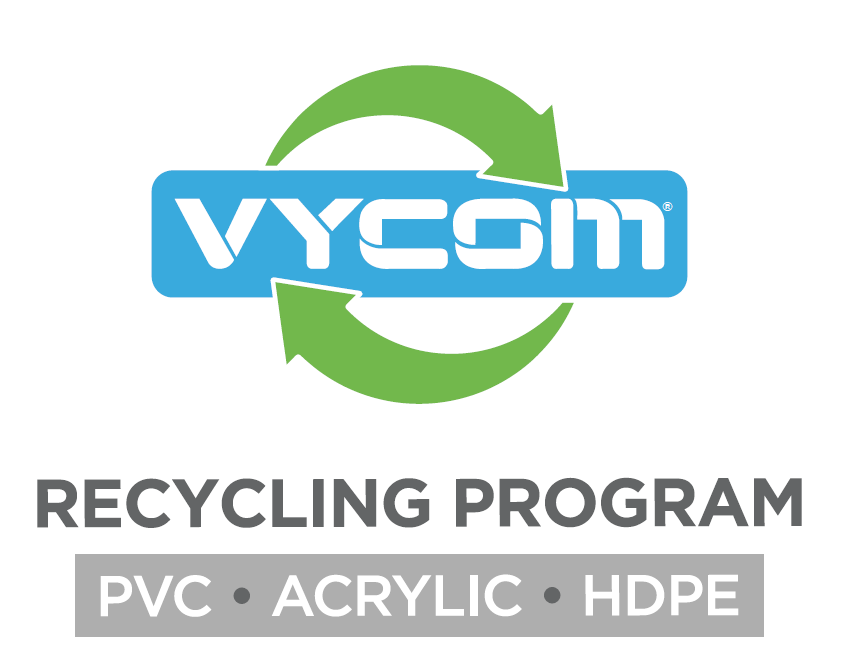 An affiliate of The AZEK Company, Vycom says it's committed to stewarding sustainable practices. In 2019, it announced its recycling program, targeting users of PVC sheets – a common substrate in the signage and graphics industry. According to Vycom, the program answers the question PSPs are asking: "What do I do with used signage and scrap?"
Since then, Vycom has worked with CIP Retail, Condit Exhibits, and Piedmont Plastics Knoxville to collect and recycle scrap and used materials. And now, Vycom extends its program directly to signage and graphics trade shows and exhibitions where flatbed printer and cutter manufacturers use rigid PVC and acrylic materials in their demonstrations.
Whether the scraps are collected on-site at a trade show or in coordination with consolidators for drop-off, the material is returned to company-owned domestic facilities and used to manufacture residential and commercial products.
According to The AZEK Company, it diverted approximately 500 million pounds of waste and scrap from landfills in 2021. Additionally, 56% of all the company's extruded products were manufactured from recycled material inputs in 2021.
Find more information on the program and sign-up instructions here.