Features
Visual Artist Tells Ecological Story Through Outdoor Graphics
Todd Gilens combines drawing and digital printing to engage visitors in South Lake Tahoe
A visual artist and designer with training in landscape architecture, Todd Gilens combines drawing and digital printing to engage sites and audiences.
His website reads, "I look for projects that can be shaped in dialogue with communities and clients, developed through historical research, cross-disciplinary learning, and the unique conditions of the places they will inhabit. My focus is on large-scale processes like water systems and ecological change, and how critical but largely invisible processes can be meaningfully encountered."
Gilens' first found himself exploring graphic film after cave paintings in Spain and graffiti in New York inspired him.
"I just loved the idea that you could essentially put anything you wanted as an image onto anything else that you wanted. That was the beauty of graphic films," Gilens tells GRAPHICS PRO.
His first step into the graphic film sphere was designing bus wraps. Over the years, he's designed wraps for the San Francisco Public Transit Agency, worked with translucent films for buildings in Stockholm, Sweden, and now his most recent work is in Lake Tahoe, California.
The latest graphics project, commissioned by the National Forest Foundation (NFF) in collaboration with Lake Tahoe West Restoration Partnership, features artwork via outdoor floor graphics. The temporary artwork installation is at the Taylor Creek Visitor Center, a U.S. Forest Service site near South Lake Tahoe.
He landed the project through an open artist competition — a commission made possible through the NFF. The NFF was looking for an artist to help it communicate "what it was doing with forest ecology, changing patterns of forest fires and disease, and how forests are used recreationally in the future with climate change and different economic scenarios," explains Gilens.
His job: To translate ecological jargon and knowledge into something that resonates with the public in a more connected and artistic way.
After nine months of face-to-face interviews and collaboration with the Lake Tahoe West Restoration Partnership team, composed of scientists, forest managers, people from the U.S. Forest Service, and the California Tahoe Conservancy, Gilens came up with a concept focused on tree rings featuring different phrases. The phrases encourage reflection on what keeps ecosystems healthy and the future of forests.
Gilens spent time in Lake Tahoe, really getting a feel for the surroundings and trying to figure out the story he could tell around forest management.
"The idea evolved around working with tree rings and the science of reading forest ecology in tree rings. And that I could actually literalize that and bring the reading of what forest ecologists do and visions of the future forest into a drawing of a tree ring," he tells GRAPHICS PRO.
To bring his idea to life, he knew he needed about 30-40 drawings transformed into graphics to make a big enough impact in a large outdoor space like the Taylor Creek Visitor Center.
Between his training in landscape architecture and drone footage, Gilens accurately scaled his tree ring drawings. The challenge was choosing the right material — one that would adhere to rough asphalt and withstand outdoor elements like UV rays and thunderstorms. Additionally, getting a permit to do the work required that the material not leave behind a residue or damage the surface in its removal.
To ensure he selected the proper film for the job, Gilens performed several film material tests and ultimately decided on AlumiGraphics GRIP. To test further, he laid down the film in a public park in South Lake Tahoe — mimicking the environment of the installation site as much as possible. Although the park surface wasn't identical to the location site for the installation, he put tests down for two months and removed the graphics with success. He notes that the graphics didn't fade, and the film performed flawlessly, and he was able to move forward with the material for the project.
Gilens likes the material's stretchiness, conformability, and durability — all major concerns for outdoor graphic installations where roughness is present. He also notes the film's pebbly texture, which amplifies how the tree ring graphics look in nature.
"There is a certain roughness and texture in the original drawings, and using that pebbly surface in the graphics brought up that quality, even though it was a very different kind of pattern," he adds.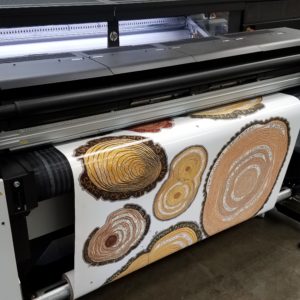 Turning hand drawings into graphics on film
To bring the hand drawings to life, Gilens took high-resolution photographs of his 40 drawings, isolated the drawings from their paper backgrounds in Photoshop, and put them all into a single file. He then sent them off to Landmark Grafix in San Leandro, California, a printer with experience using AlumiGraphics — something important to Gilens for reasons like color matching and printer feed issues.
The drawings range in size to represent small, medium, and large trees, the smallest being 14″ and the largest at 40″.
Gilens then took on the big task of hand cutting each graphic to give it a certain uneven, natural look instead of having clean lines from a digital cutter.
He adds, "I think the other advantage for me as an artist is there's an intimacy with the project when I'm doing something by hand. That doesn't happen when it just runs through a machine."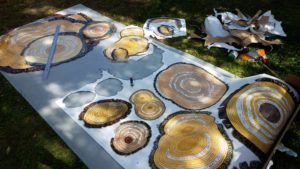 After two days of cutting, the graphics were ready for installation — another task Gilens took on himself. He recalls, "I took them up to Lake Tahoe to install them, and I knew the sort of the feeling of each graphic because I had worked with it, and I could place them accordingly."
Being so hands-on with the project, from conceptualizing the design to testing the films and ultimately installing the graphics, Gilens says the feedback, challenges, and the entire experience of "working one's way through a creative project" was his favorite aspect.
The installation, called "Reading Forest," is on display from May to November 2021 at the Taylor Creek Visitor Center, near South Lake Tahoe.