Viking Trophies Brings on New Owner
Former Owner Lori Moen hands the reigns over to long-time employee Zenon Dawydowycz.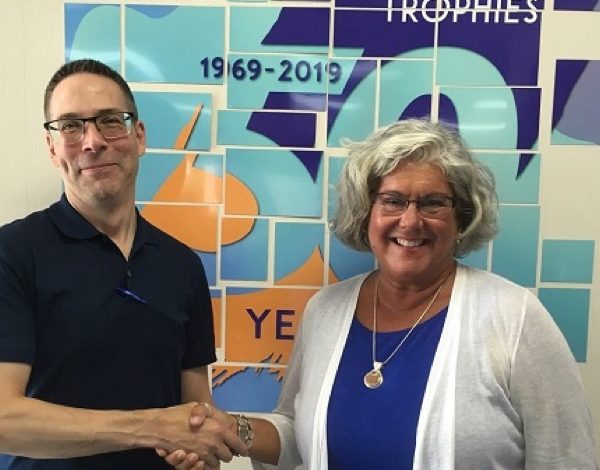 Minneapolis-based Viking Trophies recently announced a change in ownership. Lori Moen, former owner and operator of Viking Trophies since 2003, passed it onto Zenon Dawydowycz, who has worked at the shop since he was 17 years old.
"I've stayed because it's a great industry," says Dawydowycz. He was first inducted into the trophy business in 1988. Due to it being the only job he's ever had, the transition to owner has been seamless and smooth, according to Dawydowycz. He adds that one of the best things Moen did before officially selling it to him was leave town, allowing Dawydowycz to run the business without her in the shop while they transitioned.
With Moen being out of town, "She was still involved and was available via email, but without her here, it just got the staff prepped for the takeover," Dawydowycz says. He officially took over the ownership on June 1 of this year.
"This is the only job I've ever had, and it's been a great transition," Dawydowycz continues. "Most customers won't notice a change – it's the same people out front and it's the same people in back."
The transition of ownership came shortly after Viking Trophies celebrated 50 years of business. What started as a traditional trophy shop in 1969, the business has since expanded into new technologies and services such as promotional products and custom apparel.
Due to different processes in technology, the team of 12 employees at Viking is able to output more than they could in the past with the same number of people, according to Dawydowycz.
"What we offer may change or how we offer it, but it's always offering that high level of customer service and taking care of the employees – that hasn't changed," Dawydowycz explains.
He elaborates that going forward, it will come down to more innovation. "I'm always looking to see what type of process or equipment to bring in-house, whether it's a new laser or a bigger UV printer," Dawydowycz concludes. "We're always looking to see what we need to do in order to be able to satisfy customer's needs."