Features
VF Corporation Named One of World's Most Ethical Companies
VF Corporation is recognized as one of the World's Most Ethical Companies for the third consecutive year.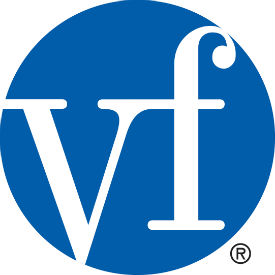 GREENSBORO, N.C.-VF Corporation, a global leader in branded lifestyle apparel, footwear, and accessories, is recognized as one of the World's Most Ethical Companies by the Ethisphere Institute, a leader in advancing the standards of ethical business practices. It's VF's third consecutive year to receive the distinction.
"We're proud to once again be recognized as one of the world's most ethical companies," Steve Rendle, VF's chairman, president, and CEO states. "As a purpose-led company, we take deliberate actions to embed high ethical, social, and environmental standards throughout all aspects of our business. This recognition is a testament to the commitment of VF associates across our global enterprise to work with integrity and lead by example."
As one of two apparel companies to make the list, VF is among 128 honorees to be recognized spanning 21 countries and 50 industries. Additionally, VF is the only U.S.-based apparel company on the list. Sweden-based H&M is the other apparel honoree named.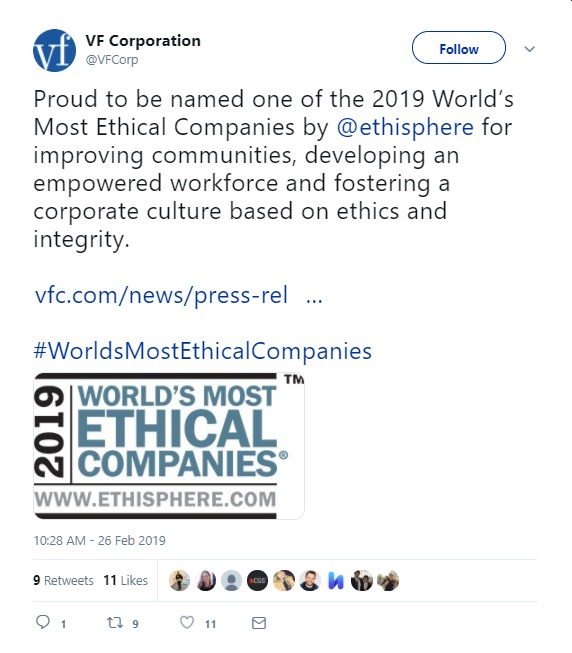 (Image courtesy VF Corporation's Twitter account)
The Ethisphere Institute's 2019 list illustrates how companies continue to be the driving force for improving communities, building capable and empowered workforces, and fostering corporate cultures focused on ethics and a strong sense of purpose, a release on the news states.
"Companies like VF that take the long view with a purpose-based strategy are proven to not only outperform but last," Timothy Erblich, Ethisphere's CEO says. "I congratulate everyone at VF for earning this recognition."
VF Corporation outfits consumers with its portfolio of iconic lifestyle brands including Vans, The North Face, Timberland, Wrangler, and Lee.
For more information, visit https://www.vfc.com.