Features
Update: Things Engraved CEO Speaks on the State of the Company
According to CEO Shawn Brock, Things Engraved has been unprofitable for years.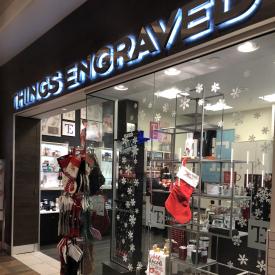 Following last week's news of the Canadian-based retailer Things Engraved firing all of its store employees, CEO Shawn Brock told CTVNews.ca in an interview that the company had been unprofitable for several years and couldn't compete with online retailers such as Amazon.
Nearly 300 workers lost their jobs after Things Engraved announced it would be closing all of its 73 stores, according to CTVNews.ca. Employees had less than 24 hours to notify customers to pick up their engraved items. As of now, many of those items have yet to be returned and all stores are closed. The company is working with the malls it operated in to help customers retrieve those items.
Brock explained in the interview that the company's ownership, Serruya Private Equity, made the decision last week to cease operations. According to CTVNews.ca, there were several factors that made it hard for the business, which first began in 1982, to continue turning a profit.
For a number of years, Things Engraved had a partnership with Sears that enabled the company to operate kiosks within Sear's mall stores. When Sears declared bankruptcy in 2017, Things Engraved lost 24 of its stores within a span of three months, Brock states; of the remaining 73 stores, only about one-in-three were profitable.
"What the business has seen over the last five years, but very acutely over the last three years, is the quick rise in Canada of the Amazon Marketplace where there is quite a lot of sellers doing custom gift products," he said.
Brock added that at this stage, there's no plan for Things Engraved to transition to an online-only business. He has yet to determine his next career move.
Anyone with items left at a Things Engraved store is asked to email [email protected] with a description of the item and the location that it was left at.