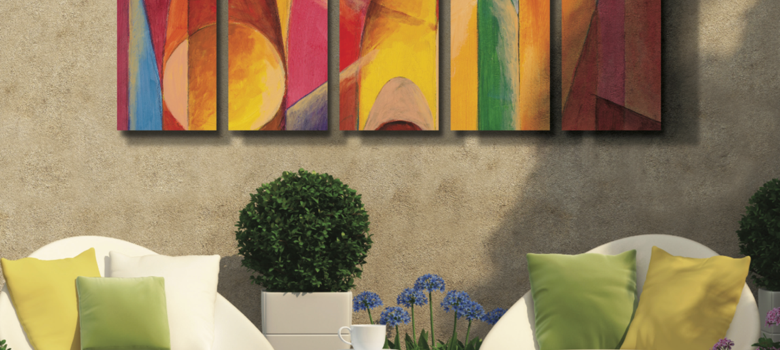 Art and photography can be taken outdoors by sublimating durable panels that are made for weather and direct sunlight. This option is suitable for any home, hotel lobbies and entryways, outdoor restaurants and gathering spaces, corporate settings with an outdoor office space, art installations, or public spaces like parks or schools.
Materials Needed:
Outdoor-grade metal panels (Used here: ChromaLuxe EXT aluminum panels)
Sublimation printer
Graphic design program (CorelDRAW or Illustrator)
Heat tape
Settings:
Up to 16 X 20 inches –
Temperature: 400 F
Press time: 1:20 to 2 minutes
PSI: 60-70
For larger pieces, we recommend a "low and slow" method –
Temperature: 325 F
Press time: 5 to 7:30 minutes
PSI: 60-70
Step One: Clean
Peel off the protective film, then clean and remove any dust from the panel and transfer.
Step Two: Set up for pressing
Place the panel on the transfer, allowing room for possible bleeding of the ink. Make sure that the coating side is facing down and that the tape is secured on all four corners.
Step Three: Press
Using the guidelines listed above, adjust your settings as needed and place the panel and transfer face up (i.e. coating side up) into the heat press. Cover the panel with a blowout paper, and wait for heat press to cycle.
Step Four: Cooling
Carefully, but quickly, remove the transfer from your sublimated panel. Set aside to cool for a few minutes, and your product is ready to be mounted and displayed.
-Robin Kavanagh, Sawgrass
Another option for decorated signage here.