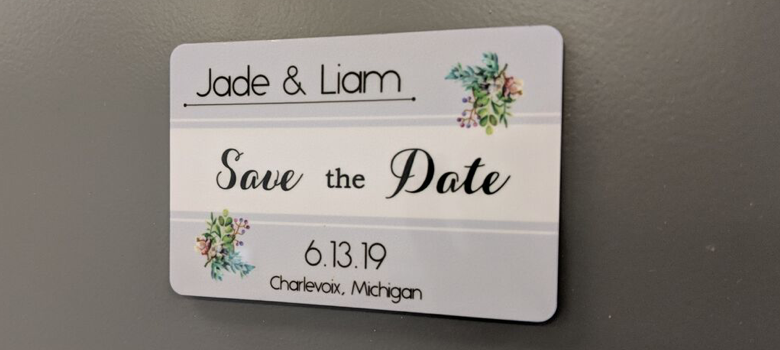 One way to help your customers upgrade their Save the Date cards is to ditch the paper and show them what's possible on a light aluminum magnet. Not only is it easy to decorate, it holds up better on a refrigerator and works well in a kitchen environment because it is usually water-resistant.
Create a few samples using the below instructions:
Materials Needed:
Name badge (Used here: an aluminum 2- X 3-inch white gloss name badge)
Magnet
Sublimation system
Transfer paper
Graphics software
Settings Used:
Heat press temperature: 400 F
Press time: 45 seconds
Step One: Design
Open your preferred graphics software and design the artwork to fit the space of your selected name badge. For this demonstration, the 4467 template from www.unisub.com was used in Photoshop to eliminate some of the design steps and save time.
If you want to learn more about how to edit wedding photos to achieve popular styles, click here.
Step Two: Print artwork
Save your work and print onto the transfer paper.
Step Three: Press
Clean the name badge with a microfiber cloth and high-pressure air to remove dust and debris. Tape the substrate to the transfer paper, put it in your heat press using the above settings, and after it's done in the press, let it cool.
Step Four: Finishing touches
Apply and secure a magnet to the back, and your Save the Date magnets are complete.
One way to display the finished product in your shop is on a revolving tower display with a magnetic face. It would also be wise to place this close to your other products that fall under the wedding market in case your customers want to throw in some add-ons to their purchase.
-Sara Nicholson, Universal Woods