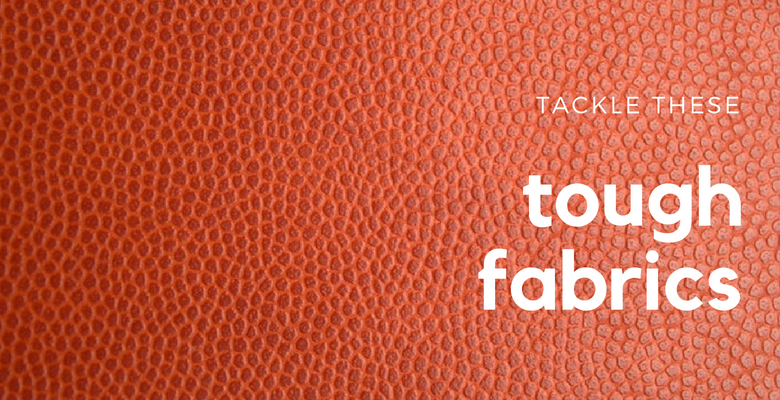 Like all art forms, embroidery is trial and error. In a craft where very little is known to be concrete, we do know one thing for sure: If you can hoop it, you can embroider it.
Some fabrics may be too thick or small to hoop, some may get damaged in the hoop, and others just won't respond well to stitches. However, that doesn't mean embroidering on these types of fabrics is out of the question.
With a few extra steps, it's absolutely possible. Read on to discover some tricky fabrics to embroider and how you can work around them to stitch high-quality embroidery designs.
Leather
The first on this list is the enemy of many embroiderers but a good friend to many others. Leather embroidery is possible and the best materials to use depends on the type of leather you're embroidering.
While leather needles (generally called wedge point needles) are best for sewing, they don't work well for embroidery where stitches are closer together. Many embroiderers use nylon thread and slow their machine down to 500 stitches per minute. Although leather may be a thicker fabric, it should be treated as an unstable garment. You should always use medium-weight cutaway stabilizer and temporary adhesive spray. Some embroiderers even like to use a water-soluble stabilizer on top to keep the stitches from sinking into the thick fabric. Like backing, the needle you use also depends on the density of the leather. Use a 75/11 or 80/12 light ballpoint on stiff or spongy leather. For embroidery on softer or thinner leather, use a 70/10, 75/11 or 80/12 sharp point needle depending on the thread and thickness of the fabric.
If you experience flagging, try switching to a ballpoint needle. Also try covering the area around your hoop, where the hoop comes in contact with the leather, with cloth such as muslin to avoid getting any marks on your fabric.
Design choice is also imperative! Because the needle leaves perforations in the fabric, designs that are too dense and have high stitch counts can pop right off the rest of the garment. Stick to low-density designs and longer stitches that will keep the number of holes in your fabric low.
Hooping leather can also be intimidating. Specialty magnetic hoops can be your solution to hooping thick leather. These types of hoops actually help prevent hoop burns. When hooping leather, don't keep it in the hoop for longer than necessary. Remove the hoop as fast as possible after embroidery. Additionally, specialty hoops like fast frames allow you to easily place your fabric over adhesive stabilizer, making it a great alternative to prevent damaging your leather in the hoop.
Velvet
This luxurious fabric must be embroidered with caution. Because traditional hooping can damage the velvet's nap, it's best to "float" this fabric over your hoop. To do so, first, hoop up your stabilizer alone (preferably cutaway). Then, spray temporary adhesive over your stabilizer. Later, place your fabric over your hoop and smooth it out to eliminate any wrinkles. Then, place a sheet of medium to heavyweight water-soluble stabilizer above the fabric to keep the stitches from sinking into the textured fabric. Last, pin the water-soluble topping, fabric, and stabilizer together along the sides of the hoop. The machine will do the rest!
Because you don't have the stability of traditional hooping, keep a close eye on your fabric to make sure it is not shifting in the hoop. To make your design stand out, use medium to heavy designs with fills but avoid dense fills because of the floating. Create an underlay in the digitizing phase to get the fabric and backing to adhere and prevent loss of registration.
Textured fabrics
Textured fabrics such as terry cloth, fleece, fur, or deeply ribbed fabric such as corduroy require many of the same practices. Deeply ribbed sweaters or very fluffy furry fabrics require heavier designs to keep them from getting lost in the textured fabric. In the digitizing, stick to larger satin stitches that will not get lost in the fabric. During the embroidery process, always use a water-soluble stabilizer on top of your design to help keep the stitches from sinking in. You may also use the texture to your advantage with a technique commonly referred to as embossing. With embossing, you'll have a satin stitch border around the open areas of the design, and the fabric will act as your fill. You can also create a knock-down stitch in the same color of your fabric in the digitizing. As its name suggests, this stitch fill helps knock down your textured fabric and creates a flat surface for you to embroider on.
Slippery fabrics
Fabrics like satin and silk are very slippery and can pucker or move around in the hoop easily. Although silk is made up of strong fibers, it's still delicate to the touch. Rough threads like metallic threads can damage the delicate fabric, so it's best to stay away from metallic thread whenever possible. If you want a sheen on silk fabric, use silk thread. Although it's typically priced at a higher price point, it will provide the shine and high quality necessary to pop on silk fabric.
You should also use a 75/11 sharp point needle because it leaves a smaller hole in fabric than a ballpoint needle would. Tear-away and cut-away can also be used, but tear-away will work best with simple designs because it won't show through. If you do use tear-away, practice removing the backing with caution! To prevent hoop marks and damaging your fabric, try using 8-in-1 hoops or magnetic hoops.
If you don't have a specialty hoop on hand, protect the fabric by hooping with stabilizer and tissue paper. Then, rip out the piece of tissue paper in the middle where the design will embroider. Depending on the type of silk you're using and what you're using it for, avoid heavy stitch count designs. However, if you're embroidering a tougher silk for a pillowcase, for example, then medium to heavy stitch count designs will work. If that is the case, use cutaway for more support.
Check out Ricoma's blog for other embroidery insights.