Features
Tips for Printing Fabric Banners
Fabric banners have their advantages over the more standard vinyl, depending on the application
There are plenty of ways to save money when printing banners, including picking the right material for the job and budget, having artwork that is ready to go, and increasing the quantity on small jobs.
Geoffrey Duncan, Radius Display Products, says that his shop has been printing banners for 42 years. The company does screen printing, dye-sublimation printing, and heat set transfer printing all in-house.
"We don't print on vinyl in-house but are looking to add that to our lineup," he says. Instead, the company focuses on fabric printing.
"We were the first company to print a photographic image back in 1976. That is our claim to fame," he says.
Radius' focus has always been on fabric because "we felt that vinyl was the inexpensive option. It still is relatively inexpensive, but we felt it wasn't always the best medium for most or every client."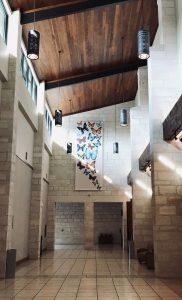 He points out that vinyl does hold up better to the elements and is not subject to deterioration as much as fabric would be, but there are some inherent problems with vinyl. It tends to fade a bit faster and will begin to crack over time. It is easy to clean because you can just wipe off any dirt or grime from the banner. The grommets on vinyl banners tend to tear out in a windy situation, he adds, but fabric banners are more flexible and move with the wind.
In the past five years, the printing industry has moved toward machines that can print directly onto fabric, cutting out the traditional two-stage process used in dye-sublimation printing that includes printing the image on transfer paper first and then using heat and pressure to set the image into the material.
That takes a lot more labor, he says. "The benefit is you get richer colors and super-high-resolution photographic images, and the blacks are really rich, a deep true black."
Printing direct can save a printing company 40-50% because it takes less labor and the shop doesn't have to invest in transfer paper.
"We were never happy with the quality when it was a new technology back five years ago," Duncan says. "Recently, in the last two years, they have made good advances technologically."
He recommends that print shops know what they are printing first and then figure out the right printing method based on the end use. If the shop is printing a photographic image or something with very vibrant colors, he says they should pay the extra money and use the two-stage dye sublimation process. If a client is printing spot colors or simple colors with no gradients, "don't spend the money on it. Ask about digital printing or direct-to-fabric printing to save money."
With simple images, it is hard to tell the difference between the direct to fabric prints and transfer prints, he says, so a client might as well save the money.
Another way to save money is to not print the entire banner. If the graphic has a lot of negative space in it, the print shop can just dye sub print the logo portion or use an applique on stock colors of vinyl or fabric to save money.
A lot of companies charge setup or art charges, so if a client can produce their own artwork to present to the printer, it will save them money.
"Don't wait 'til the last minute. You will incur rush charges or additional fees, increased shipping for things that have to ship overnight or are delayed," Duncan says.
Many print shops give quantity breaks, so it may even be cheaper to print six banners than it is to print three, so that's another way to save money, he adds.
The material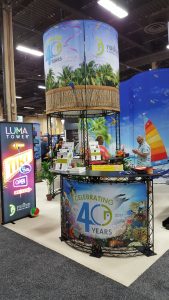 Mike Compton, TVF, says his company is always devising new printable fabrics for the banner printing industry. Its Deko-Tex 7188FL banner fabric is strictly for heat transfer dye-sublimation but other offerings are coated for direct-to-fabric prints.
"When you print direct with direct disperse as opposed to dye-sub, you are saving time and money by not using transfer paper," he says.
Europe has widely adopted direct-to-fabric printing and it is finally starting to take off in the U.S. as well, but the predominant method for banner printing in the U.S. is still dye-sub heat transfer.
TVF's Stretch Lite Fabric Elite can be used for many purposes including banners, SEG frames, tension fabric structures, retail trade shows, and POP displays. It is a lighter weight, opaque banner fabric. It is not coated for direct disperse but "it is a good economical option," Compton says.
TVF also works with customers if they want a specific type of fabric that isn't already in production.
Print shops should work closely with their fabric vendors because they are the experts, he says.
"We'll present them with one to two of the best products that fit their needs and work with them through testing and profiling and all the appropriate things to make sure the fabric will work exactly as they want it to," he says.
Scott Fisher, Fisher Textiles, says it is absolutely possible to produce a nice banner at a reasonable price, quickly. His company makes a couple of fabrics that are perfect for banners. Nirvana is a coated, opaque, knit fabric.
"Because it is opaque, the print will look more vibrant and you won't get show through to the back side of the banner so there is no need to put another piece of fabric on the back to limit images coming through the back," he says. Also, because the fabric is coated, a print shop can cold cut it and it won't unravel or need further sewing around the edges, which is a big time and money saver.
Many customers find the black backing off-putting, Fisher says, especially when a banner is freestanding in a banner stand. The company will introduce a white banner fabric with a satin face this summer.
"Most banners have a matte finish but there is a desire to make banners with a shinier satin finish," he says.
These products are still higher-end products than vinyl banners so they will cost a bit more but "you are going to get a more professional aesthetic to the banner than a traditional PVC banner product would give you," Fisher says. But even though these products are higher end, the price of fabrics have come down. And because the fabrics are coated, they can be cut easily with no additional finishing around the edges, which also makes them more cost effective.
Another cost saver is that print shops can purchase banner material in specific widths. Many customers, for instance, will purchase 126-inch material but will ask Fisher Textiles to cut it into four, 30″ rolls, because they want to print banners that width. Then all they have to do is cut the top and bottom of the banner after printing. "That is a huge time saver," he says.