While dye-sublimation has become one of the primary ways to decorate clothing and textiles, the technology continues to evolve beyond that into promotional items such as mugs, coasters, and decorative signage.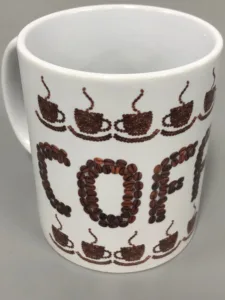 Dye-sublimation is a very flexible technology, says Tim Check, senior product manager for professional imaging at Epson. It can be used with coated porcelain, wood, glass, metal and more to produce a wide variety of products.
"Leveraging dye-sublimation equipment on these substrates can greatly expand a print shop's product offerings and can result in higher profit and ROI," Check says. The technology can produce custom products such as drink tumblers, coasters, holiday ornaments, cutting boards, personalized glass wear and wood décor. It also can be used to make custom photo panels and award plaques and create other textile-focused custom products such as tea towels, oven mitts, koozies, hats, laptop cases, lanyards, holiday tree skirts and stockings.
Dye-sublimation has two distinct processes, direct to film and direct to fabric. In direct to film the ink is printed onto paper and transferred to different media under heat and pressure. This is the number one use of dye-sublimation, says John Ingraham, senior marketing specialist for dye-sublimation at Canon USA. For direct-to-fabric printing, the fabric needs to be treated before the polyester-based material will accept the dye. When heat and light pressure are added to the mix, the dye migrates into the fabric.

"Transfer is most common because it is relatively easy and people can use a paper printer," Ingraham says. "It's not like vinyl where you have to do treatments."
He adds that printing on paper produces a very sharp image and nice color vibrancy. It also can be used to transfer designs onto fabric, mugs, metal, and a variety of other products.
Sublimating ChromaLuxe metal prints and aluminum panels has grown in popularity for wall décor because the "color is more vibrant when you use dye-sublimation compared to UV," says Sohil Singh, manager sales for StratoJet USA.
Heat transfers will always be there, especially in the gifting industries, says Singh, because it is such a simple process, and the transfers can be used on many different substrates and objects. The one downside to sublimation is that is it can't print white. For standard CMYK prints, sublimation can produce beautiful colors if the right heat press is used, he adds. With the right heat press, dye-sublimation prints go from dull to really bright colors. "That's always going to be something customers are interested in," he says.
"The reason people want to use direct to fabric is for flexibility," Ingraham says. Many shops use direct to fabric dye-sublimation to print a single piece of fabric for double-sided viewing. Direct-to-fabric printing will bleed through the thin material, showing the same design on both sides, which is important for banners and flags.
The disadvantage to DTF is that the images are not typically as sharp, and it requires more ink since the image must bleed through to the other side of the fabric.
Another problem is waste. If the printer makes a mistake when printing direct-to-fabric, it costs more for fabric than paper. "In paper transfer, 95% of the cost is medium, ink and paper is small," Ingraham adds.
How has dye-sublimation improved over the last few years?
Dye-sublimation technology has become easier to use and more cost-effective scaling to high-production volumes, says Check.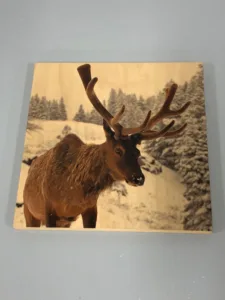 "As manufacturers incorporate greater automation to the printing process and leverage industry standard practices for color managing, designers can get consistent results. A simplified printing process reduces the time learning about the technology and permits more time on creating the next big thing," Check adds.
Singh says that dye-sublimation technology itself has remained the same for many years but that one of the biggest changes of late is the move to new and better printheads, which are coming in and reducing the per square foot cost of printing. New dye-sublimation inks are also being introduced all the time.
The industry is also very competitive, he says, with lots of good manufacturers making dye-sublimation printers.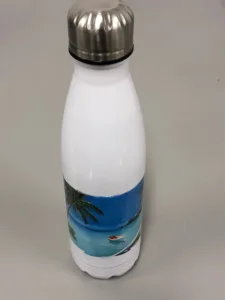 That said, there is still room for small mom and pop shops that want to get into this space because they don't need a huge initial investment. To do heat transfer prints, all a shop needs is a small printer, transfer paper, heat press and the fabric or products they want to transfer the image onto, Singh says.
"T-shirt printing will never go away," he adds. It is one of those solutions that will always be there. The success of a business using dye-sublimation depends on how good it is at selling its products, whether it has a good marketing website and a good selling point.
Many ecommerce sites use sublimation because it is "reliable, consistent and people are now moving online for things like that," Singh says.
What is fueling growth in the dye-sublimation market?
"The dye-sublimation market has been fueled by changes in customer shopping trends and the increase in the personalized products market," says Epson's Check. "With Millennial and Gen Z consumers looking for unique and inexpensive apparel options, retailers are having to place smaller orders with quicker turnaround times. This does not leave time for designers to manage the traditional textile design process overseas."
He adds that "dye-sublimation technology can quickly and efficiently produce required textile orders to meet retailer demands."
Outside of the textile market, the personalized gift market is projected to increase considerably over the coming years, growing to more than $38 billion by 2027, Check says. "Dye-sublimation technology can create these gifts quickly and efficiently. Both small businesses and larger service providers can easily and confidently create these gifts."
Apparel, promotional products, home décor textile, soft signage and personalized custom markets are the fastest growing segments of the dye-sublimation printing industry.
Epson's dye sub technology has adapted to meet customer demand over the last few years. The company introduced industrial-level dye-sublimation technology to meet the changing needs of today's textile industry and support the expansion of textile sourcing and production in the U.S.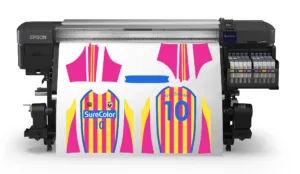 "These machines are manufactured with features that support reliability, versatility, and round-the-clock productivity, such as user-replaceable printheads and a hot-swappable ink system that automatically switches from an empty ink pack to a new ink pack mid-print for uninterrupted printing," Check explains.
To support consumer demand for a wider color gamut, Epson incorporates multiple ink configurations in selected dye-sublimation printers, including the SureColor F10070H, SureColor F9470H, which includes fluorescent pink and fluorescent yellow for "exceptional color saturation and brightness, and the SureColor F6470H, which features multiple ink configurations so customers can select what best fits their needs, including light cyan and light magenta for smooth photographic output, fluorescent pink and yellow for bright and high visibility customized apparel, or orange and violet for vivid colors with an expanded color gamut, he says.
Canon began making dye-sublimation printers a few years ago because it saw the opportunity presented by the soft signage market. Many of its customers that were using Canon Colorado and Arizona UV presses were outsourcing dye-sublimation jobs to other companies. Canon offers the 10' DGI FH-3204 and 10' DGI FT-3204X hybrid dye-sublimation systems that can switch between paper transfer and direct-to-fabric printing. The 64" DGI POSEIDON and 10' DGI FH-3204 are fluorescent capable.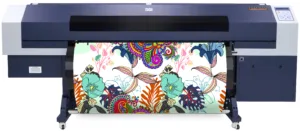 Fluorescents are in big demand because they "add value for customers. They add a little pop to an image," Ingraham says.
The high-volume 64" and 126" MS Impres dye-sublimation printers offer fast production speeds and can print on transfer paper and direct-to-fabric.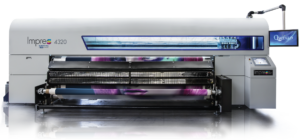 The COVID pandemic had a terrible impact on the dye-sublimation industry since 80% of all digital printing on polyester soft signage is dye-sublimation and many in-person trade shows were canceled for three years.
"We are already seeing 2023 is going to be a much better year for dye-sublimation as a whole, especially in the soft signage area where it was hurting before," Ingraham says. The cost of fabrics and papers have gone up because of inflation, but the price of inks on the large-format side have come down.
Ingraham says that the market is on a downward trajectory when it comes to cost of entry. Small shops can get a printer for as little as $130.
"I am cautiously optimistic; 2023 is already better than 2022," he says. "We will probably see 5% to 10% growth overall in the market. That's my hope but a lot depends on other factors, inflation, wars, balloons."
StratoJet has two dye-sublimation printers, the 66" Piranha and the 126" Piranha XT. Singh says that dye-sublimation is slowly cutting into the screen-printing industry because it is less work-intensive and offers more color options. The amount of space needed for screen printing is almost three times that for dye-sublimation.