Features
The Ultimate T-Shirt Guide
If you're new to the industry or customers have questions, you'll want to keep this go-to T-shirt glossary on-hand.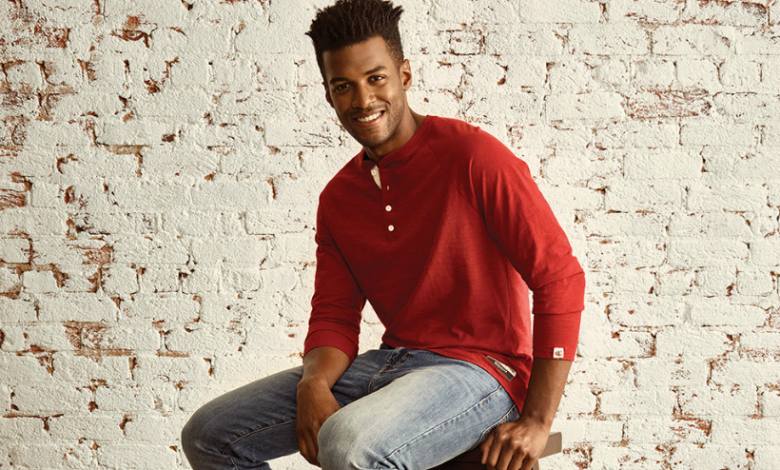 Whether you're new to garment decorating or your customers have questions, you'll want to keep this go-to glossary on-hand to break down all the elements of a T-shirt from the type and fit to wash and fabrication. Thank you to Lane Seven Apparel, Gildan, HanesBrands, Cotton Heritage, Royal Apparel, SanMar, US Blanks, and S&S Activewear for contributing to the glossary.
T-SHIRT TYPES
Crewneck: A T-shirt with a rounded neckline and no collar. Nabeel Amin, Lane Seven Apparel, says crewnecks can range in weight from 4.3-6.5-oz., but the most common weight for a standard, quality, and well-fit T is 5.3-oz.
Heavyweight: "Heavyweight is typically any T-shirt category that is over 5.8-oz. or a sweatshirt category over 9-oz., in either ring-spun or open-end fabric," says Summer Scott-Samuel, Gildan.
Henley: A shirt without a collar that features a button-up placket and a neckline like a T-shirt.
Fun Fact: "Waffle fabrics are a popular choice, as it allows the garment to be a little more fitted due to the stretch and recovery characteristics of waffle knits," says Marcus Davis, HanesBrands.
Lightweight: A lightweight T can fall anywhere within the 3.4-4.5-oz. range. Lightweight Ts are known to be softer, have a nice drape on the body, and be more breathable. "It will usually be knitted with a finer gauge of yarn and a tighter knit," says Ken White, Cotton Heritage.
V-neck: A T-shirt with a neckline that forms a 'V' at the front. Glen Brumer, Royal Apparel, says it's a good option for "most body types and appeals to younger generations."
Consideration: Decoration options include a chest placement, a sleeve print, or even a design that runs across the opening of the V-neck.
T-SHIRT FIT
Arms: The arms of a T-shirt fit different depending on the weight of the fabric used. Heavyweight Ts tend to have looser, wider sleeves compared to a lightweight or standard T.
Consideration: "If the fabric is thicker, the sleeve may end up being too close to the body, and it potentially can feel rather uncomfortable," says Scott-Samuel.
Missy: A missy fit is one tailored for a woman's body with the use of slightly tapered side seams. This fit is also commonly accompanied by cap sleeves, baby rib, and, in some cases, a scoop neck.
Shoulders: Like the arms of a T-shirt, the shoulder fit varies depending on the style. However, typically, the shoulder seams of the shirt should lineup with the wearer's real shoulder line.
Fun Fact: "Thanks to the trend of loving styles from the '80s and '90s, drop shoulders are back. If the fit of the body of the shirt is boxy and cropped, and the shoulder of the T just slightly drops off the natural shoulder, this makes it a perfect style for a high waist jean," says Vicki Ostrom, SanMar.
Torso: The torso focuses on the cross-shoulder measurement, taken from the neckline to the point where the sleeve meets the body of the garment. The shorter this measurement, the slimmer the T fits. "It will determine the fit of the sleeve and how the garment hugs or drapes on the body," says White.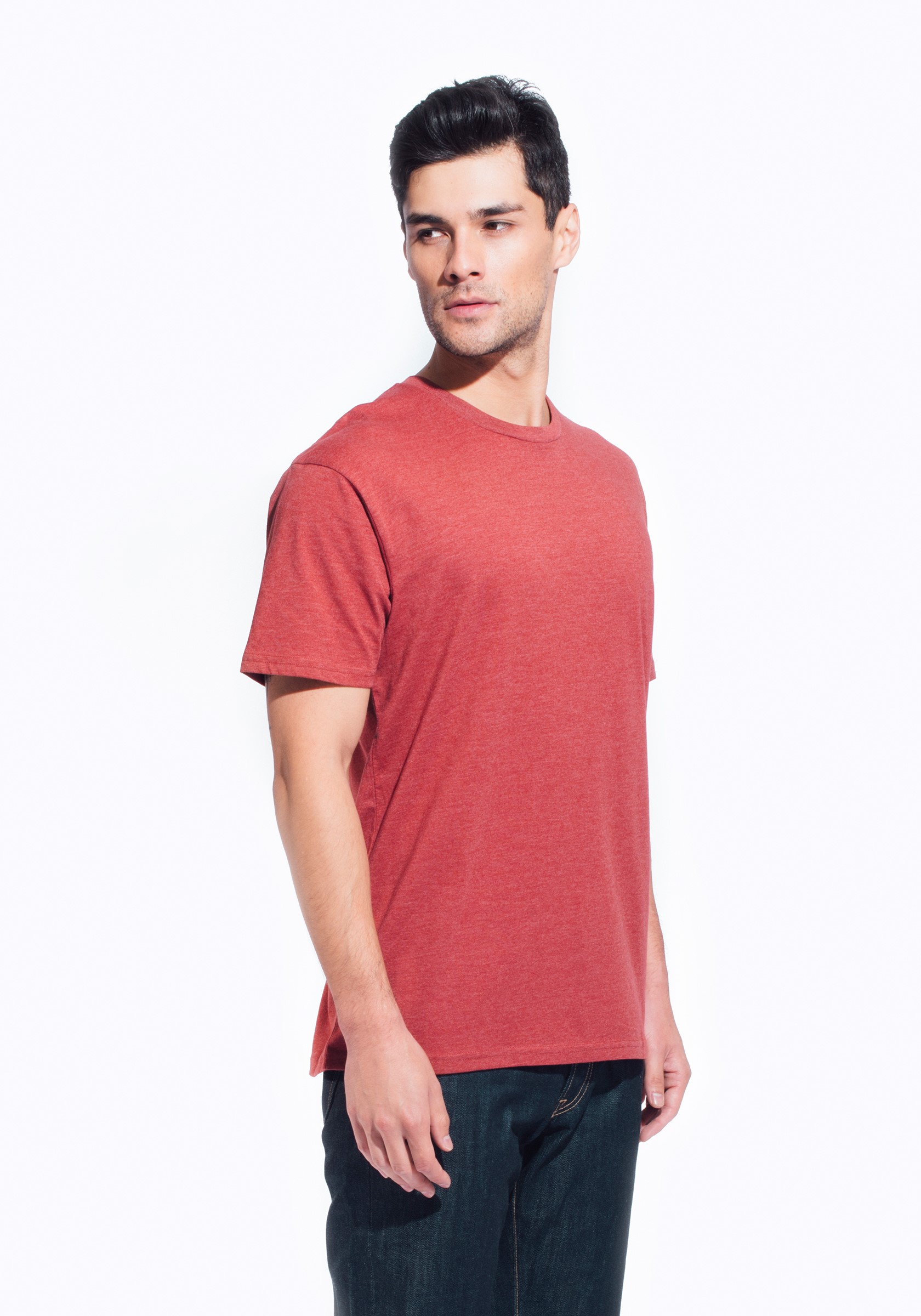 (Image courtesy Cotton Heritage)
Unisex: A unisex T is suitable for men and women in terms of fit and usually comes in a wide range of sizes to accommodate all bodies. It can run as small as 2XS up to 3X.
Consideration: This wide range of sizing appeals to "wholesale customers who want to run one style rather than have to purchase a men's and a woman's style," says Brumer.
T-SHIRT WASHES & TEXTURES
50/50: Also known as poly/cotton, a T-shirt that contains a blend of 50% polyester and 50% cotton. "(It) typically has a heather look," according to Milissa Clark, US Blanks
Burnout: A burnout garment is usually one of 50/50 cotton/poly or poly/cotton/rayon that receives a sodium bisulfate treatment, which burns the cotton away and only leaves the synthetic fabric content. Burnout Ts usually fall in the weight range of 3.5-4.1-oz.
Fun Fact: "No two burnouts are ever alike, and the amount of burnout depends on how long the solution stays on the fabric," says Clark.
Consideration: "It's best to advise a client that you will get a distressed or vintage print with this kind of garment. If your customer wants a bulletproof solid print, this is not the right fabric for the job," says Jason Peters, S&S Activewear.
Carded cotton: A type of cotton fabric made up of yarn that has been cleaned and formed into a parallel strand to remove impurities in the fibers. Carded cotton does not go through additional spinning, like combed or ring-spun cotton, which explains its coarser texture.
Combed cotton: Cotton that has a softer feel than carded cotton due to additional spinning. It does not have any impurities or short protruding threads, which are prone to breakage. After combing, the straightened fibers tightly join, minimizing fraying.
CVC: 'Chief Value Cotton' refers to bi-blends with more than 51% cotton content. "Within our industry, it's typically known as a standard heather shirt that is not a tri-blend," says Clark. "Brands vary on the content from 50/50 and 60/40 to 52/48."
Enzyme-washed: This wash treatment, either mechanical or chemical, uses a solution to remove the fine fibers from the surface of the fabric. This treatment results in a clean surface, as well as a soft hand. The color is slightly worn but does not look washed out.
Consideration: "The enzyme finish makes garments ideal for DTG printing, which has become a fast-growing type of decoration in the industry," says Scott-Samuel.
French Terry: Knitted terry fabric that features loops and soft piles of yarn, typically on the interior of the garment, leaving the other side flat. It comes in either 100% cotton or a blend.
Garment-dyed: A fully constructed untreated garment that is dyed all at once.
Fun Fact: "The garment comes out of the dye bath with that great already washed appearance and hand-feel that will eventually make for someone's favorite T," says Ostrom.
Garment-washed: A process that takes a finished garment and applies a special wash. There are several different washes, including a pigment wash or a burnout wash, used to soften, preshrink, and/or change the look of the garment.
Heather: Depending on who you talk to, a heather T-shirt can take many forms. Most often, it is a cotton/poly or cotton/rayon blend, which creates a multicolored, non-solid, blurred effect. "It's a creative process where the color effect is created both at the fiber level, and at the time the fabric is created or dyed," says Ostrom.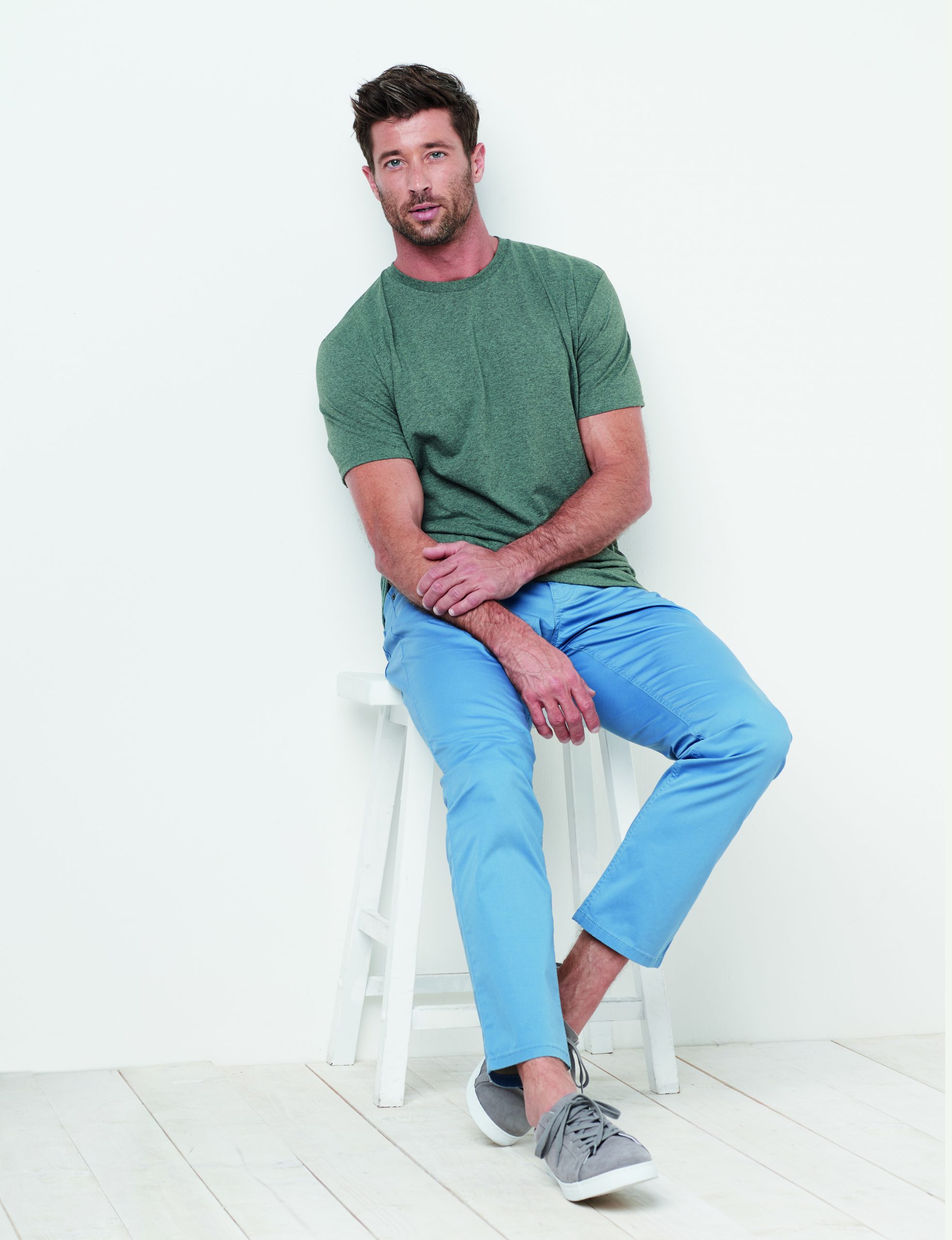 (Image courtesy Delta Apparel)
Jersey: A T-shirt knit with a flat, smooth surface and has some stretch to it. It can take on a lightweight or heavyweight form, and it's the type of fabric used to make most T-shirts.
Fun Fact: "It was first produced in Jersey, in the Channel Islands-hence the name," says White.
Mineral-washed: This wash process happens after the garment is dyed and assembled. The mineral wash "chips away at the dyes creating a cloudy effect on the T-shirt giving it a worn and vintage look," says Amin.
Fun Fact: A mineral wash goes through five different processes to achieve its finished look, according to Amin.
Modal: A fabric made up of synthetic fibers that has an extremely soft hand and has a bit of a flounce to it. Modal is often used to create tri-blend Ts.
Fun Fact: Modal comes from the cellulose fibers of the beechwood tree. "The benefit of using beechwood trees is that they quickly recover after harvesting, which makes them an ideal sustainable resource," says Davis.
Pigment-dyed: A form of garment dye applied to a fully assembled T-shirt where the dye sits on top of the fabric, like a coating of color, rather than penetrating it. A binder is applied to the T-shirt, which makes the color stick and results in a weathered look. Pigment-dye is most often used on 100% cotton but also works with blends.
Consideration: "As far as decorating a pigment-dyed garment, the best rule to keep in mind is to make the print match the look of the fabric. This can be achieved with water-based ink or a based-out plastisol ink," says Peters.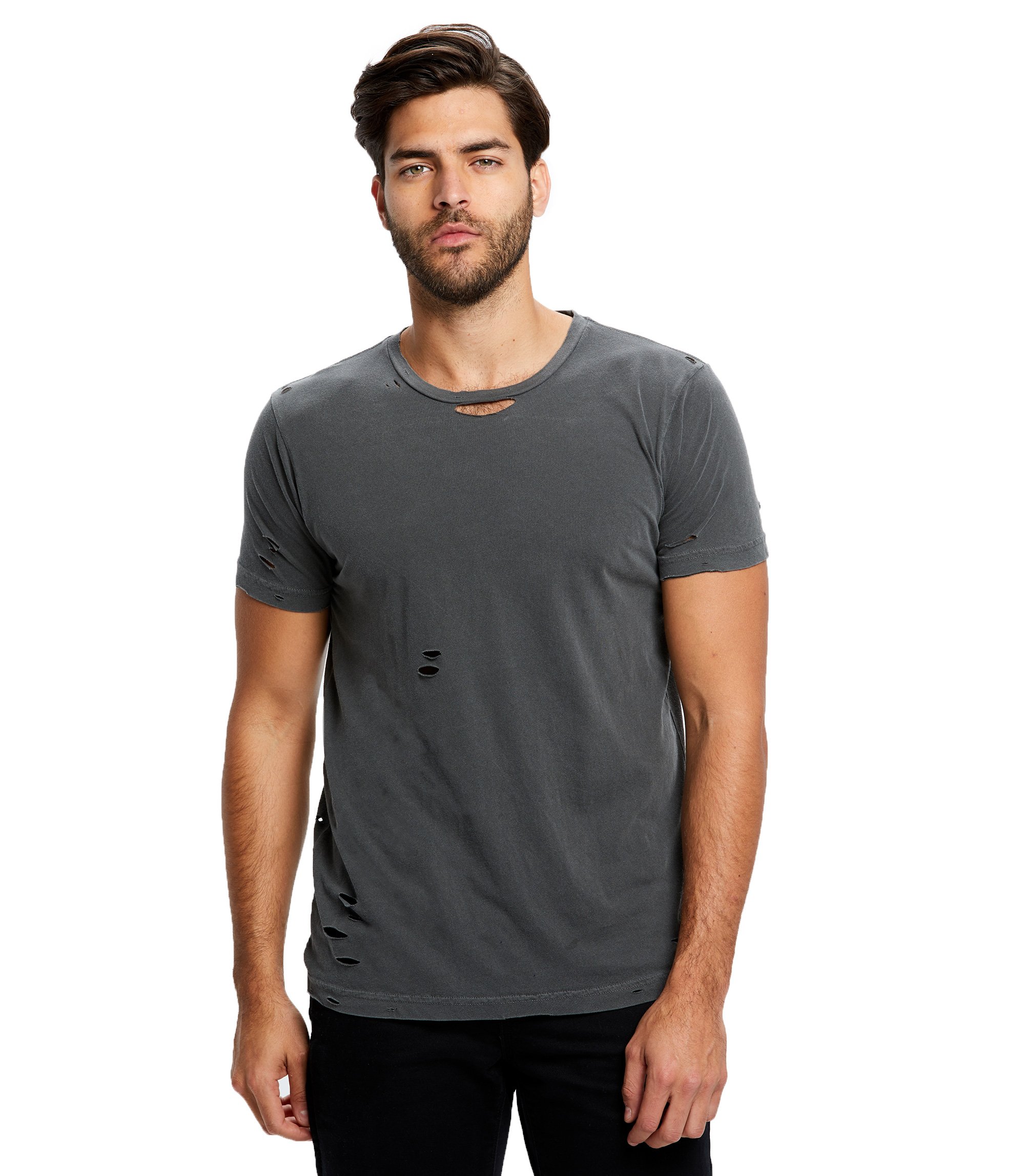 (Image courtesy US Blanks)
Rib knit: Knit fabric made up of rows of knitted loops, which look like vertical lines. This knit has a considerable stretch to it while also retaining its shape.
Fun Fact: It's most commonly used on the collars, cuffs, and trims of garments.
Ring-spun cotton: Cotton that is created by twisting and spinning fibers of yarn around a spindle, which outputs a finer, tighter, and longer length yarn compared to carded or combed.
Slub: A slub T-shirt is one made from slub yarn, which is twisted and spun irregularly to create lumps in the yarn. These irregularities in the thread create an enhanced knitted fabric and can give the appearance of a burn-out T.
Tri-blend: Tri-blend Ts are ones that feature a combination of three different materials. An example would be 50/37/13 poly/cotton/rayon. The mixtures result in texture, stretch, and softness that varies depending on the ratio of materials.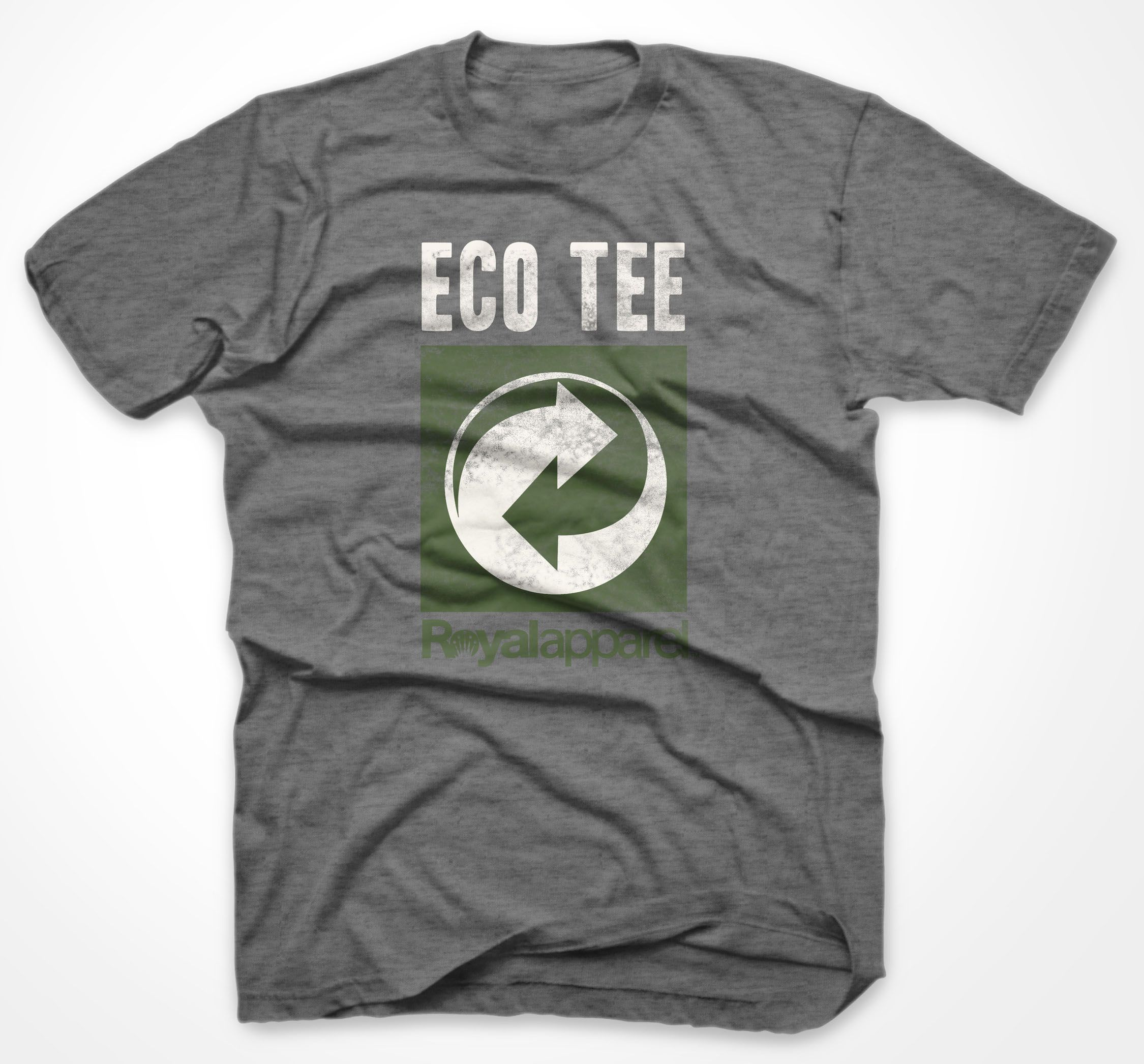 Some tri-blend Ts incorporate a mix of eco-materials like recycled PET plastic. (Image courtesy Royal Apparel)
Yarn-dyed: A process where the yarns of the T-shirt are dyed ahead of the knitting process.
Fun Fact: "This helps to create different effects on the completed garment such as stripes or heather effects," says Davis.
T-SHIRT ODDS & ENDS
Tubular: A seamless T-shirt construction where the fabric forms a complete circle without any side seams.
Consideration: "It is a cost-effective and sustainable way of making a garment. It reduces fabric waste as the tubular knitting is made to order," says Scott-Samuel.
1 X 1 Rib: A knit typically used for the neck and binding on most T-shirts. In some women's fashion, it's referred to as baby rib.
Fun Fact: The first number reflects the thickness of the rib. The larger the number, the wider the space between the next rib," says Clark.
Shoulder taping: Fabric tape that is sewn over the seams of the shoulder, inside of a T-shirt, to reinforce the stitching. It also protects the wearer from any uneven stitches or potentially scratchy edges.
Side seams: Seams that join the front and back of a shirt together. If a shirt does not have side seams, it is tubular. Side seams add structure and offer a more tailored fit.
Double-needle stitching: A finishing seam that features a double-row of stitching, commonly seen on sleeves and bottom hems, to give the garment a finished look while adding durability.
Preshrunk: Preshrinking refers to a fabric treatment performed before the assembly of the T-shirt. The uncut fabric runs through nubbed rollers, which forces the material to tighten up. This process allows shrinkage to occur once the garment goes through a wash. Moreover, the fabric is preshrunk, not the finished garment.
Dyed-to-match: Refers to details on a garment that match the color of the garment, like buttons, thread, zippers, or linings.
Consideration: "Garments that are completely dyed-to-match work well when you want to apply a graphic or attribution and have the graphic become the total focus of the garment. Garments that have contrasting components tend to work best when you want the graphic and the garment details to work together and complement each other," says Davis.
Singles: A numerical value that indicates the thickness (quality) or diameter of yarn. It's measured by the number of individual fibers in a twist. The lower the number, the thicker the yarn. "Popular qualities are 30 singles and 20 singles," says Amin.