Features
THE NBM SHOW and WRAPSCON Return to the Beach
Join us Aug. 15-17 as NBM continues its decades-old tradition of bringing its show to Long Beach, California.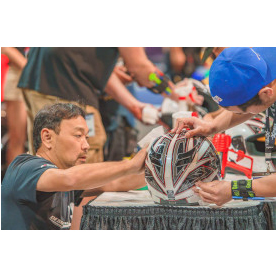 THE NBM SHOW is heading back to the West Coast where the Long Beach Convention & Entertainment Center will again be the site for THE NBM SHOW and WRAPSCON Aug. 15-17.
Top manufacturers and suppliers from the sign and digital graphics, awards and engraving and apparel decorating industries will be filling the exhibit halls and offering training opportunities both in the hall and in the convention center's classrooms.
Also, WRAPSCON returns for its fourth year. An event put on by wrappers, for wrappers, WRAPSCON is designed to be the premier global event for this exciting industry, featuring all things wraps-related and attended by a who's who of wraps royalty from around the globe. Highlights will include the WRAPSCON Wrap Olympics, WRAPSconnect, and "Meet the Masters." Whether you're a wraps veteran or new to the craft, this is an event you won't want to miss.
Aside from the Thursday-Saturday that the exhibit hall is open, THE NBM SHOW's training schedule actually starts Wednesday, the 14th:
From 9 a.m.-Noon, Roland DGA will offer an "Inside the Wrap Shop" presentation
From 10 a.m.-4 p.m., Digital Art Solutions will present "Mastering Multi-Decoration with a Vinyl Cutter"
Also from 10-4, Equipment Zone will present "Increase Your Sales & Decrease Your Stress with the DTG Printing & Marketing Experts"
From Noon-1:30 p.m., STAHLS' will present "Heat Printing Simplified: What to Use and When"
Roland is also offering two in-depth, four-hour workshops, on Wednesday and Thursday, that do require an extra fee.
Exhibit hall hours are from 10 a.m. to 4 p.m. Thursday and Friday, and 10 a.m. to 3 p.m. on Saturday.
Registration to THE NBM SHOW and WRAPSCON is free and includes: entrance to the exhibit hall for the entire show; unlimited training by exhibitors in the classroom and in the exhibit hall; access to the Professional Training and Achievement Program; and admission to The BASH! at the Renaissance Long Beach Hotel on Friday evening, August 16, sponsored by Next Level Apparel, CIT, Johnson Plastics Plus and ORAFOL Americas.
In addition to networking and training opportunities, registrants have a chance to win $500 in Buyer Bucks each day of the show. Buyer Bucks are redeemable at any participating exhibitor during the show and for 30 days after the show's close.
Registration submitted after August 14 costs $25 per person.