Features
THE NBM SHOW and WRAPSCON Go to the Left Coast
The show hosts three days of networking, meeting with vendors, learning about new products, and seeing live product demos.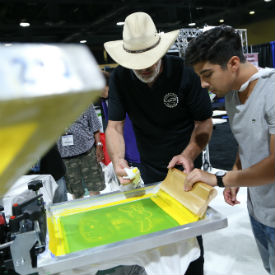 BROOMFIELD, Colo.-The Pacific harbor town of Long Beach, California plays host to THE NBM SHOW and WRAPSCON Thursday, Aug. 15 through Saturday, Aug. 17. If you haven't already made plans to attend, you still have some time.
California is the fifth stop of THE NBM SHOW in 2019. It serves the readers of Printwear, Sign & Digital Graphics, and Awards & Engraving magazines, all produced by the Broomfield, Colorado-based National Business Media.
The show brings three days of industry networking and learning. It allows attendees to meet with vendors, learn about new products, see live product demos, and take advantage of training. Also, each attendee has a chance to win $500 in Buyer Bucks each day of the show.
WRAPSCON is returning for its fifth year. It's the only annual trade show put on by wrappers, for wrappers. For those in the industry, it's a fantastic opportunity to meet with manufacturers and distributors, see live demos with the latest products, and network with other wrappers from all over the world. There's plenty of fun to be had, too, with the WRAPSCON Wrap Olympics; WRAPSconnect, a freewheeling panel discussion featuring some of the world's top wrappers; and the "Meet the Masters" happy hour.
As part of NBM's Professional Training and Achievement Program, classroom training is available each day of the show, with classes beginning on Wednesday, Aug. 14.
Exhibit hall hours are from 10 a.m. to 4 p.m. Thursday and Friday and 10 a.m. to 3 p.m. on Saturday. Registration is free until Aug.14. After that, it costs $25 a person.
THE NBM SHOW invites attendees to The BASH!, NBM's after-hours party, at the Renaissance Long Beach Hotel on Friday evening, Aug. 16, sponsored by Next Level Apparel, CIT, Johnson Plastics Plus, and ORAFOL Americas.
The show takes place at the spacious and inviting Long Beach Convention & Entertainment Center.