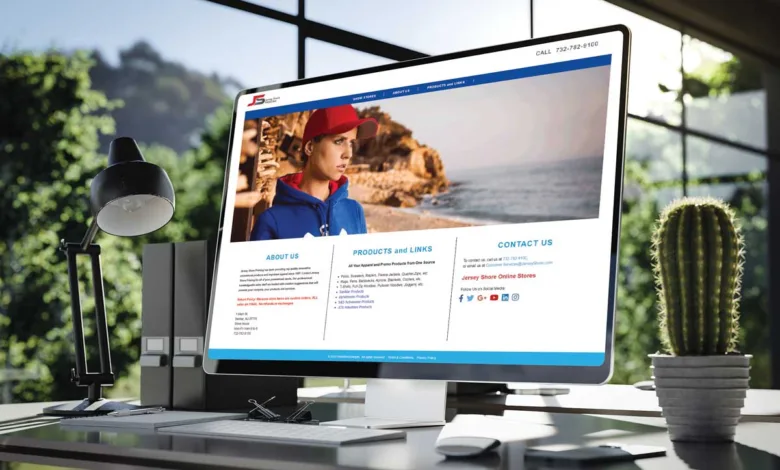 With technological advancements and client expectations soaring to new heights, shop owners are continuously challenged to evolve their traditional brick-and-mortar businesses into modern omnichannel experiences. Doing so provides both current and prospective customers with a unified and seamless brand experience, whether they are conducting business at a physical location, perusing a company's social channels, or shopping in a dedicated webstore.
While the initial shift in sales, marketing, and customer support strategy predates 2020, industry professionals agree Covid undeniably flipped the script at an unprecedented rate.
"A company's website alone quadrupled in magnitude of importance — and not just to sell," states Andy Evans, corporate account manager at research, marketing and business solutions company SAGE.
"It also became a way to communicate you were still in business, still operating — even though teams were spread out."
As a result, the pandemic not only radically accelerated e-commerce sales and normalized remote work, but also increased business automation and fast-tracked artificial intelligence development — presenting numerous opportunities for businesses to scale up production and sales, even with less staff onsite.
The future is ripe with opportunity, yet shop personnel feel mounting pressure to do more with less amid ongoing supply chain fluctuation, inflationary pressure and labor constraints in a post-Covid world, says Jay Malanga, owner of ShopWorks, a business management software solution specially geared toward the embellished products industry.
In order to survive current conditions and thrive in a digital future, industry pro- professionals agree it is increasingly import- ant for shop owners to step up their investments in digital tools. As entrepreneurs across the graphics and promotional products industry seek more informed ways to serve existing clientele plus look to geographically expand into emerging markets with new brands and product lines, they are turning to proven business management and e-commerce solutions to help chart the course and maximize their efforts.
"With the right tools, technology has the power to revolutionize businesses in the sign and print industry by enhancing efficiency, creativity, and sustainability," says Lila Carsten, head of branding at shopVOX — a comprehensive cloud-based business management software designed specifically for the print, sign, and apparel industries.
Experts say those who fail to keep pace with technology risk being left behind — perhaps entirely. Companies like SAGE, Inktavo, shopVOX, Webstores Simple, and ShopWorks are at the forefront of comprehensive software solutions, featuring a finely-tuned suite of products specially designed to handle industry-wide daily operations, from e-commerce and webstores to backend business management and data analytics.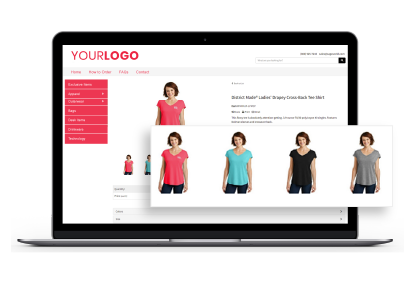 Power to the people: seamless self-service
While the graphics and promotional products industry values tried-and-true sales methods such as in-person visits, trade shows, and direct mail, company representatives note the exponential impact e-commerce is having on how customers interact with the companies they buy from.
"Selling organizations must ask themselves what their business customers want today, what pain points they encounter as they seek to buy online and what processes should be modified to serve customers more effectively," according to a joint survey published by Adobe Inc. and Digital Commerce 360.
The umbrella term e-commerce describes the entire process of buying and selling goods and services via the Internet. This method allows businesses to reach new customers and facilitate transactions through a combination of proven online channels like websites, social media, mobile applications, and email.
Generally speaking: a traditional e-commerce strategy, coupled with effective digital marketing tactics, allow branded merchandise businesses to attract and capture a broad audience, according to JP Hunt, head of partnerships at Inktavo — parent company of InkSoft, Printavo, and GraphicsFlow.
"The other contemplation is digital marketing strategies and tactics can capture prospective customers, while e-commerce can convert these prospects into customers," he continues.
Hunt considers the joint investment to be "the most significant growth lever" for today's branded merchandise business owners. "Technology has leveled the playing field and is accessible to businesses large and small," he says. "Competing with the same tools helps bridge the gap."
Case in point: 74% of Adobe Inc./Digital Commerce 360 survey respondents expect their company websites to generate more than 50% of sales in 2023. As such, 59% of business owners list e-commerce platform and applications among their top three technology budget priorities this year.
Company representatives agree the reality is most modern consumers, whether B2C or B2B, expect to purchase online and on-demand.
When it comes to branded merchandise, Hunt says a main motivator for purchasing online is self-service. Traditional e-commerce platforms like customink.com, vistaprint.com, jakprints.com, and 4imprint.com make it easy for customers to be involved in both the branding design and product selection processes. The platforms' digital tools support various use cases, including logo uploads and customizable templates, as well as intuitive design software for new creations.
Hunt says independent shops can offer the same feature set to their own clients. He points to InkSoft, which offers an interactive online design tool that allows customers to design and order customized print, apparel, and promotional products at their convenience, then process directly through a shop's website.
To further streamline production, shops can add GraphicsFlow, a print tool with an extensive library of vector-based, professionally-designed graphics. The catalog can be embedded right on the business's website, allowing customers to easily peruse designs, communicate requests and finalize artwork approval all in one location.
No website? No problem, Hunt adds. InkSoft designed its online store builder as an economical way for shop owners to create a professional e-commerce-friendly website on a budget.
Similarly, Carsten points to the shopVOX Express and PRO platforms as effective ways to boost B2B and B2C sales opportunities. The e-commerce feature includes three different selling tools, including a customer portal (cPortal), an online shopping cart and webstore functionality. With the e-commerce add-on package, customers can browse product catalogs, view pricing and place orders at their convenience, while integration ensures orders flow seamlessly into shopVOX and its production processes — reducing errors and saving time.
While e-commerce construction can vary based on customer needs, the overall process today is much more democratic. Modern platforms like shopVOX, Inktavo, and SAGE prioritize no hassles, no angst, and no coding. They also bolster their ease-of-use with impressive levels of performance, as well as ample onboarding support, training, and customer service.
Additionally, since these companies develop their software in-house, customers benefit from all-inclusive e-commerce setups, with company servers specially equipped to host, maintain and update the sites on an ongoing basis.
Structural limitations on shops looking to expand their e-commerce selection past promotional products are also lifting. SAGE, for example, provides its customer base with a flexible presentation publisher tool, which enables users to easily add promotional and cross-industry products at the click of a button.
"Say your main business is printing, and all you need is 5% promotional," Evans says. "A SAGE website will support your primary print shop needs, plus offer your customers a promotional products search."
Tailored webstore solutions, enhanced B2B experiences, curated client shopping
Industry experts also note the significant rise in B2B e-commerce during recent years, with Forrester Research projecting annual growth of 10.7% between 2022- 2027, versus 0.5% for offline B2B sales.
Selling online to business buyers presents additional layers of complexity. For example, products typically must meet strict specifications, large transactions may require credit arrangements, approvals often involve many individuals at the purchasing company, plus multifaceted shipping and freight arrangements complicate logistics. Completing these B2B transactions online requires sophisticated digital tools capable of replacing outdated manual processes.
As such, manufacturers, distributors, and shop owners alike are doubling down on their investments in online retail channels like niche webstores, which facilitate the purchasing process directly through a company's website. Like traditional e-commerce, webstores provide their captured audiences with product categorization, search functionality, and self-service tools such as secure payment processing and on-demand convenience.
What differentiates the two, Hunt says, is the user transaction and the desired experience.
"The general rule of thumb when deciding how to best transact pre-decorated products is to look at the total revenue opportunity," he says. "If the opportunity is large and the marketing resources have a greater demand, a dedicated webstore is likely to be the best course of action."
"The qualifier I always use is 'Do you sell to groups, clubs, and other companies?" adds Dave Dauer, president at Webstores Simple. "For me, that's the line in the sand between e-commerce and online webstore capability."
Webstores provide a virtually-curated shopping experience, whereby clients can browse a product selection specific to their organization, government agency, school system or dealership, then add items to the cart, check out and even view ship-ping status — similar to an Amazon-like shopping experience.
The purposes are endless, with Dauer and Evans pointing to community fundraisers or events, reward incentive programs and private employee stores as some key examples. The latter model proved to be a highly effective way for SAGE to centralize its own internal affairs. With many people still working remote, the team set up a convenient online employee store to order office and tradeshow supplies. It not only reduced unnecessary visits, but also essentially replaced the on-site storage closets, Evan says.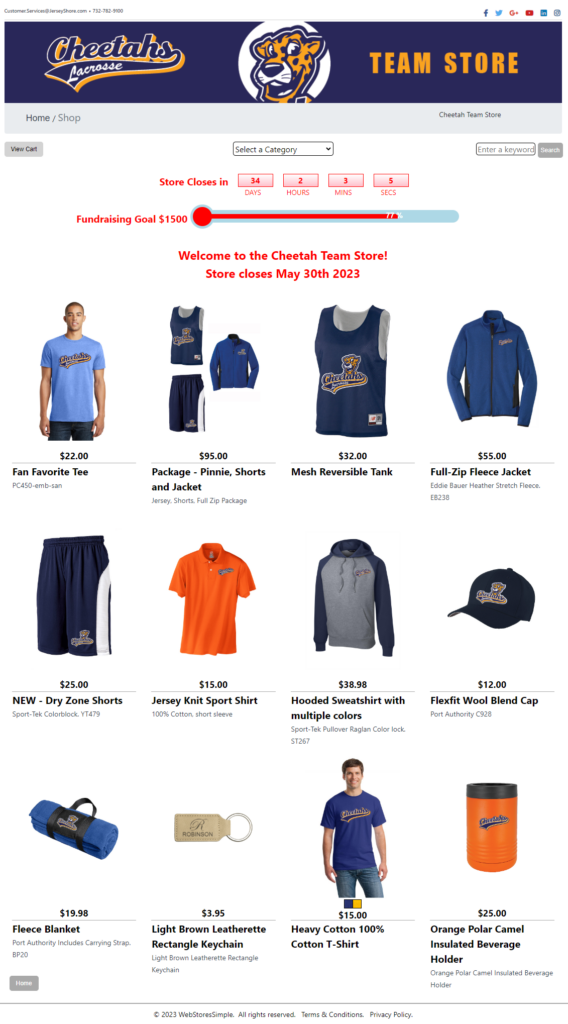 Through a platform like SAGE, InkSoft, Webstores Simple, or shopVOX, decorators can build, launch and manage multiple webstores for a variety of requests. Each is uniquely designed and hyper-personalized with feature-rich options, from the custom link or password-protected access and branded products on display to the level of functionality available on the site and how long the webstore remains open.
A decorator may have a half dozen or more departments, sports teams, or groups it serves within the same school system. Webstores allow, for example, the lacrosse team, booster club, and PTA to each browse their own branded items, pro- cess and track their group's orders, then be invoiced separately. The platform can serve as a "reorder portal" for companies as well.
"Think about how the rise in and versatility of webstores has changed the dynamic," Dauer says. "Once before, you had a group administrator manually collecting all the orders and money, then coming to the decorator and beating him up to get the best possible price. In addition to eliminating paper order forms and inaccuracies that lead to production errors, now the decorator becomes more of a partner with that group — taking the grunt work off the back of the group administrator. They see the value in the webstore because they get to participate in more of a retail-type experience, as opposed to the [tense and tenuous] wholesale exchange."
Dauer says webstores are generally a profitable venture for decorators, too. He points to Webstores Simple as a low bar to entry, with an affordable monthly plan, no cost per store model and no additional fee per transaction.
Plus, the ease-of-use and accessibility of a webstore allows a decorator to bake in a favorable margin, capture more order opportunities, collect payment upfront, save time processing and producing in bulk — all while improving the custom- er's experience.
At companies like SAGE, Inksoft, Webstores Simple, and shopVOX, customers receive detailed onboarding, varied training resources, and technical support. Like e-commerce platforms, the webstores are hosted, maintained, and updated via secure company servers.
"Not all companies — nor all webstores — are created equal," Dauer says. "Do your research and know who you're getting into business with."
Tackling daily tasks, automating daily operations
Nowadays, there are numerous expectations placed on business owners — especially small and mid-sized operations with limited resources — to carry out the many monotonous tasks which tend to burden day-to-day productivity.
With advancements in technology, however, Carsten says automation is revolutionizing the efficiency of managing sign and print shops. Customers now expect quicker turnaround times and error-free outputs. She points to shopVOX Express and shopVOX PRO as "all-inclusive" shop management software solutions built specifically for the graphics industry, including signage, apparel, promotional or print product businesses.
In addition to its e-commerce package, shopVOX provides tools such as CRM, online proof and quote approval, workflow and production management, as well as scheduling and reporting. Its custom pricing templates, for example, allow users to fold in their own materials, labor and machine rates when pricing a product selection, including options, modifiers, drop-downs and automation formulas.
As a result, Carsten says a product is built once then used repeatedly for additional quotes and estimates. The feature keeps pricing consistent, while facilitating faster, more accurate turnarounds — and an improved customer experience from start to finish.
Since Covid, Malanga at ShopWorks says more companies of all sizes are embracing automation. In fact, recent data shows approximately 67% of companies currently use business process automation to streamline and automate their day-to-day repeatable tasks, while 31% of companies have fully automated at least one of their major functions.
He says a chosen software platform should not only match business size and product/service selection, but also have the ability to scale up for growth.
These are important factors to consider, company representatives agree, especially since a majority of decorators are still a one or two-person operation with limited labor and fiscal resources.
"In truth, small decorators really don't need all the fluff with 300-plus solutions," Dauer adds. "Webstores Simple is an engine for your business — affordable, easy to use, and efficient, with train- ing and support provided to customers throughout."
With advanced reporting functionality, business owners can create custom documents for sales, fundraising campaigns, order summaries and more, all with the ability to sort, tally, and export to Excel for easy and efficient data control. A simple but time-consuming task, like manually accounting for all the small hoodies in a system by various color, becomes automatic and therefore easier to manage, Dauer explains.
Hunt notes there is a "synergy" among the product lines at Inktavo that, together, provide customers with effective tools to manage daily operations.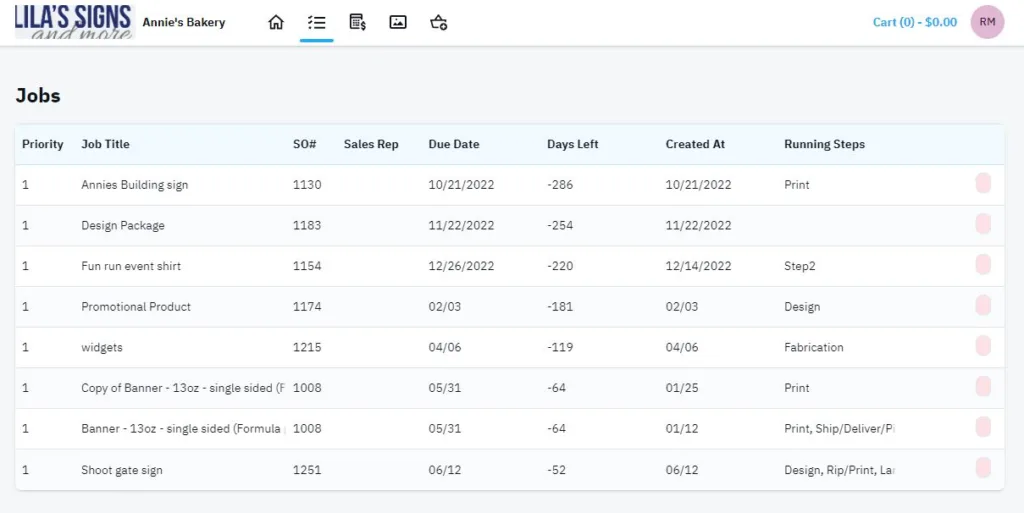 Traditionally, Printavo was geared toward start-up decorators and small to medium-sized shops, helping their teams get organized, cut down on mistakes and encourage free-flow communication with clients. It provides a simple but proven way to schedule and manage production, plus handle invoicing.
With sister-company InkSoft, customers can build online stores with ease, but also wrangle the pesky backend business tasks like proposals, transactions, payment management, invoicing, and reporting to track profitability.
Hunt says all three solutions, including GraphicsFlow, are tiered based on needs, including business size, number of users, desired storage levels, and projected usage, so businesses can choose the right fit and make adjustments in the plan.
In addition to no transaction fees, Hunt says customers also needn't worry about "nerdy things" like web servers, maintenance or updates. They simply "log in and use the product," he adds.
Decisions through data
Informed decision-making is vital for business growth, according to company representatives. Carsten notes that shops are increasingly reliant on data analytics to gain insights into their operations and customer preferences. At shopVOX, for example, robust analytics and reporting features provide actionable insights, helping businesses identify trends, internal strengths, and areas for improvement.
"This enables data-driven strategies that align with customer expectations and market trends," she says.
At ShopWorks, Onsite serves as an all-inclusive business management solution, tackling traditional daily activities as well as customer relationship management and accounting. The self-service platform also allows clients to log in, process and pay for orders and check on fulfillment statuses. For Malanga, however, the true value proposition lies in the software's practical automation and data insights.
"Data is entered once and flows through the entire system, facilitating major benefits in streamlining, reduction of labor, and cost savings, resulting in more efficient operations and better communication with customers," he explains.
As a result, shops can view production, profitability, and total sales metrics per job or job type at the click of a button. Additionally, if they wish to complete tasks or reporting outside the software's scope, Malanga says the company provides access to raw data so their customers can export to other programs or even build out personal analytical tools.
Comprehensive insights are key, he stresses, and with ShopWorks business software, owners and managers not only chuck the paper systems, but also learn to better understand their capacity and ramp up (or pull back) production based on real-time data points.
"When we're training, we talk policies, procedures, and documentation," he adds. "It's a super flexible system, but it's how the software is implemented and utilized that produces the real magic."
ShopWorks is preparing for even greater functionality, as it is in the process of actively rewriting its code from scratch. Malanga says doing so creates "a brand new and improved product," featuring a more modern aesthetic, improved user interface, and more features such as easier product sourcing, multi-window functionality, plus easier setup and configuration.
In addition, at ShopWorks, shopVOX, Inktavo, and SAGE, an open API (Application Programming Interface) allows shops to integrate with other third-party platforms to post or retrieve data.
Industry colleagues agree that data — along with the insights gleaned from it and how that knowledge is applied — are critical to a business's success in the current market. In Evans' opinion, it does not matter if a business has a website or client-facing portal, "if the data is incorrect, then it's no good."
"In our industry, we have so many different variables; accurate data is so important in the world we live in today," he says. "Where SAGE really succeeds is that it's at the forefront of accurate data and direct connection with manufacturers. This is better for our clients, overall service and fulfillment because it also impacts inventory control for suppliers and up-to-date pricing."
At SAGE, Total Access serves as the company's flagship offering. Comprised of SAGE Online, SAGE Web, and SAGE Mobile, the software offers customers an all-inclusive research and business management solution for one low per-user price.
From product research, project management, and a virtual design studio to payment processing, order management, and more, Evans highlights SAGE Total Access as the "a total package" experience for business owners in the promotional products industry.
Among its many features, customers can utilize 60-plus unique search fields to browse the industry's largest database, which houses more than one million products across 4,300 suppliers. Drilldown options and filters allow users to efficiently find a desired product, while customized preference groups help users narrow the search even further by focusing on select products from a preferred supplier.
Through its presentation publisher tool, SAGE customers can not only add products to a showroom on their SAGE website or company webstore, but also include virtual samples and even pull client information from the CRM. In addition, users can quickly and easily create professional sales presentations, then share them through a convenient link whereby clients can provide real-time feedback.
Recently, the company introduced live inventory and real-time order status updates in SAGE Web, in addition to SAGE Online. The feature enables distributors to see the actual status of their orders at any given time, as well as receive notifications and alerts anytime the order status changes.
The company's position on proper data management, along with the company's PPAI partnership as the exclusive technology provider for members, also keeps it uniquely tapped into market pressures and trends, industry best practices, and new tools — like AI.
In fact, SAGE recently launched new AI functionality in its research and business management services platforms, which allows distributors to instantly leverage the technology's power to provide fresh product and promotional ideas, improve efficiency during drafting and effortlessly create dynamic content for their customers — from customized thank you notes tailored to a specific client to custom homepage text in multiple languages and dialects.
Looking ahead, company representatives are closely watching AI development but remaining hyper-focused on advancing their own feature-rich software solutions, from advanced SMS notification and new website development to more sophisticated data analytics.