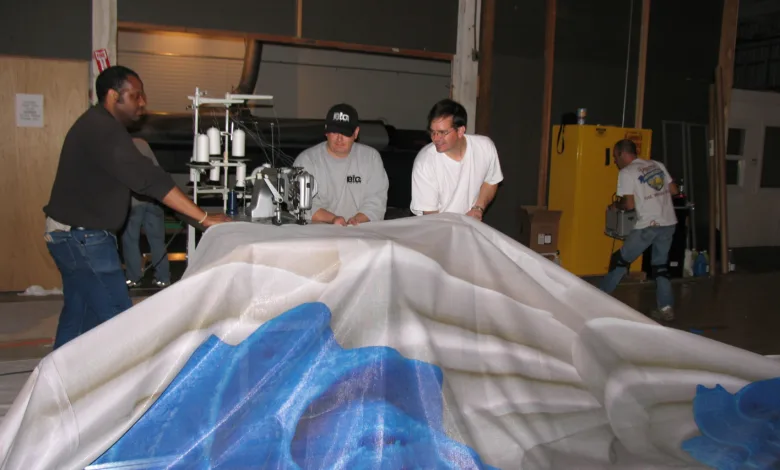 Most professional fabric graphic printers understand that there's more to a project than just printing. Once you print it, you have to finish it and oftentimes, finishing techniques can make the difference between a high-end product and something that isn't compelling enough to compete in the marketplace. Finishing procedures can range from seaming and hemming, to adding pockets and grommets. While the options are numerous, the equipment to perform these tasks is also formidable. Fabric steamers, heat presses, industrial sewing machines, sergers, welders, and seamers all contribute to the successful finishing of soft signage and textiles.
In Part 4 of our 5-part dye sublimation series, we provide you with information on the various finishing procedures, the equipment available to achieve the best results and ways to determine if a finishing department can contribute to your business success.
Q: What are the advantages of investing in a dye-sub fabric finishing department?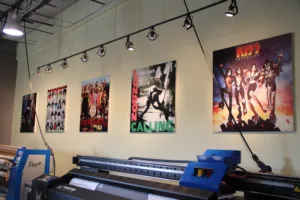 A: These days, finishing is seen as a necessary part of the dye-sub process and a business should consider it seriously if it's going to get into the game. Adding an internal finishing production area can help retain customers and build loyalty. It alleviates the cost of outsourcing for these services and in the long run, can make a shop more profitable. It also is added value to be able to offer high quality finishing as part of the entire project, saving time as well as the risk of error, as multiple people handle the project if it's not under one roof.
Q: What should digital graphics and sign shops know if they are just starting to explore offering finishing services?
A: Print providers need to understand the equipment requirements for the various finishing techniques, look at the pros and cons of each piece of equipment, research the pricing, labor and training involved and determine what types of applications they want to pursue, whether it's large- or small-scale production. Also, a shop needs to have enough space to stage graphics for large applications. The application determines if it is sewn or welded. With dye-sublimation, sewing is almost always the preferred, proven finishing technique. However, both welding and sewing have their benefits.
Q: What type of equipment is used in finishing procedures?
A: Finishing can have different meanings in the textile world. Many companies will look at finishing as the fixation process of the printed ink into the fabric, such as the heat transfer you have with polyester, or steaming and washing cotton fabrics after they have been printed.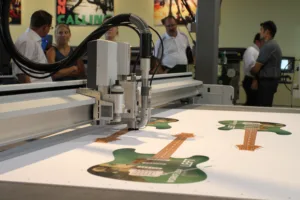 We will focus on the cutting and sewing aspect of finishing fabric in preparation for its final application. Almost all fabric will need to be cut before it can be sewn into a final product. There are several ways to cut fabric today, with digital flatbed cutters being the most popular. They are very versatile and have specialized tools to cut fabric quickly and accurately. Recently, there has been a new trend in fabric cutting utilizing a laser cutter. They are generally geared for higher volume production shops, as they can cut fabric many times faster than most cutting tables. These systems are usually found in companies that have a very high amount of cutting to do on a daily basis.
Once the fabric has been cut, it's time for sewing. There are different sewing techniques depending on the final product. SEG (Silicon Edge Graphics), for example, need to have a keder, or gasket, sewn on to the fabric. This can be challenging for a stand-alone sewing machine. The industry has developed some equipment to make this process much easier, by automating much of the sewing to properly align the gasket with the fabric, creating a much nicer product with lower labor and skill requirements. Other applications, such as hanging banners, feather flags, pillowcase tradeshow graphics are all typically sewn with more traditional sewing machines.
Q: What should you look for when buying sewing equipment for dye-sub finishing?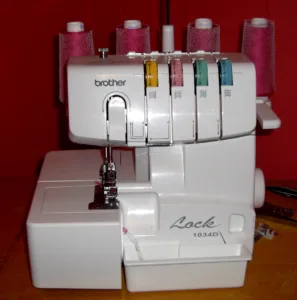 A: It really depends on the needs of the company. A shop that only does a few sewn products a day should consider a low volume solution for their sewing needs. A standard sewing machine and serger in this category can be obtained for under $800. If a PSP is a very high-volume shop, then they should consider an industrial solution for their needs. Equipment in this category can cost from $6,000 on up. There are benefits for these industrial machines as they will last a lot longer in a high production environment and can often have features not available in the lower volume segment. The semi-automatic systems are significantly more expensive but have the added benefit of easing the process of working with SEG graphics and running very quickly.
Both automated and hand-action grommet machines are available. Which is the best choice?
Both pieces of equipment are valuable and again, the choice really comes down to the volume of work in the shop. A high production facility will more than likely have an automated grommet machine which will automatically punch and grommet the fabric, but a smaller shop with less volume can function just as well with a hand-action, manual grommet machine.
Q: How can this equipment increase productivity and profit?
A: Higher end sewing machines are faster and can increase productivity, but you still need talented sewers to produce the high-end finished product that customers expect. Additionally, by bringing the finishing in-house, a print provider can further control costs, scheduling and manage the entire project to ensure a high level of quality and increase efficiencies. Interestingly, the semi-automatic sewing systems lessen the learning curve of sewing fabric (especially for SEG applications). Often times, we see printer or cutter operator running these systems.
Q: What are the various finishing options and their applications?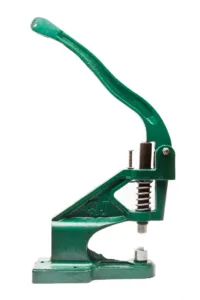 A: Finishing techniques really depend on the final application and need. Here are some common ones:
Pole pocket – mostly used for hanging banners. The poles are inserted in the top and the bottom.
Equipment: sewing machine or welder.
Grommets – not often done in fabric, mostly used for vinyl.
Equipment: grommeting machine
Hems – for finished edges, seams, and multiple panels.
Equipment: sewing machine, welder
SEG – sewing of a silicon or vinyl gasket to fabric. This in turn stretched into a frame with a small channel (usually an aluminum frame). Equipment: sewing machine and the frame.
Q: What are some of the challenges in running a finishing department?
A: One big challenge is finding skilled labor that can sew. Another challenge is having the space to stage large graphics. When bringing in fabric printing (along with large banners in general), it is important to properly plan the space so there is enough room to stage graphics for finishing. In addition, if the final graphics are being used on a stretch frame, it is advisable to stage the frame and attach the graphics to the frame for proper fitment.
Q: What are some of the trends in the finishing arena?
A: As far as trends go, it seems that many PSP's are continuing to look for ways to minimize the steps in the production process with equipment that is faster and used for various applications. Shop owners want consistency, reliability and more and more are bringing finishing in-house to cut down on outside sourcing and fulfillment. Many PSP's are looking at ways to finish graphics more efficiently to improve their turnaround time and reduce labor costs. Equipment such as faster sewing machines, automated x/y cutters with fabric attachments and welding units designed for textile are some of the products shops are looking to invest in for future.