Last year when I started researching the direct-to-film (DTF) process, I knew it would be a hit from the ease of doing artwork, printing, and production, but I have never seen a process gain traction so quickly in my 20 years of being in business.
Normally you must educate the customer, which takes a ton of time depending on the process, and then make demo pieces for people to try. This process is so good it literally sells itself.
Launching DTF
Back in January, we got our printer and, over a two-week period, installed it and got it up and running. Then we spent time taking existing artwork we had either screen printed or purchased DTF prints from someone else and compared them.
Very quickly, we learned how to adjust our artwork and the printer settings to create solid prints full of color that either matched or were better than previous files, so we made samples to show customers in our showroom.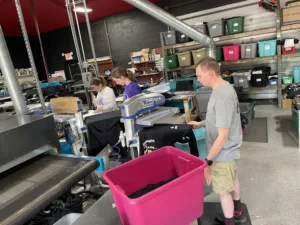 We launched the process to our customers this past February. We started quietly by promoting it in our showroom first and selling a few orders at a time to get a handle on the process and the time needed to do each step to build a future production plan.
With a new process, you always want to ease into it to work out any kinks that may happen during the startup process. It allows you a grace period for trial and error. And, if something happens, having time to focus on how to fix it without being under the gun of several deadlines.
For example, we faced an issue when we had the film too far to one side on the dryer belt (only by a quarter of an inch), and that part of the belt did not allow suction, which allowed the edge of the film to pop up and strike the head of the printer.
Luckily, we were able to get the parts we needed and were back up and running in 48 hours, so I suggest when you order your first DTF printer that you order any extra suggested parts. That way, if something happens, you will never be down for longer than one to four hours. You can pretty much do just about any of the fixes to the equipment yourself, which is another huge bonus.
Tracking progress
In our first month of easing into the process and launching quietly, we still did around $12,000 in production, and on the screen-printing side, we did around $40,000, so not a bad start at all. It really allowed us to take our time and perfect the production and timing of everything and get the numbers of what we could produce per hour.
For example, we knew we would only be printing one hour every other day, so it took less than 30 minutes to cut down the transfers and put them into bins to keep them organized and free from dust.
We also learned that we could teach anyone to press these transfers within minutes, and they could average a minimum of 40 pieces per location per hour, which is not bad for a full-color design. Can some press 50-60 per hour? Yes, but not everyone will be able to handle that pace, which can create room for location errors if you go too fast.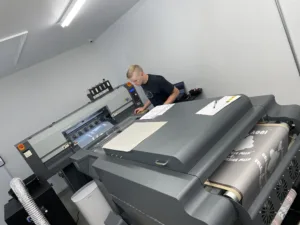 When you get to can koozies, tote bags, cinch bags, and other promotional products, you can get as many as 100 done per hour. This process speeds up the time of teaching someone to be productive from the printing, prepping, and pressing standpoint.
As we got into the month of March, we produced $35,000 in DTF production and $63,000 in our screen-printing department. This is where the major shift in production started to occur, which was only one month after we launched the new process.
We knew the process would sell itself but did not think it would happen in just four to six weeks. We tripled the production from the month before, and now DTF was doing 50 percent of the sales that screen printing was doing, and production staff loved it since it was an easier and cleaner process to work with.
We did run into a production snag, though. We only had two Air Fusion IQ heat presses by Hotronix, so we had to get two more ordered right away. We paid some overtime until our two new heat presses arrived.
By April, we let things coast to see what would happen, and our DTF numbers held and hit $36,000 in production, and screen printing produced $36,000 as well, so now it was 50/50.
Sometimes you are better letting off the gas pedal for a month to tweak things and see how they go before you throttle it up again, so that is what we did. By the way, our revenue totals were down because we hired new people so we slowed production down to speed up training.
By the last week of April and with everything up to speed and in order with our crew and equipment we started marketing the process fully by email to existing clients and posting all over social media on several platforms.
Now we are only two-thirds into May and we have done $41,000 in DTF production and $31,000 in screen printing. Some might be reading this and thinking, "Wait! You're not using the screen-printing equipment that you paid for as much," and yes, you are correct, but that was the goal! Why?
Screen-printing supply costs have gone up almost 100 percent over the past three years, energy costs have gone up, and labor costs have gone up, especially in New York state, where we are located.
So, we reduced the use of our screen-printing equipment, which saves the life of it, lowers our power consumption by more than 50 percent since we have electric dryers that pull 60 amps each (not including four flash units at 15 amps each), and uses less supplies for stock.
And, we only use the equipment for easier one- to two-color runs, which lowers the setup time per job, makes us more productive when we operate our presses, and frees up production time for on-demand rush orders.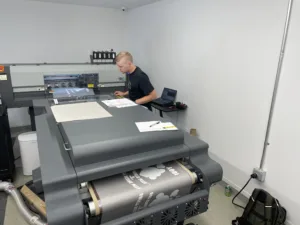 Instead of letting our screen printers cut hours, we cross-trained them to operate the DTF print and heat presses. It is much easier on them and allows us to have better control of our workflow.
I am able to relay to the customer service reps which process we have more room for or which would be easier and faster to produce when rush orders come in. It takes a ton of stress off of customer service and our production team, along with allowing us to become more profitable to keep up with all of the increases.
The great thing about having 100 percent of your screen-printing equipment paid for? You can afford to run it only when you need to. I can count on one hand how many three- to five-color jobs we have screen printed this year since the DTF has been up and running.
Direct-to-film is a game changer for all-sized shops for sure, but don't worry; screen printing will always have a place in the market. It is one of the oldest customizing options that will stand the test of time.