The economic freefall caused by COVID-19 left all of us stunned. The shelter-at-home order felt more like "frozen in place" as order cancellations came in, and future projects disappeared.
That's when we started to see the pivot. Refusing to give up, business owners began to find new opportunities as the term "essential business" became part of our vocabulary.
The pivot isn't a one-and-done move. More change is inevitable, and businesses need more than a short-term patch. They need a process they can use again and again.
Here are the do's and don'ts to remember as you pivot and pursue new revenue opportunities.
1. Do – Take a Pulse
The first step is to get out of the echo chamber.
Call customers—ask how they're doing and what they need
Call your suppliers—what products are they moving?
Read industry blogs and message boards
Watch what customers and competitors are doing on social media
Follow local and national news
Trends will appear, and opportunities will take shape. Now ask yourself, "What can I do to meet one of these needs profitably?"
2. Do – Try the 70/20/10 Innovation Theory
Commit 70% of your resources to doing what you know makes money
Spend 20% implementing ideas to improve your core business
Invest 10% swinging for the fences—launching innovative ideas with higher risk and the greatest potential reward. If this 10% works out, great. If it fails, your losses are contained.
3. Do – Show Your Work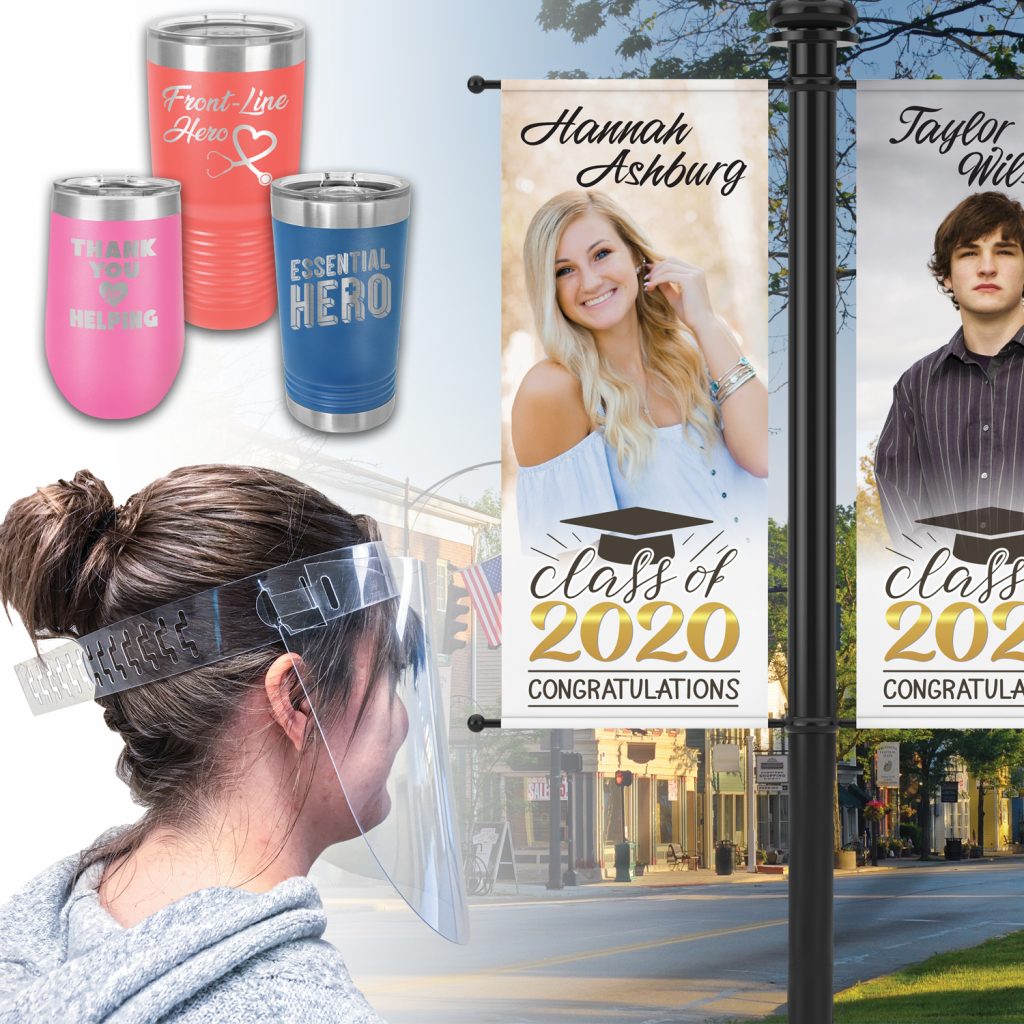 Seeing is believing. Don't count on customers understanding your idea just by reading a text description. Flex your creativity and show them in real-life settings.
At JDS, as soon as we saw the need for clear acrylic sheet stock, we started sharing pictures of it used for face shields and sneeze guards. Images of social distancing messages on floor graphics followed, then drinkware with support messages and fundraising ideas. We've even created an online resource where our customers can find relevant images to use on social media and products.
4. Don't – Be Tone Deaf
The backlash will be immediate if your marketing ignores the realities of our current economy or sounds like you're trying to profit off the misfortune of others. It's a fine line. Spend extra time reviewing messages and images before posting.
5. Don't – Get Stuck in a Rut
The world looks very different today than a month ago. It's changing by the day. Don't let the success or failure of one creative idea keep you from pivoting again. Don't stop looking for the next trend. Innovation must be ongoing.
We're experiencing a significant disruption that can lead to great opportunities. Business survival is sparked by determination, and the creative execution of innovative ideas is the fuel that will keep it going.