Features
The Allen Company Celebrates 60 Years with Open House
The open house celebration takes place on Thursday, September 26.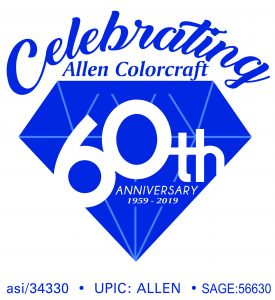 The Allen Company celebrates 60 years in the promotional products industry in 2019.
Since its beginning in 1959, the Ohio-based company has been family owned and operated. It began under the current president Stan Dohan's great uncle William Allen and his righthand person, vice president Jack Acton in 1959. Allen Dohan joined in 1973 and became president in 1977 until his son, Stan Dohan, took his place as president in 2014.
Throughout the decades, the company has experienced many changes. The Allen family started out offering glassware relating to retail business in the '60s, developed different mug styles throughout the '80s, expanded its promotional business in the '90s, and was the first company to develop and introduce stainless-steel and travel "On the Go" products in the early 2000s, according to Dohan. Dohan adds that at its high-water mark, the company had 138 employees.
"60 years, or our 'diamond' anniversary, means that we can reflect on six decades that make up our story; the successes, the critical crossroads, and really celebrate all the people, the employees, professional and vendor partners, and customers whom have made it all happen," says Dohan.
"We will continue to introduce innovative items and decorating ideas as we look forward to the next 60 years," Dohan concludes.
For more information, visit www.allenmugs.com.