When heading down the path of custom team uniforms, it's very important to determine the best decoration style for your particular team. Football jerseys require durable and visually striking decorations that can withstand the physical demands of the sport. On the flip side, soccer uniforms should be lightweight, breathable, and allow for ease of movement. The lighter, the better.
As decorators, we don't have much say in what fabrics and materials uniforms are made from. We purchase them blank and then it's up to us to make sure we provide the best option to embellish them with logos and designs that won't harm the integrity of the piece.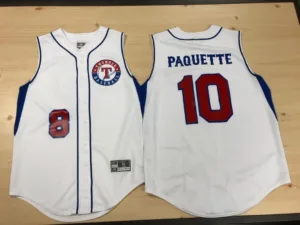 Decorating team uniforms is an essential aspect of creating a cohesive and visually appealing look for sports teams during the fall of 2023. The decoration options can vary depending on the sport, budget, and desired aesthetic. I will help walk you through the ways we look at how to decorate fall team uniforms for teams and clubs this fall.
Most uniforms are created with performance poly or fabrics with wicking properties. Add a dash of spandex or Lyrca, and that usually is all the materials you will come across when selling uniforms. So, what does that mean for you?
If our whole industry is selling from the same manufacturing pot, then the only way to differentiate yourself from your competitors is to make sure you are providing the best decoration to emphasize the durability of the jersey materials.
Football jerseys
Football jerseys require durable and visually striking decorations that can withstand the physical demands of the sport. There are several decoration techniques that are commonly used for football jerseys. The most common techniques involve screen printing, embroidery, or sublimation.
Screen printing is a cost-effective method for large, bold designs on football jerseys. It offers excellent color options and durability. After excessive wear, rough handling, and industrial laundry, this may cause the print to crack or fade over time.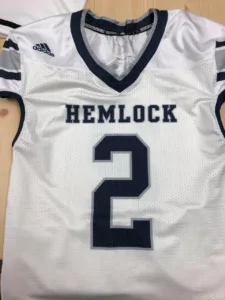 Select the right inks: When you're geared up to print your jerseys keep in mind that you're likely printing on polyester material. That will call for a nicer low-cure poly ink. Keep it low cure to minimize the chance of dye migration on your print.
Another ink choice to think about is using silicon ink. Some of the higher-end football jerseys have a bit of Lycra/Spandex in the fabric. Silicone prints well and allows for a little more flexibility in the print.
Embroidery provides a premium and professional look for football jerseys. It involves stitching the design directly onto the fabric. Choose a clean block font in the front center then zig zag stitch a twill number on the front and back.
Embroidered logos and text are highly durable, and the stitching can last longer than other decoration methods. Embroidery can be more expensive, especially for intricate designs but most football teams don't have intricate designs on the jersey. Save that stuff for the fan gear. If your school program or team is expecting to make these football jerseys last more than one season you should consider embroidery and twill for your decoration. Don't let the upfront cost scare your client away. Let them know that the cost savings of these jerseys lasting 3-5 years will be worth it.
Sublimation allows for vibrant, all-over prints with excellent color and durability. Sublimated designs are integrated into the fabric, making them resistant to cracking, fading, or peeling. This is the most efficient and customizable way to decorate football jerseys.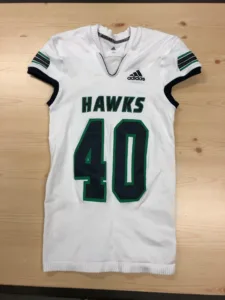 Most shops will not have the ability to do this in-house but with a strong network of third-party vendors to assist you, you'd be foolish to shy away from offering this service. They look amazing and are often priced well. The only knock on these is that they are often so customizable you get trapped in a trend you hate after one season, so you may want to purchase a whole new set each season. Great business for us but not a great selling point for schools on tight budgets.
Hockey jerseys
Hockey jerseys also require durable decorations that can withstand the fast-paced and physical nature of the sport, very similar to football. Screen printing, embroidery, and sublimation all have their advantages to help decorate your jersey while on the ice.
Embroidery is a popular choice for hockey jerseys due to its durability and professional look. The stitched designs can withstand the rough gameplay and maintain their quality over time. Using simple twill patches really add a professional look, but creating custom twill applique logos with a combination of zigzag and satin stitching can turn any logo into a work of art.
Twill appliques involve cutting shapes or letters from twill fabric and applying them to the jersey using heat after stitching. This technique provides a textured, raised look that adds visual appeal to hockey jerseys.
Sublimation is well-suited for hockey jerseys, offering vibrant, all-over prints that won't crack, fade, or peel. Just like we discussed with the football jersey, sublimation for hockey jerseys look amazing. Wild all over prints, custom fonts, design anything you can imagine.
Screen printing again is the most cost-effective way to decorate team jerseys. The only knock to printing is that you will most likely be printing loads of ink on the fronts and backs of the jersey. Just like football, excessive wear, laundry, and hours on the checking line may cause prints to crack or fade.
Anticipatory tip: Use a combination of both printing and heat-press while offering printed jerseys. Screen print the fronts and heat apply thermal film for the names and numbers. It's quick and cost-effective. I don't care what anyone says … no one likes screen printing numbers.
Soccer uniforms
Soccer uniforms should be lightweight, breathable, and allow for ease of movement. The lighter, the better. Sublimation, screen printing, or heat-applied graphics make decorating soccer jerseys a breeze.
Sublimation is a common choice for soccer uniforms as it provides vibrant, all-over prints without adding extra weight or stiffness to the fabric. It allows for customization and detailed designs while maintaining breathability.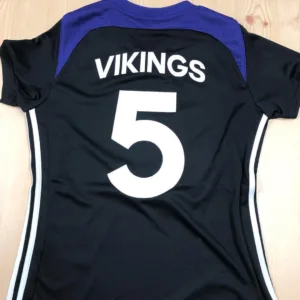 Screen printing is suitable for soccer uniforms, especially for larger logos or numbers. It is cost-effective and provides bold, durable prints. But when you want a lighter fabric that is breathable you may want to avoid screen printing large prints on a thinner soccer jersey. Instead, try small left chest logos or small crests on the front. They will look great, and they are contained to a smaller logo of the jersey.
Heat-applied graphics are perfect for soccer teams and clubs this fall. Typically, logos for clubs have multiple colors and can seem heavy printed on thinner breathable jerseys. Instead, look toward heat-applied emblems or DTF on the left chest or specialty digital decals. Consider the same thing for names and numbers on the front and back. Depending on time and budget, thermal film team/player names and numbers will also work well.
If you really want to add the professional kit look at a local level, choose custom heat-applied emblems. Whether they are PVC or matted embossed emblems, they will ultimately add an exceptional value to your uniform.
Cross country apparel
Cross country apparel should be lightweight, moisture-wicking, and breathable. Screen printing and sublimation are the best options for cross country uniforms that typically focus on comfort and functionality. Unlike most team jerseys, cross country uniform rarely customizes the tops with anything other than the team's name on the front.
Sublimation is a preferred method for cross country apparel as it allows for lightweight, breathable designs integrated right into the fabrics. If your team is a premium team, you would more than likely lean toward the custom sublimated option. Cross country, similar to track, pays close attention to the weight and comfortability of jerseys runners may be wearing. Every ounce matters.
Screen printing can be used for bold designs or team logos on cross country uniforms. It is relatively cost-effective and offers durability, but it may not be as breathable as other options. Silicone or a low-cure poly ink will work best. Be careful not to print a bulletproof stiff logo. It will instantly ruin the comfort for the athlete.
Tennis outfits
Tennis uniforms should allow for ease of movement, breathability, and a professional appearance. While the uniforms in this sport vary wildly you see more and more simple performance polos for women and performance tees for men.
Screen printing is a versatile and cost-effective method for tennis uniforms. Keep these logos small and reserved. Unless you are Andre Agassi, subtle designs with country club looks do best. We use small left-chest logos for women and men's apparel. Sometimes we lean toward a simple one-color team name across the front. Again, you want the least amount of ink you can add to the wicking material. Stick to your low-cure or silicone inks again.
Embroidery can add a premium touch to tennis uniforms, such as stitching team logos or player names. However, it may be less commonly used due to potential weight and breathability concerns. If your team logo is a 40,000-stitch left chest, you aren't going to want to stitch that on a 3.4 oz poly polo. It will be stiff and bulletproof. Less is more. Think country club small left-chest logo. If they need to have that larger special logo on the polo, you can lean into a digital decal.
Digital decals can also be a perfect logo for the smaller left-chest logos. Use full-color options while printing the logo on a Sublistop with a Roland VersaCAMM or equivalent. DTF (Direct-To-Film) may also be a perfect option.
Swimming attire
Swimming attire requires special considerations due to exposure to chlorine and constant water immersion. Sublimation is the preferred decoration technique for swimming uniforms. Sublimated designs seem to provide excellent chlorine resistance. Rarely do we attempt to decorate swimming suits and caps in-house. We prefer sublimation, but occasionally we're asked to personalize them. When that's the case we lean toward heat-applied vinyl or silicon printing.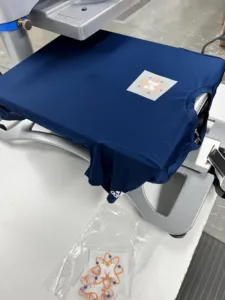 Heat-applied vinyl can be used for smaller details or personalization on swimming caps or accessories. HTV is durable and water-resistant, ensuring longevity in aquatic environments.
If you are forced into screen printing them, we lean toward the silicone print because of the stretch allowed with that ink. We also try to minimize the size of the logo to eliminate blocky thick prints on a suit designed for speed and performance.
Decorating team uniforms for the fall 2023 season requires consideration of the specific requirements of each sport. Proper selection and execution of decoration techniques will ensure that team uniforms are visually appealing and able to withstand the rigors of the respective sports throughout the fall 2023 season. Separate yourself from the competition by focusing on the details.