Features
Team HALAR Wins 2023 Wraps Olympics at WRAPSCON
Joe Solis of Image Grafix walks away with Design Throwdown victory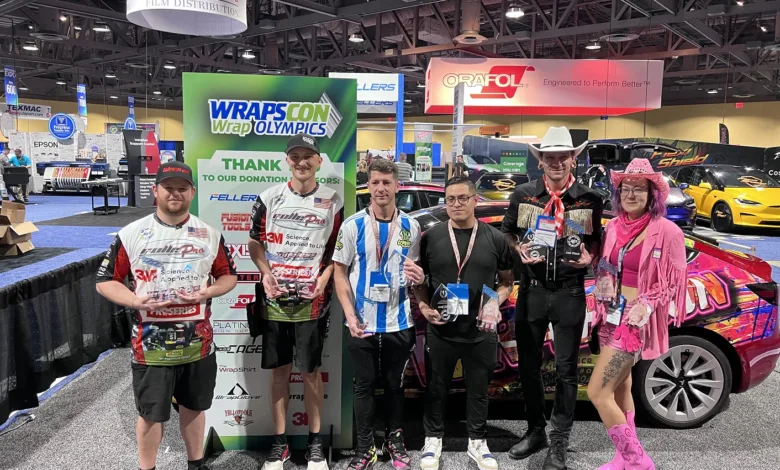 Javier Cruz and Damian Cordero won the 2023 Wraps Olympics held during WRAPSCON at the GPX Long Beach show Aug. 16-19. The pair formed team HALAR and won more than $11,000 each in supplies and materials.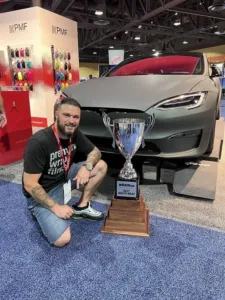 "Not only was it a lot of fun, but also one of the most intricate shows we've ever put on," says James "Ruggs" Kochevar of NBM, the organizer of GRAPHICS PRO EXPO and WRAPSCON.
Competing teams took part in 10 different skill challenges, plus five different sponsor challenges, all meant to push teams to their limits in speed, accuracy, and teamwork.
"Well, regardless of who won or lost, this is one of the most fun competitions that's out there," says Jim Miller of Miller Decals.
ORAFOL/KPMF won the award for best booth wrap, recognizing the work of Marcos Pereira of Wrap Specialties for his Absolute Matte Forest Green vehicle wrap.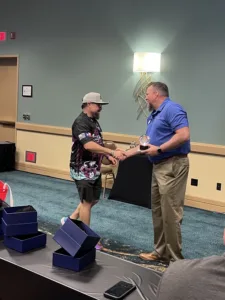 This year's winner of the WRAPSCON Designer Throwdown was Joe Solis of Image Grafix Solutions in Cypress, Texas. Solis' design was used as the official WRAPSCON 2023 design and was featured on all of the vehicles used during the Wrap Olympics competition. Solis' design was chosen from dozens of entries and was presented during the annual Wraps Design Panel at the show, hosted by Dallas Fowler of Digital EFX.
This year's Wrap Design Panel featured Jamie "Mully" Mullican of Wrap Artist, Ryan Sandoval of Glarb Design, Kevin Kempf of PG NOLA, and Casey Folk of PDX Wraps.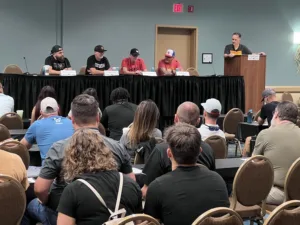 This year's WRAPSCON sponsors included Platinum Sponsors Mutoh America, JDS Sign Supply, ORAFOL and FlexiShield. Gold Sponsors were Fellers and Mimaki. Silver Sponsors included Aerotect, General Formulations, SCG America, Montroy, KellySpicers, STEK USA, ProSeries and Cutworx.
2023 Award Winners
Wrap Olympics:
1st Place – HALAR – Javier Cruz, Damian Cordero
2nd Place – Wrapoholics – Erika Gare, Christopher Hood
3rd Place – Team Gforce – Scott Decker, Josh Lambert
MVP – Liam Steinorth
Best Booth Wrap:
ORAFOL/KPMF – Absolute Matte Forest Green (Wrapped by Marcos Pereira of Wrap Specialties)
Designer Throwdown:
1st Place – Joe Solis – Image Grafix
2nd Place – Kevin Kempf – PG NOLA
3rd Place – Dallas Fowler – Digital EFX